Holley family appreciates help after being displaced by fire
Community Action and United Way helped family
(Editor's Note: This is the beginning of a series on the different ways the United Way assists people in the community.)
HOLLEY – Despite Ally Macey and her fiancée Jon Page losing all their possessions in a Jan. 6 fire that destroyed their apartment building, she says they have a lot to be thankful for.
The couple had just got back after bringing their 4-month-old daughter home from the hospital. About 10:30 p.m. on Jan. 5, Macey said there was a loud noise and then she heard screaming. She looked out and the whole porch was on fire.
They had no time to grab anything but their daughter and the dog.
"I left barefooted in a nursing bra and sweat pants," Macey said. "I sat in an officer's car and someone brought me a blanket and a pair of shoes that were three sizes too small."
She said a watermain had broken so there was not sufficient water to fight the fire. Firefighters, however, were able to contain the blaze from spreading to neighboring structures.
Macey said she is from California and has no family in the area, and she didn't know where they were going to stay. A small bus came and took the occupants to the high school.
The next day, a friend took their dog, and they were able to stay with family of Page's, but had no idea how they were going to find another apartment.
"We hadn't planned on moving and had no money saved for a security deposit," Macey said. "The Red Cross came and gave us basic necessities. We both work, so we didn't qualify for help from Social Services. The next day, someone told me to call United Way. I was told they fund Community Action and other community services."
Community Action gave them non-perishable food and money for a security deposit. Macey didn't know at the time the money they received came from United Way and had been donated by a Rochester corporate donor for the specific purpose of helping people find housing.
Community Action also runs the Eastern Orleans Community Center in Holley, where substitute coordinator Rachael Escobar had opened up the site the night of the fire in case any of the displaced occupants wanted to come in there out of the cold. Escobar also knew there was a vacancy in the apartment building in which she lived, and after receiving the money for a security deposit, Macey and Page were able to rent it.
She said she doesn't know what they would have done without the help from Community Action and United Way.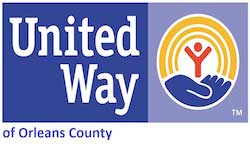 "The whole community has been awesome," Macey said. "I'm so thankful and so grateful we are safe, but so sad at the same time because we lost everything. Within 30 minutes, the whole second floor was falling in. Two of our neighbors weren't able to get their cats and dog out."
She said every day she is reminded of the things they lost that can never be replaced, and they have a hard time sleeping because it was at night when the fire occurred.
She will forever be grateful to Community Action and United Way. The community is reminded that their donations all stay local to help people like Macey and Page.