Holley church provides ideal setting for documentary of famed preacher, Charles Finney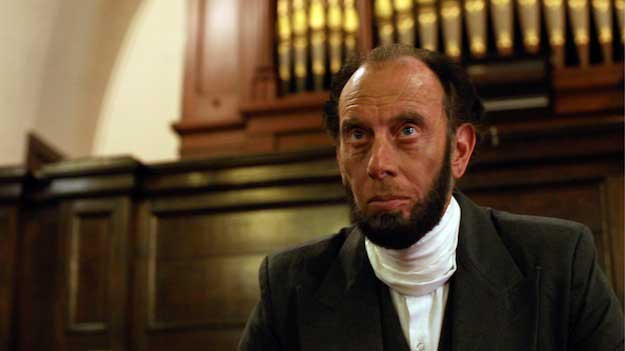 Photos courtesy of I Am Rochester
HOLLEY – Dick Grout of Lima portrays Charles G. Finney during filming on Saturday of the documentary, I Am Rochester. The film crew shot footage inside the First Presbyterian Church of Holley.
Finney was an abolitionist preacher who pushed for many social reforms, including equal education for women and African Americans. He taught at Oberlin College in Ohio, which accepted students without regard to race or sex. He served as Oberlin's second president from 1851 to 1866.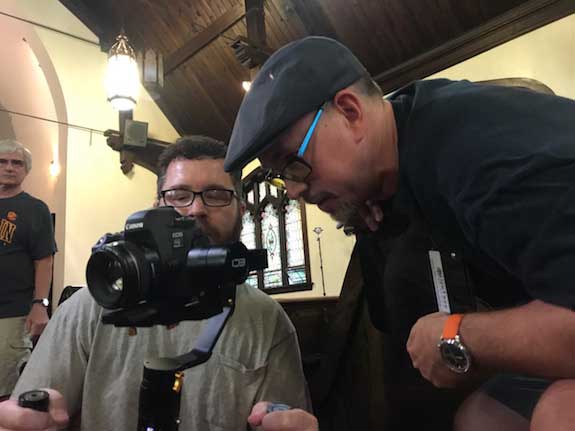 Garrett Wendt, right, is director/producer of the documentary, and Stephen Morse is a camera operator.
Wendt is working on the documentary as a ministry through the LifeTree Fellowship church in Rochester.
 I Am Rochester highlights the spiritual history and revival fires that burned in the Rochester region, once known as the "Burned-Over District," an area made up of the six counties of the Greater Rochester Metropolitan Area of the Genesee River Valley.
The film presents rarely shown perspectives of local people who became global change agents of freedom and justice, such as Finney, Frederick Douglass and Susan B. Anthony.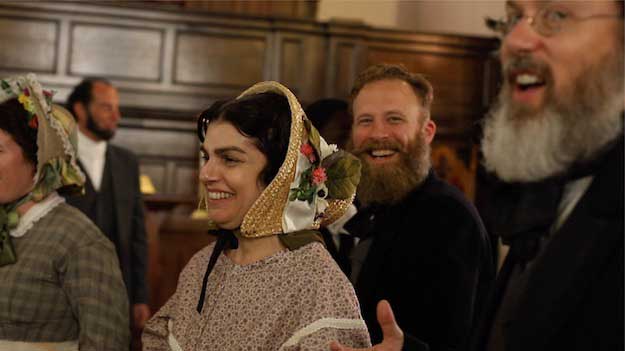 Saturday's filming included many extras in costume, including local Civil War re-enactors. The story being filmed occurred on Sunday, Aug. 14, 1853, and tells the true story of a dire situation which ends in supernatural renewal. The East Shelby Community Bible Church provided some of the costumes for the cast in the pews.
The scene shot in Holley is based on events at Finney's church in Oberlin on August 14, 1853.
"We were unable to get the needed extras for the film shoot at First Church of Oberlin, as many Ohio re-enactors were here in NY at the Genesee Country Village & Museum for the big Civil War weekend," Wendt said in an email. "We had a short window to film in Oberlin as they were about to do renovations on Finney's church building. So we shot outside of the building to establish our story as happening there."
The crew was in Oberlin last month for footage there. With that sanctuary unavailable for filming, Wendt tried to find a suitable church in the Rochester area.
"I looked all around the rural areas surrounding Rochester for an old church with wooden pews, a center aisle, and 1800s pipe organ in the front of the sanctuary," he said. "First Presbyterian of Holley fit the bill! I met with Pastor Tom Gardner and one of his leaders, Don Welch, who surprisingly was born in Oberlin, and later attended Oberlin College, where Finney had been president! They were so gracious to allow us to film this exciting story in their beautiful sanctuary."
Wendt said that B.T. Roberts, founder of Roberts Wesleyan College in Rochester, was friends with Finney and visited him in Oberlin. That college would serve as a model school for Roberts with the college in Rochester.
"Finney was a great abolitionist and a pioneer in the church to elevate women," Wendt said. "Oberlin College is known to be one of the first schools in America to accept African Americans and women as students."
Wendt is aiming for the film to be released on Feb. 2, 2020. He wants every congregation in the six-county Rochester area to share it with their church. It will also be available through streaming and DVD purchases.
He is hopeful it will inspire Christians to see the power of what God can do in a community. He also wants the Rochester area to better understand its identity during an important time in the church's history when it pushed for equal rights and abolition.
For more on I Am Rochester, click here.