Holley's graduation includes tears and many hugs
Evan Valentine, a member of the Class of 2021, remembered during ceremony, parents presented with his diploma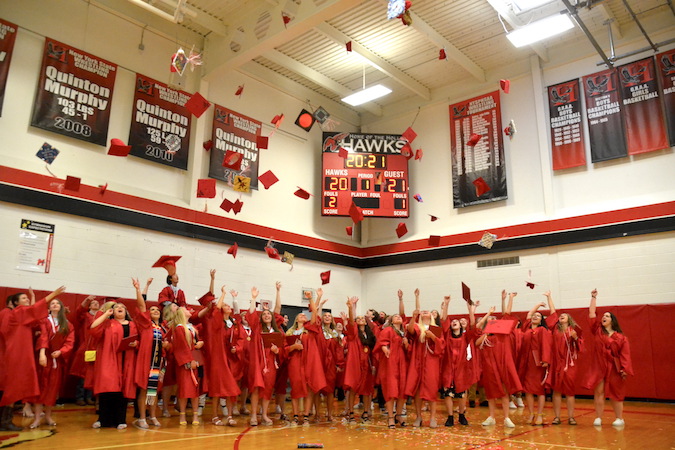 Photos by Tom Rivers
HOLLEY – The Class of 2021 tosses their caps inside the gym after commencement today. The ceremony was moved from outdoors to inside at the school auditorium due to the threatening weather conditions with rain and wind.
After the ceremony the class headed to the gym to throw their graduation caps.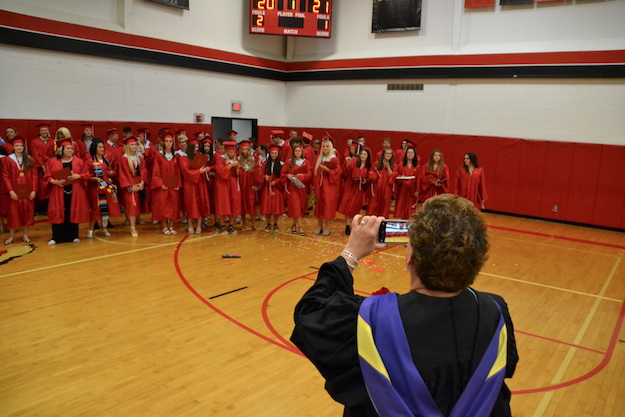 Susan Cory, the school principal, takes a photo of the class in the gym for the cap toss. Cory said it has been a school year unlike any other, with most of the year on a hybrid schedule of two days in-person a week with students split up as Red Hawks and White Hawks. There was frequent Zoom video conferencing on Wednesdays. Later in the school year, students moved to four days of in-person learning.
A goal for the district was to end the school year as traditionally as possible and today's ceremony was very much in Holley's commencement tradition.
"Today is a day to celebrate the accomplishments of our graduates, but it is also a day to acknowledge the support and strength that all of you have given to these students to make their journey successful," Cory said from the podium near the beginning of the program.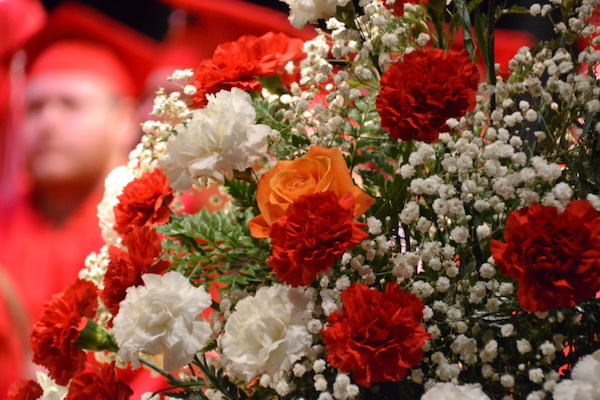 There are 60 members in the class, and that includes the late Evan Valentine. He passed away from leukemia at age 18 on Feb. 21. The display of carnation flowers on the stage included an orange flower among the red and white to represent Evan and his 2 ½ fight with leukemia.
There were six Evan Valentine Memorial Scholarships presented during commencement. They were presented to Andrew Drechsel, Brianna Heffernan, Allison Trowbridge, Brandi Heffernan, Jared Strathearn and Callie Updike.
The district also presented for the first time the John P. Heise Memorial Scholarship, in honor of a man who spent 40 years at the district as a school administrator and then in his retirement on the Board of Education. The first winners of the Heise scholarship include Kayleigh Neale and Callie Updike.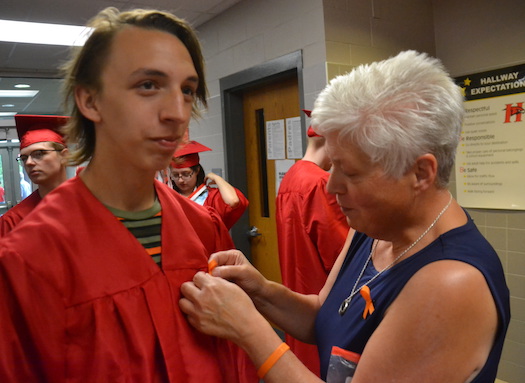 Penny Cole, a high school secretary, pins an orange ribbon on the graduation gown of David Farruggia III. All of the grads wore the ribbons in honor of Evan. His graduation gown was draped over a chair between the seats for Callie Updike and Garrett VanLogten.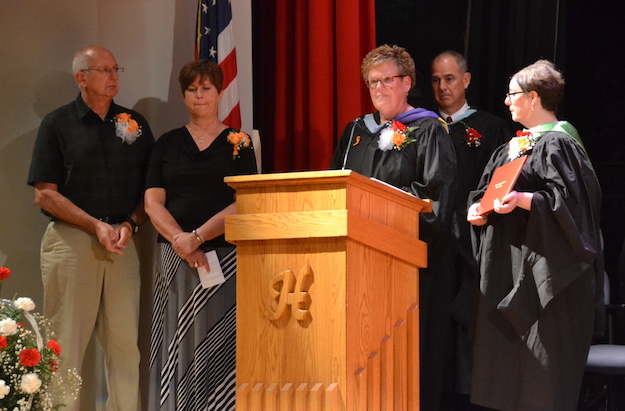 Before the graduates on stage received their diplomas, Principal Susan Cory and Suzanne Lepkowski, Class of 2021 advisor, presented Evan Valentine's parents, Diane and Neil, with Evan's diploma.
Evan was an Eagle Scout who was also heavily involved in the school's music program including the jazz band. He also played soccer and golf for the Hawks.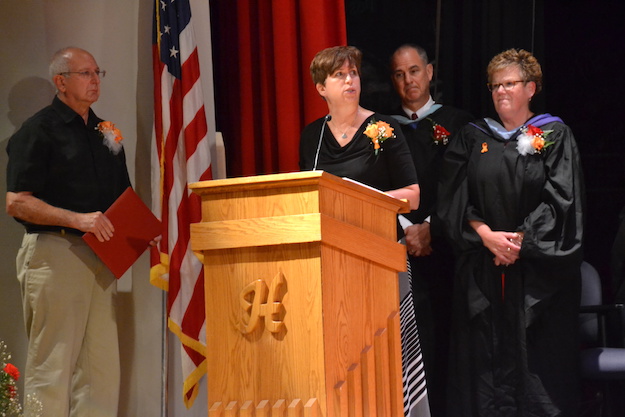 Diane Valentine thanked the class and the community for all of the support.
"You literally wrapped our family in loving kindness," she said.
She urged the class to continue making a difference.
Many of the graduates and audience members wiped tears from their eyes after the comments from Evan's mother.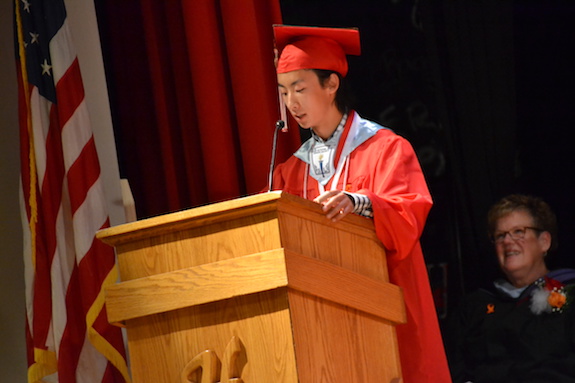 Karl "KJ" Biedlingmaier, the class vice president, announced the class gift would be to use the remaining funds in the class account and donate them to the music department in memory of Evan Valentine.
"He was a dear member of the Class of 2021 and we wish he was still here with us," Biedlingmaier said.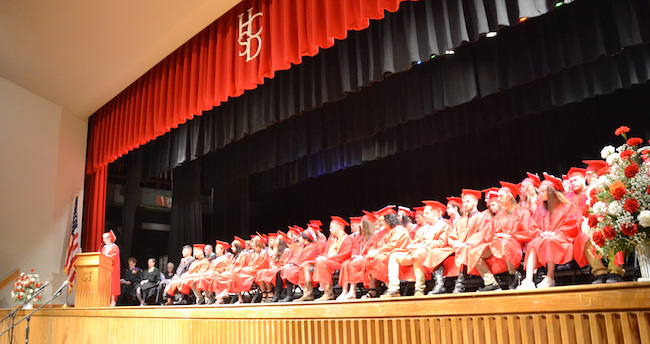 Callie Updike delivers the salutatorian speech. She also led the group in the Pledge of Allegiance and in singing the National Anthem.
Updike said she is proud of Holley's Class of 2021, for enduring amidst the uncertainty and challenges of a global pandemic. They cracked and crumbled, and were forced to discover new, difficult emotions with the loss of their classmate, Updike said.
She praised Holley's teachers, administrators, counselors, custodial staff, mentors, teacher's aides and community members for all of their extra work during the pandemic on behalf of students and their safety. The community showed its resiliency through the pandemic, helping to advance students' growth despite the challenges and restrictions of the Covid-19 era.
Holley's newest graduates were deprived of some of the usual senior traditions. "But as you look upon the graduates, sitting proudly before you in their seats, you don't see the pain and the pity of a year forgotten," Updike said. "You see brilliant individuals, your future nurses, psychologists, politicians, athletes, soldiers, firefighters, welders, farmers and teachers. You see leaders, each carrying purpose and rigor."
Updike said she feels fortunate to grow up in Holley, and to have such a supportive family and community, as well as access to clean drinking water, vaccines and a free education.
"We all have beautifully different paths that lie ahead, but we come from the same place and have discovered that we can overcome more than we ever thought we could – together," Updike said. "We can all speak to the influence our teachers, friends and community have had on us, but I feel it is vital to give credit to the individual power that this class holds. With the help of our loved ones, we have gotten through. Without our own passion, ambition and drive, we wouldn't be sitting here in front of you. We haven't coasted through and let others handle all of it for us – we fought, we pushed, and I think that is so beautiful."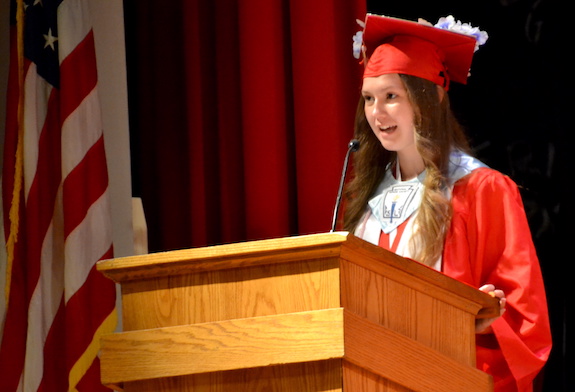 Allyson Skehan gave the valedictory address. She said it has been a very difficult senior year with mask mandates, a hybrid schedule where students saw less than half of their classmates most of the year, and some treasured traditions cancelled or modified.
The past year has shown the students to "live in the moment" and not take things for granted, Skehan said.
She cited the impact made from her friend, Evan Valentine – "the kindest, brightest soul I've ever had the pleasure of knowing. He showed us all what it truly meant to live, despite the circumstances he was in."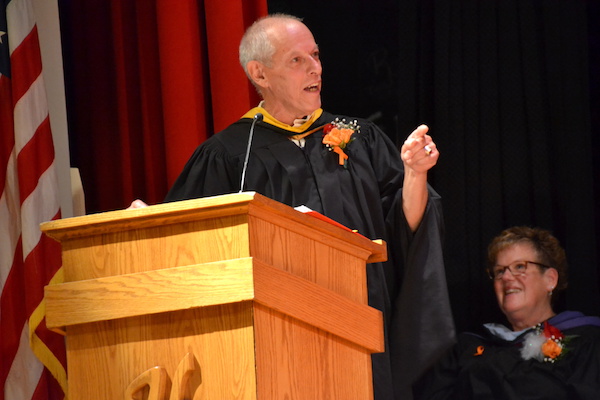 Don McCall, a Holley substitute teacher, was picked by the class to give the commencement address. McCall is a retired science teacher from the Geneva City school district. He moved to Holley and started as a sub four years ago. He figured it would be a way to get to know the community and give back for a rewarding career in education.
"I invested in Holley High but you invested in me and I appreciate that," McCall said.
He focused his message on "removing labels." Holley grads have already shown they can look past labels by picking a substitute teacher as their speaker. McCall said he Googled commencement addresses by substitute teachers and there were no matches. He thinks he made history today given the speech as a substitute teacher.
Removing labels shows commonalities, how people are far more alike than different.
McCall recalled being given a tour of the school campus, which has recently been upgraded through capital projects.
"You could feel his pride in the school," he said.
And Evan Valentine was a true pleasure to have in class, McCall said.
Continue to honor him by being kind to all you meet," he said.
He urged the grads to embrace kindness for others and for themselves.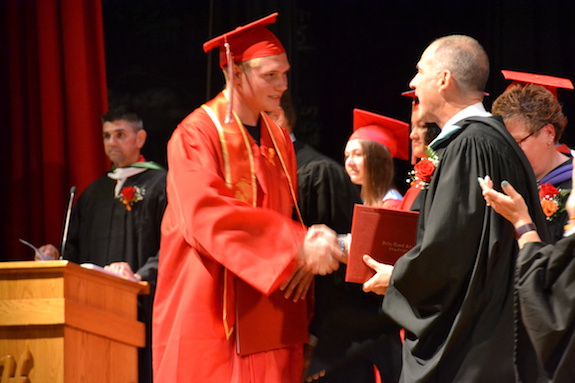 Zacharie Dann shakes hands with Brian Bartalo, the district superintendent. Dann has enlisted with the Marine Corps and leaves Monday for training.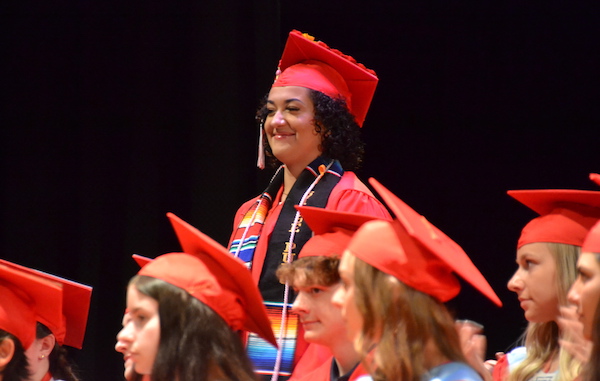 Alexander Marie Mendoza stands and is recognized as the recipient of a $500 scholarship in memory of Carmelo Rivera. About $30,000 in scholarships were presented to graduates.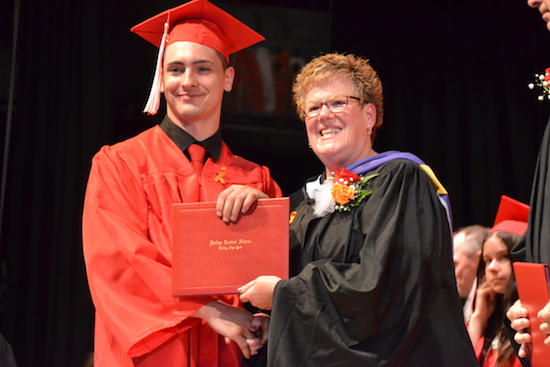 Jacob Affronti is presented with his diploma by Principal Susan Cory.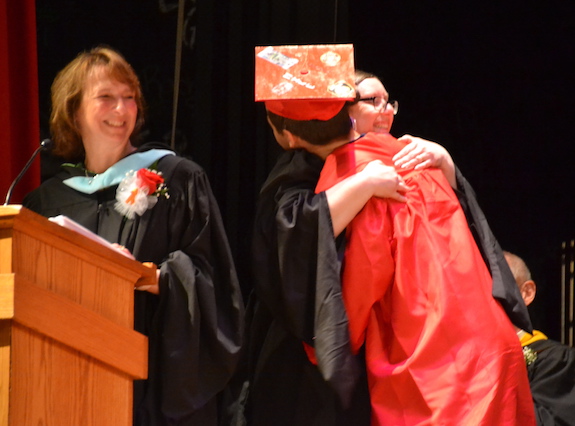 Michael Snell is hugged by Suzanne Lepkowski, the class advisor and a high school English teacher. Kathy Monks, left, reads off the names of the grads. Snell is headed for the Marine Corps.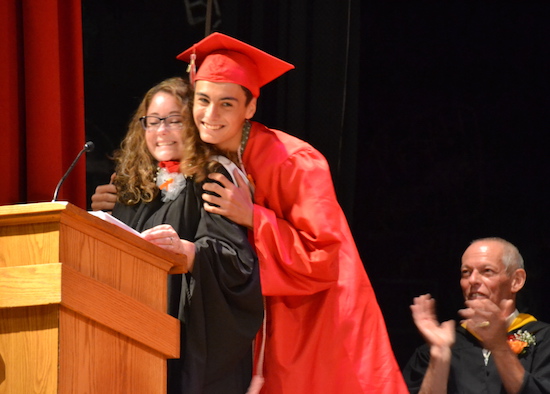 Michael Stoll gives Kelly Marzano, a music teacher, a surprise embrace when he went to get his diploma. She was taking a turn reading the graduates' names.