Hochul sworn in as New York's governor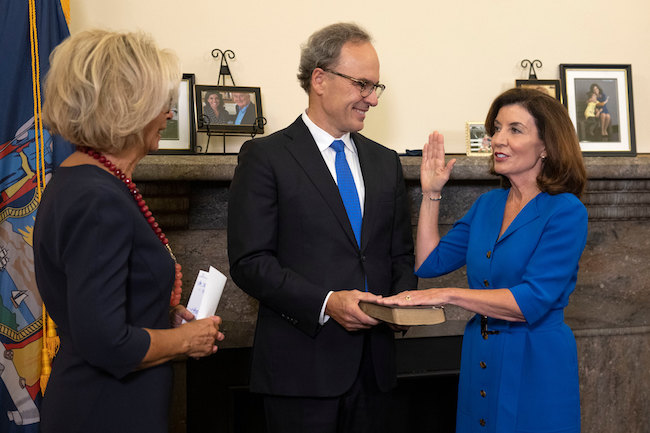 Photos by Mike Groll/Office of Governor Kathy Hochul
ALBANY – Kathy Hochul was sworn in as New York's 57th governor just after midnight. She takes over for Andrew Cuomo, who resigned over pressure he had sexually harassed 11 women.
Hochul was sworn in by Chief Judge Janet DiFiore during a ceremony at the New York State Capitol. First Gentleman Bill Hochul holds the Bible.
Hochul has served as the state's lieutenant governor for nearly seven years. She takes over with about a year and four months left in Cuomo's term. Hochul intends to run for election for a full four-year term as governor. She is the first woman to serve as governor of New York.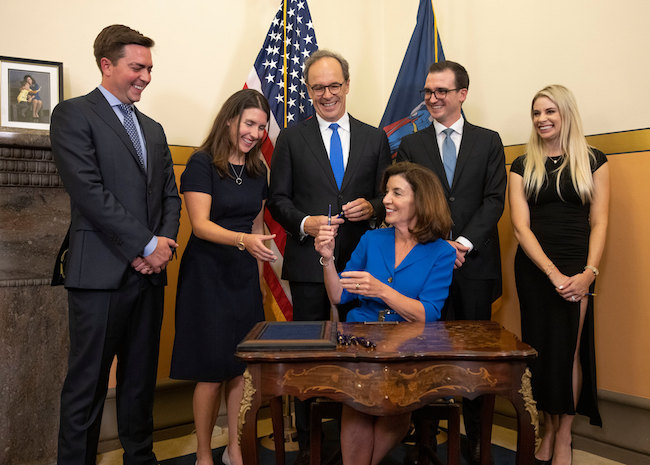 Gov. Kathy Hochul signs the oath of office for governor. Also pictured are First Gentleman Bill Hochul, Katie Hochul and Matt Gloudeman, and Will and Christina Hochul.
Hochul will hold a ceremonial swearing-in ceremony today at 10 a.m. and will be joined by immediate family members, Senate Majority Leader Andrea Stewart-Cousins and Assembly Speaker Carl Heastie.
At 3 p.m. today, Gov. Hochul will deliver a virtual address to New Yorkers.