Hoag Library celebrates art projects, with more to come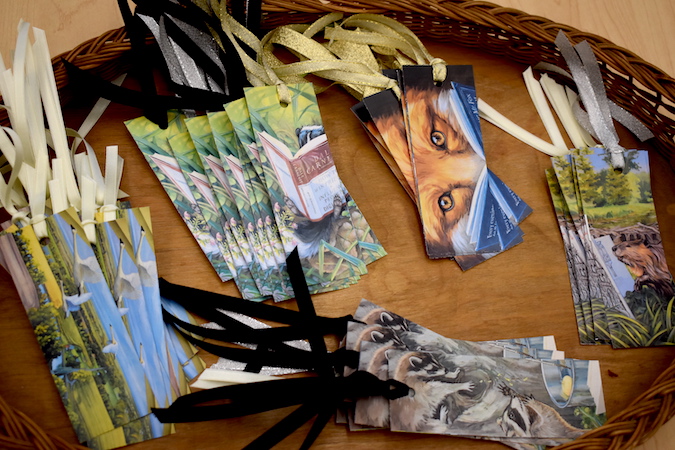 Photos by Tom Rivers
ALBION – Stacey Kirby Steward created these bookmarks featuring some of her paintings at Hoag Library in Albion. They were given out for free on Friday during a public reception at the library celebrating her art projects at the Hoag.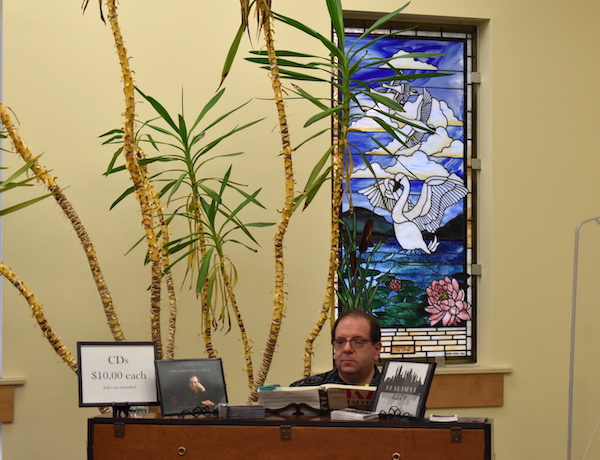 Gary Simboli plays the piano in front of a stained-glass window designed by Kirby Steward as part of Friday's reception and celebration. Bill Lattin paid for that project as a gift for when the new library opened on July 7, 2012.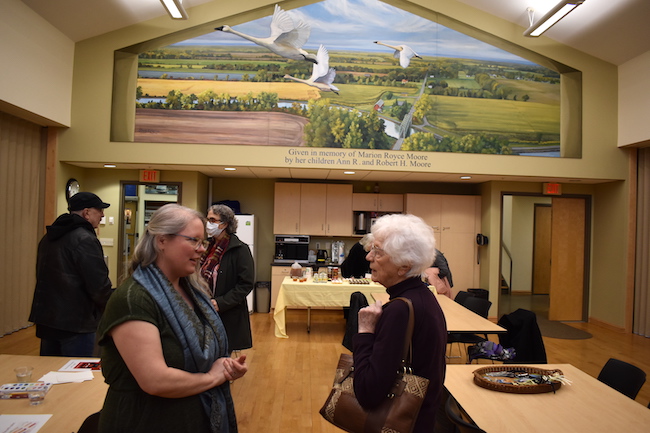 Stacey Kirby Steward, left, of Spencerport speaks with her aunt Betty Kenyon at the art reception on Friday.
"I am absolutely amazed at her talent and that she shares it with all of us," Kenyon said.
In June 2020, Kirby Steward completed the 23-foot-long mural in the Curtis Room. The library's main meeting room displays the large painting of three swans soaring over the Albion countryside with the Gaines Basin Road bridge in the background.
The family of the late Marion Moore paid the artist fee for the mural of the swans in flight over Albion. Moore served as director of the Swan Library from 1961 to 1973.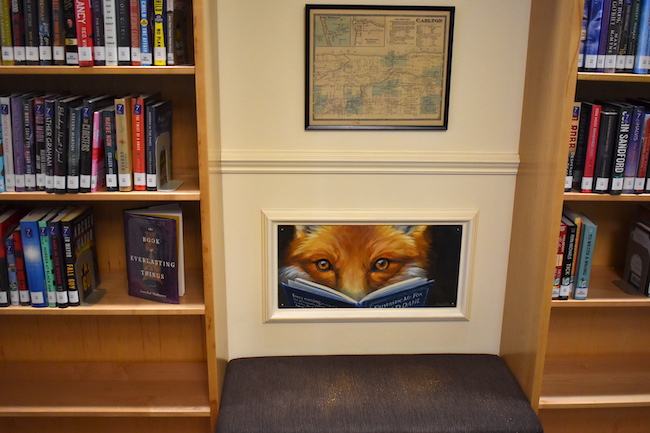 In her latest project, Kirby Steward painted six paintings of different animals reading well-known books, including this fox reading The Fantastic Mr. Fox by Roald Dahl. The painting is mounted on the wall between two book shelves of popular new fiction books. The fox's eyes look up from the page.
The artist showed the animals in their environment, reading the books for inspiration. A grant from the Genesee-Orleans Regional Arts Council (GO ART!) funded the project.
Betty Sue Miller, library director, said the six paintings have been a big hit with library patrons, and library would like to do a second set of paintings. Kirby Steward said she already has new ideas for more paintings. Miller said there will likely be an opportunity for library users to submit ideas, too.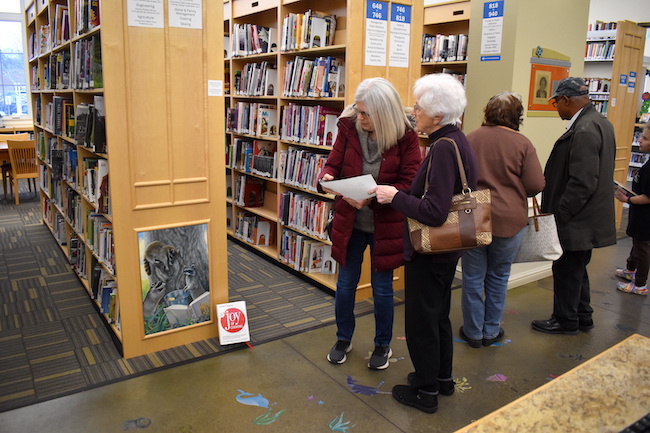 People walk through the library, looking for the six new paintings which are mounted in not-so-obvious places.
This painting shows raccoons consulting a cookbook while making a concoction of soup. In another painting, a skunk reads Dale Carnegie's self-improvement book, How to Win Friends and Influence People.