History of Childs: Farming – Part 5
Before Intergrow, Harding family worked the land on 98, north of Cobblestone Museum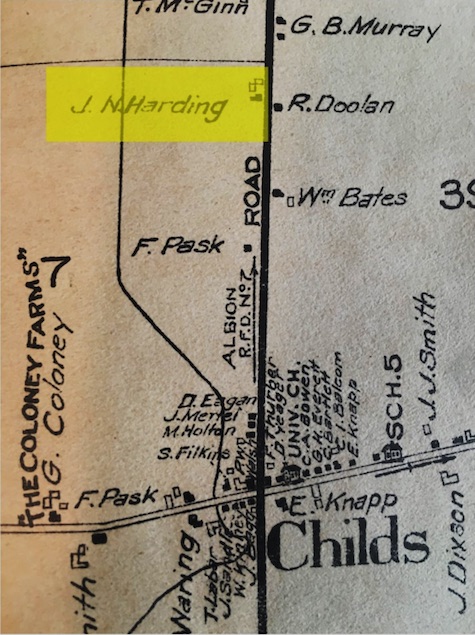 By Doug Farley, Cobblestone Museum Director
GAINES – The Harding family is another long standing farming family in the Hamlet of Childs, going back to Joseph Napoleon "J. N." Harding, in the late 1800s. J.N.'s granddaughter, Linda Harding Prince, remembers several family stories that have been passed down to her by her father, Joseph Lee Harding and mother, Dorothy.
"I was told that my grandfather, J.N., took the train to Michigan and came home with a bride, Bertha Lee Harding," Linda said.
Bertha had been teaching school in Mt. Pleasant and came back to Childs to be a farm wife.  Linda said, "Bertha was just a little bitty thing, she wasn't used to preparing meals for everyone on the farm."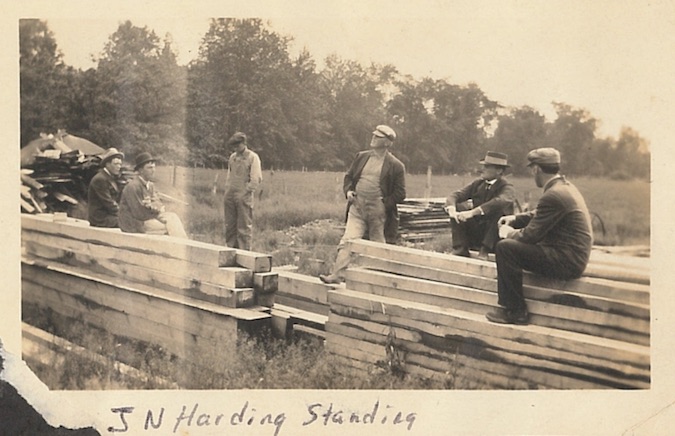 J.N. Harding, shown above, and his wife, Bertha, had several children including Joseph Lee, born 1911, and his twin sister Josephine who died at birth, Hannah born 1913, Gertrude born 1916 and died two years later with complications from measles, Mary Jo and twin sister Ruth born in 1921, and Barbara born in 1923.
Linda Prince remembers being told that just before the children were born, J.N. sent Bertha to stay with his three sisters, Ruth, Mary and Hannah, who did midwife duties.
"Sometimes Grandma would stay for several weeks," Linda said.
Linda shared that during the birth of the last set of twins, the three aunts kept the baby girl, Ruth, and raised her as their own. Linda remarked, "It sure sounds strange today, but times were different then."
J.N.'s sister, Ruth, had a dairy farm and lived in the cobblestone house just north of Five Corners. (Dr. Mary Ruth Neilans lives in her ancestral property today.) From that farm, Ruth ran a milk-house and delivered milk and dairy products all around Albion for many years.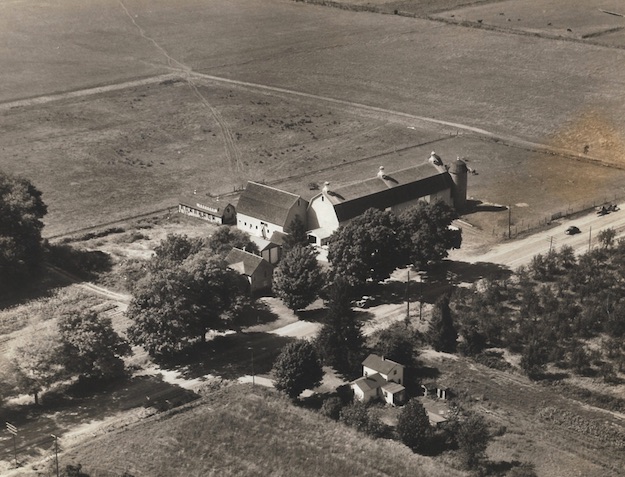 The Hardings established four farms in the area, about 100 acres each. They maintained a dairy operation at the homestead on Oak Orchard Road (shown above) at the site of what is now Intergrow. They also raised sheep and kept chickens.
"Growing up with sheep was an interesting experience!" Linda said. "When lambs were born, my Dad would stay up all hours of the night. If a little lamb was having trouble, Dad would bring it in the house and set it in front of the oven with the door open to keep it warm."
She also remembered Roy Ford from Kent Road who would come to the farm every winter to shear the sheep.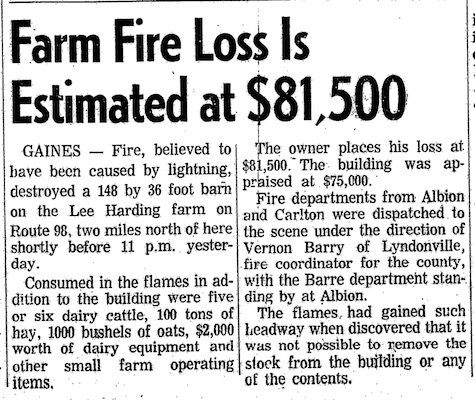 Medina Daily Journal, Tues. May 26, 1970
Tragedy struck the Harding Farm on the late night hours of Monday, May 25, 1970.  A lighting storm went through Childs about 9:30 p.m. Linda's mother Dorothy went to bed around 10:30 p.m. and looked out the window to see that all was okay. At 10:45 p.m. she heard pounding on her window by Terry Williams, who had been driving by the farm and saw the fire. That's when Dorothy saw the upper story of the dairy barn fully engulfed in flames.
Terry got a hold of a Trooper and the two men, along with Lee Harding and his son Howard, got all of the cows out of the stanchions and the heifers out of their pens.
"Unfortunately, like animals sometimes do, six cows ran back into the barn and were killed," Linda said.
The barn was a complete loss. Without a place to keep the animals, Lee sold them all the next day to a farmer from Spencerport.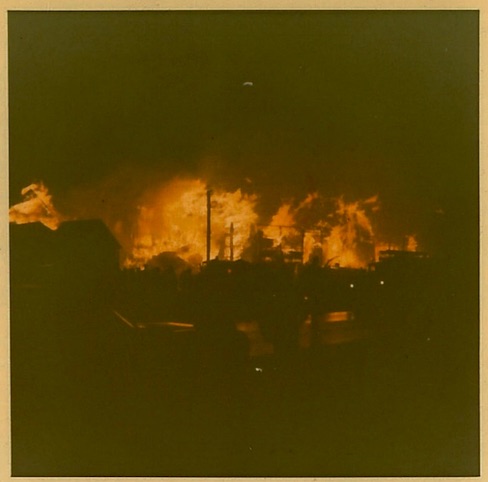 Linda said, "My father and brother were always very careful to turn off the electricity in the barn after they were finished with chores for the night." The neighbors told the Hardings later that they believe they saw some bicycles at the runway leading up into the barn. Authorities speculated the fire could have been started by kids playing with matches or by lightning from the storm. They were never sure of the cause.
Linda recalls that after the fire, her father, Lee, was never quite the same. Linda's mother, Dorothy, tried to keep the farm going for a few more years but couldn't make it work. Lee Harding died in 1991 and Dorothy passed away in 1993. Linda said, "Lynn Roberts rented the farm for a few years, and I eventually sold the farm to Intergrow in 2002."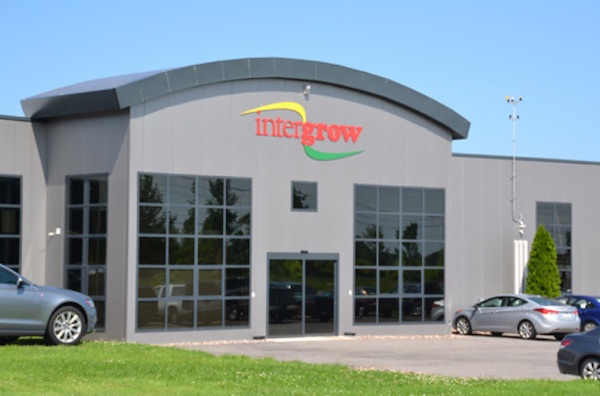 The Hamlet of Childs is home to a new generation of agribusiness that stands out as unique among local farming interests, namely Intergrow Greenhouses located on Oak Orchard Road.   The business was sited at its current location because of its flat terrain and easy access to transportation.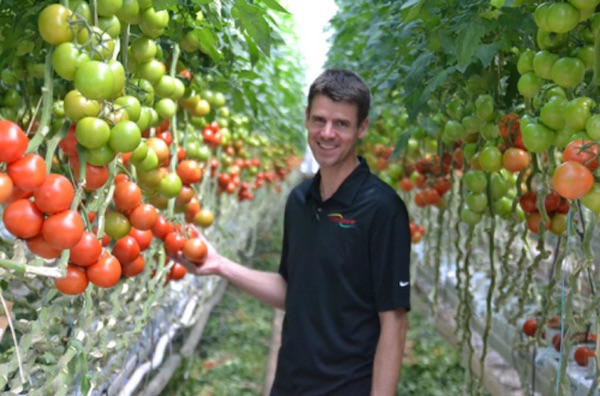 Intergrow got started in the Town of Gaines in 2003 with a 15-acre facility built by owner Dirk Biemans, shown above.  It was the second greenhouse the company established after being formed in 1998 with an initial farm in Alleghany County. With several multimillion dollar expansions, the greenhouse operation has grown to over 55 acres under-glass in Orleans County. Additional greenhouses have also been added in Ontario County.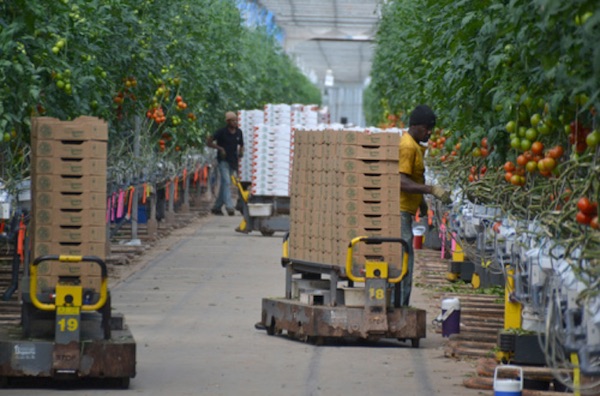 With a workforce of over 100 employees, Intergrow has maintained year-round production of many popular tomato varieties, supplying products to nearly all local supermarkets including Aldi, Tops and Wegmans.
Utilizing artificial light in the winter, Intergrow can create optimal growing conditions to produce delicious tasting tomatoes even during the cold winter months. The company's computer controlled environment provides a safe, environmentally friendly solution to year-round farming.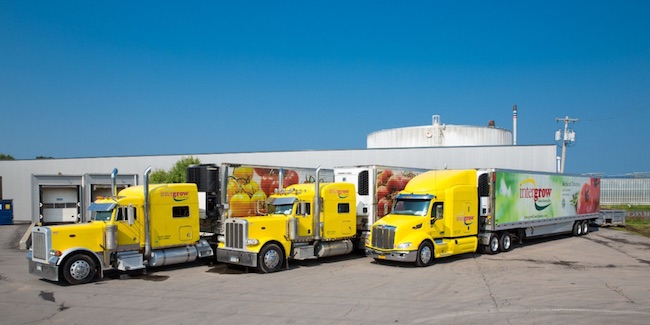 Intergrow tomatoes are always fresh-picked and picked-fresh.  At just the right moment in their growth cycle, tomatoes are picked and shipped to their destination within 24 hours of ripening.  Intergrow utilizes their own fleet of trucks to get their product to their customers as quickly and efficiently as possible.