Historical Association plans 5 programs on Sundays in August
Schedule includes cemetery tours, lectures and a book talk
GAINES – The Orleans County Historical Association has planned five programs on Sundays in August, including cemetery tours, lectures and a book talk.
Three of the programs will be held at the Gaines Basin Schoolhouse, a structure that was on the verge of being knocked down.
The association, led by its former president Al Capurso, worked to save the building in an extensive overhaul of the site. The school was built in 1832 and is one of the oldest cobblestone buildings in the area. It was last used as a school in 1944.
Volunteers have it looking like a school again, with a teacher's desk, students' desks, chalkboards and other classroom ambiance.
There will also be a celebration of the life of Al Capurso at 1 p.m. on Aug. 8 at the schoolhouse and the dedication of a plaque in his name on the building. Mr. Capurso passed away at age 68 on Feb. 17.
Capurso led a team that put on a new roof, replaced windows and cleaned out junk and debris from the site. They put in new electric, a new subfloor, restored the trim and repaired the facade. He added a historic marker and flag pole. The building has been given new life as a meeting house and display of schoolhouse artifacts for the Orleans County Historical Association, which Capurso led as president.
The Historical Association has planned the five programs in August. They will all begin at 6 p.m. on Sunday. The schedule includes:
Aug. 1: Dee Robinson, retired Gaines historian, presents a program about Caroline Phipps Achilles and the Phipps Union Seminary at the Gaines Basin School, 3286 Gaines Basin Rd.
Aug. 8: Catherine Cooper, Orleans County historian, conducts a tour at Knowlesville Cemetery off Knowlesville Road behind Ridgeway Fire Station No. 2.
Aug. 15: Catherine Cooper presents "Church, State and School: A Different Perspective" at the Gaines Basin School, 3286 Gaines Basin Rd.
Aug. 22: Melissa Ierlan, Clarendon town historian, conducts a 1-hour tour of Hillside Cemetery in Clarendon/Holley. That tour will be preceded by organist Scott Schmidt playing old and familiar tunes in the Hillside chapel at Route 237.
Aug. 29: Bill Lattin, retired Orleans County historian, presents "Telling Tales Out of School" from his book, "Trivial Tales." This program will be at the Gaines Basin School, 3286 Gaines Basin Rd.
All programs are free but offerings will be gratefully accepted.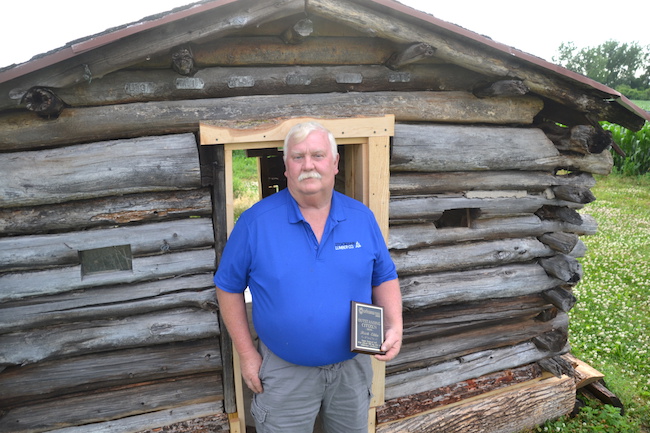 The Orleans Hub on Thursday presented one of its "Outstanding Citizen" awards for 2020 to Rick Ebbs. He led the relocation of a 90-year-old log cabin from an Albion backyard to behind the Gaines Basin Schoolhouse.
Ebbs is continuing to working on strengthening the cabin, which will have its stone fireplace reconstructed at its new location. The 10-by-14-foot cabin was built by local Boy Scouts with help from Fred Benton, father of one of the scouts, Faris Benton.
The Orleans Hub usually has an awards program with all the honorees together but the larger meeting rooms were all off limits at local libraries earlier this year. Ebbs was presented with his award in front of some of the members of the Historical Association on Thursday evening.