Historic marker unveiled for Revolutionary War soldier who lived to be 107
Lemuel Cook, who is buried in Clarendon, was last pensioner from Revolutionary War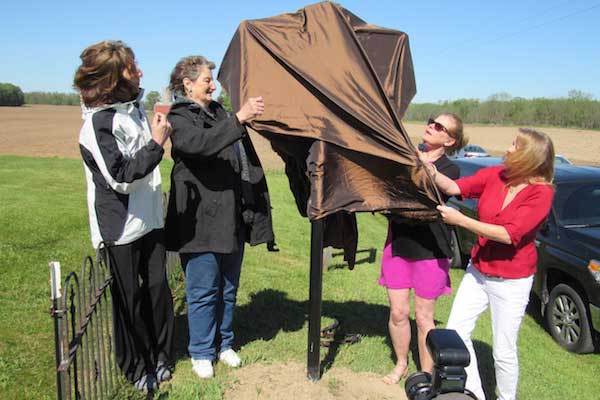 CLARENDON –  Fourth generation great-granddaughters of Lemuel Cook – Cindy (Cook) Barker, Deborah (Cook) Dey, Diane Johnson and Valerie Johnson unveiled the New York State Historic Marker dedicated to Cook, a Revolutionary War soldier and the last official pensioner of the war, during ceremonies Saturday morning at Cook Cemetery on Munger Road in Clarendon.
The four women traveled to Clarendon from Michigan to attend the ceremony and descendants of Cook still living in Orleans County also attended.
Cook was the first of his brothers to enlist with the 2nd Connecticut (Continental) Light Dragoons, and served the duration of the American War for Independence. He came to North Bergen following the war in 1821 and eventually settled in Clarendon on South Holley Road around 1832.
Orleans County Historian Matt Ballard said Cook saw action at the Battle of Brandywine and Yorktown and met General George Washington – whom Cook, "held in high regard," – on two occasions.
Ballard read Cook's own account of his first meeting with General Washington, who asked Cook his name and was impressed with Cook's horse.
"That's a right smart mount you have," Washington told Cook. The second time the two met, General Washington remembered Cook by name and the impressive horse, Ballard said.
Cook died on May 20, 1866, at the age of 107.