Historic Childs: The Albion Rotary Club, nearing 100th anniversary, has long been part of Gaines hamlet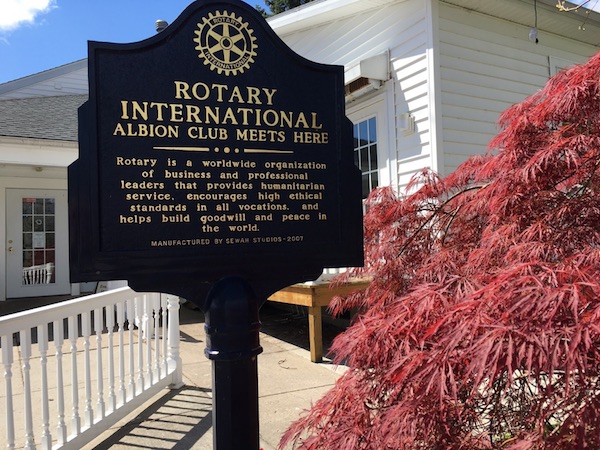 By Doug Farley, Cobblestone Museum Director – Vol. 2 No. 27
GAINES – The Albion Rotary Club is a civic organization about to celebrate its 100th anniversary in 2022, and has been meeting in the Hamlet of Childs at Tillman's Village Inn for over a quarter of a century.
Twenty one businessmen were originally present and voted in as Charter Members of the Albion Rotary Club on April 20, 1922 at the Lone Star Inn in Albion, located on Gaines Basin Road near the New York Central Railroad tracks. The Lockport Rotary Club served as organizers and the Constitution of the International Rotary Association was adopted.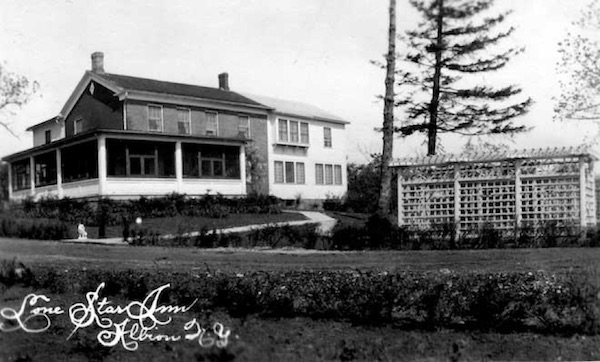 Albion Rotary members could not have asked for a more elegant meeting headquarters at that time than the Lone Star Inn, one of the finest restaurants in Orleans County in the 1920s. It was created out of the Thurston Farm and had a seating capacity of 450 guests. It was owned and operated by Lewis E. Sands of Albion and for a time, was also operated by Art Case who used to manage the old Lakeside Hotel in Lakeside Park.
It was said that the Inn had such a large following that often three cash registers were needed to handle all of the guests present. Live music was frequently provided by some of the best bands in the area. A large porch was used as an additional dining area in nice weather, where many a lobster, fillet mignon, broiled shrimp and other house specialties were served with vistas of the beautiful flower gardens around the lawn.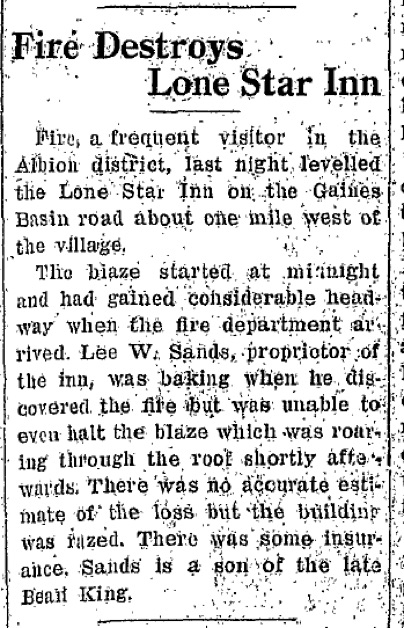 The Rotary Club continued to meet there for several years, until a disastrous fire destroyed the Lone Star Inn on Friday, November 28, 1930.  After that time, the property was sold to New York State and served as a Prison Farm.  (Needless to say, no longer a suitable locale for Rotary meetings!)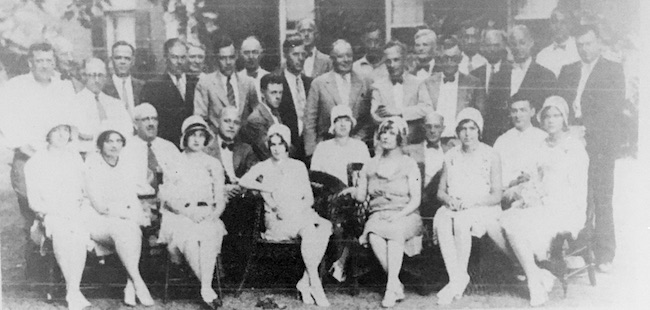 The Rotary Club assembled for this photo in the 1930s in front of Four Chimneys Restaurant at Eagle Harbor.  It can be noted that the ladies present would have been guests of the Rotarians as it was a men's organization at that time.  (Rotary Club International changed its policies in the 1980s to begin allowing women to become Rotary members.)
Ladies: L_R: —–, —-, —-, Marjorie Garnett Weller Pauley, Enid Strassner Hakes, —-, —-, —-, and Albertine Garrison.
Gentlemen seated L-R: William Karns, Monuments; Eugene Wilcox, Hardware; Herman Neuremburg, Clothing; Charles Dean, Produce; and Nelson Barrus, Dry Cleaning.
Second Row: Earl Sullivan, Carpenter; John Mansfield, Farmer; Clayton Anderson, Beans; James Lonergan, Journalist;  John Kane, Vinegar; Dr. Cramer, Dentist; Amos Beedon,  Dry Goods; Dr. Ralph Brodie, M.D.; John VanStone, Car Dealer; and Kirk Cole, Lumberman.
Third Row: William Luttenton (guest), Carl Bergerson, School Superintendent;  Henry Anderson,Albion Brass Works; James Craffey, Insurance; Stanley Woods, Feed; Edward Archbald, Fruit Farmer; Burt McNall, Furniture & Embalming;  Sidney Eddy, Printing; Dart Porter, Insurance; and Howard Woods, Miller.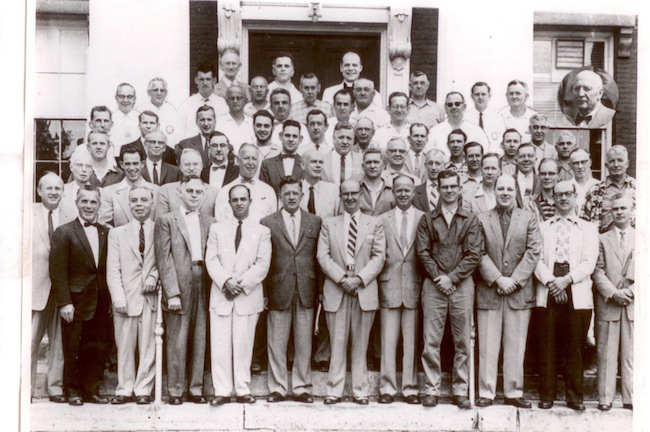 This picture taken of the Albion Rotary Club taken in Rotary Year 1959-60 is a veritable "Who's-Who" of local businessmen at that time.
Row 1 (L-R) Bill Monacelli, teacher & Mayor; Don Nesbitt, Farmer; Charles Martina, theater owner; Burr Trumble, travel agent; —-Unidentified—, Harlan Harvey, Wells Harrison, car dealer; Jacob Schanels, Hunt Canning Factory; Dr. Bob Raemsch, veterinarian; Guido Monacelli, grocery store; Dr. Thomas Orlando, dentist; George Brunelle, insurance.
Row 2: Hon. Charles Signor, County Judge; Charles Byrne, Birdseye Laboratory; Franklin Cropsey, Attorney; Stanley Landauer, dry goods; Richard Fenton, Bemis Bag Co.; Bill Snowen, Firestone Tire Store; Sidney Eddy, Printing; Dr. James Parke, M.D.; Bob Babbitt, hardware; Ed Archbald, farmer.
Row 3: Brad Shelp, car agency; Neal Beach, Winson Hatch, Dept. of Labor; Thomas Heard, Jr., Marine Bank; R.E. Greenlee, Hunts plant; Carl Bergerson, School Superintendent; Roland Kast, service station; Dr. John Ellis, M.D.; Dr. John Jackson, dentist.
Row 4. Bob Root, insurance; Thomas McNall, Furniture/Funeral Director; Arthur (Dick) Eddy, printing; Richard Hollenbeck, Skip Landauer, dry goods; George Lamont, farmer; Richard Bloom, insurance; Bill Host, School administrator; Albert Raymond, insurance; Francis Blake Jr., Cold Storage.
Row 5: Len Morneau, Lipton's Company; Lee Maine, Lumber Co.; Leonard Depzinski, sign painter; Daniel Marquart, appliances store; Homer Marple, furniture; Ray Severns, auto sales; Sam Shelp, auto agency.
Row 6: Roy Merrill, Funeral Home; Gordon Gardner, pharmacist; Walter Martin, James Lonergan, journalist; Henry Keeler, construction; Carlton Wilkinson, electrical store; John Merrill, Funeral Director; Harold Farnsworth, Rev. Earle Hamlin, Frank Sachali, produce; Rev. Jack Hillary Smith.
Inset: Homer Luttenton who was absent from the group photo.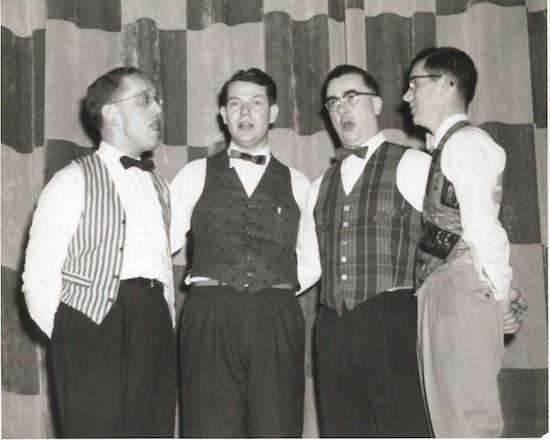 In the same decade, The Albion Rotary Club members participated in an annual Variety Show for many years.  One of the "acts" is seen here with (left) Homer Marple, Tom McNall, Winton Hatch and Bob Raemsch.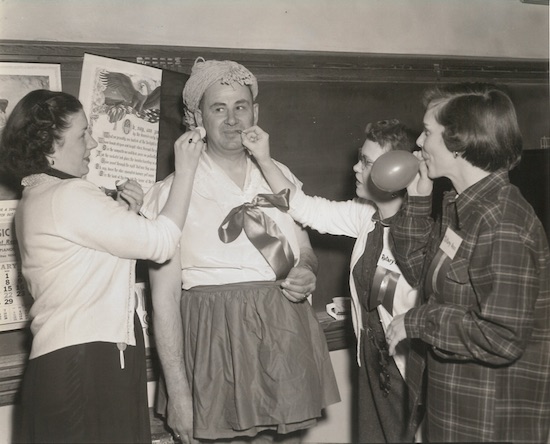 It was all good natured fun and even the ladies got into the spirit of entertainment: (left) Norma Marquart, Ray Severns, Marilyn Brunelle and Sue Eddy.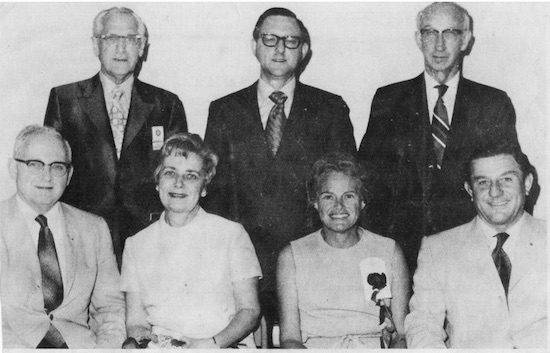 The Albion Rotary Club observed its 50th Anniversary with a special Golden Anniversary celebration on May 25,, 1972 at the Fireman's Recreation Hall in Albion.  Taking part in the evening's program were (Front) Rotary District Governor Dan Mitchell and Mrs. Mitchell of Amherst, District Governor and Mrs. Bob Reader of Auckland, New Zealand, (back row) Roy Merrill, Albion Rotary Past President and his son, John Merrill, Club President in the Anniversary Year, and Sidney Eddy, Charter Member from 1922.  The Merrill's were one of several father-son presidents in the Club's history.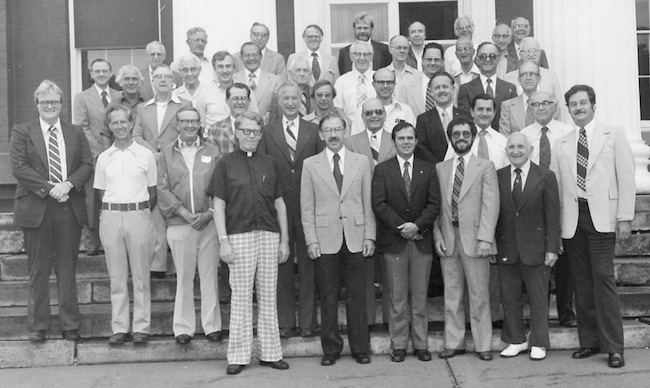 In 1979, the Rotarians gathered for this Club photo outside the Albion Courthouse.
Front Row:  Conrad Cropsey, Rollie Kast, Wells Harrison, Bob Temple, Frenchy Downey, Dick Pilon (Club President 1979), Jim Nesbitt, Pete Dragon.
Second Row: Winton Hatch, Ashley Ward, Dick Eddy, Don Shawver, Bob Remley, Brad Shelp, John Stable, John Koval, Steve Heard.
Third Row: John Merrill, Don Nesbitt, Sam Shelp, Bruce Smith, Leonard Rice, Carlton Wilkinson, Roy Merrill, Erling Maine, Norm Phillips, Merritt London.
Fourth Row:  Harlan Harvey, George Wolfe, Curtis Lyman, Jeff Rheinwald, Bob Babbitt, Tom Heard, Lee Maine, Franklin Cropsey, Al Raymond, Jarvis Swartz, Sid Eddy, Carl Bergerson, Joe Sadler.
Dick Pilon, a 55 year Albion Rotary Club member this June, offered his reflections on meeting venues during his tenure. "The first place we met when I started was the Presbyterian Church in Albion, then Marti's Restaurant for a short time, then we went to the Methodist Church for 20 years, then Albanese Restaurant for a couple of years and finally to the Village Inn in the 1980s."
Another milestone was reached in the Rotary year 1986-87 when Diane Arsenault was the first woman admitted as a member of the Albion Rotary Club.  Today, there is about equal representation with men and women.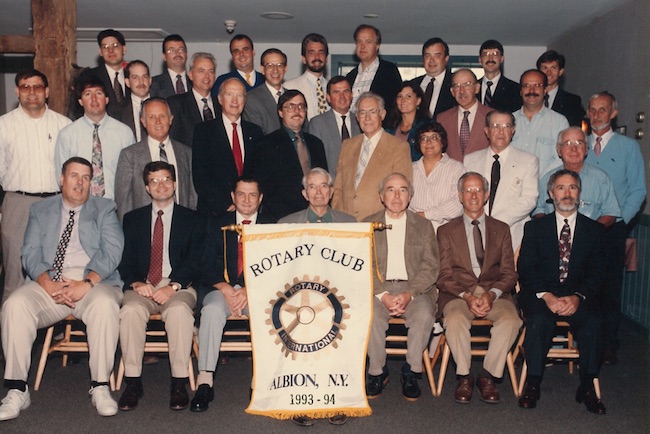 Rotary members gathered for this group photo in 1994 at Tillman's Village Inn.  Those attending are:
(Seated L-R) John Greene, Chris Haines, John Stable, Ed Archbald, Al Raymond, Rollie Kast, Jim Nesbitt
Row 2: Bruce Landis, Tom Anderson, Brad Shelp, Dick Eddy, Nathan Lyman, Paul Miles, Lynn Phillips, Ashely Ward, Don Nesbit
Row 3: Mark Reed, Ron Sodoma, Don Butts, Dick Pilon, Darlene Benton, Frenchy Downey, Fred Nesbitt Stan Allen
Row 4: Ed Fancher, Jim Neilans, Mike Pilon, Ed Guthrie, Jeff Hanes, Dan Marquart, Don Bishop.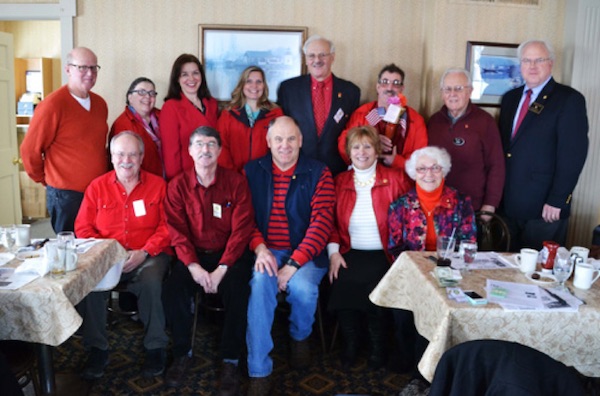 The Rotary Club assembled wearing red for a meeting in February 2015 to promote heart health. Those assembled included: (Seated L-R) Fred Nesbitt, Don Bishop, Bruce Landis, Marlee Diehl and Mary Anne Braunbach. (Standing) Dick Remley, Bonnie Malakie, Marsha Rivers, Tammy Yaskulski, President Bill Diehl, Ron LaGamba, Brad Shelp and Maynard Lowry from Lockport Rotary. Rotarian Brad Shelp is the Albion Club's most tenured member. He started with Rotary in 1958 and will have 63 years of perfect attendance this August. Marlee Diehl represented the Albion club as District Governor in 2016-17, with a theme that year of "Serving Humanity."

Beginning in 1975, the Albion Rotary Club presented its first Paul Harris Award, a tradition that continues through today that honors individuals, both members and non-members, who have made outstanding contributions to their communities. The first recipient in 1975 was charter member Sidney Eddy.  Since that time, the Albion Rotary Club has recognized 75 individuals as Paul Harris Fellows, the highest honor bestowed by Rotary International. Those so recognized are (in alphabetical order):
Ahmad Abdallah, Marian M. Adrian, Stanley Allen, Edward B Archbald, Timothy Archer, Diane L Arsenault, Carl Bergerson, Donald W. Bishop, Harriett Bishop, Richard C Bloom, Michael J. Bonafede, Michael Bonnewell, Donald Butts, Sanford A. Church, Sanford L. Church, Conrad Cropsey, Grace E. Denniston, Marlene Marlee Diehl, William F. Diehl, Kevin Doherty, Everett G. Downey, William F. Downey, Arthur B. Eddy, Sidney M. Eddy, Edward Fancher, Mildred Gavenda, Ada Grabowski, George P Guthrie, Christopher P. Haines, R Wells Harrison, Harlan E. Harvey, Winton P Hatch, Thomas E. Heard, Jr., Scott Hess, Rebekah Karls, Rolland W. Kast, Teresa M. Kelly, Kelly Melinda Kiebala, Alexandra R. Krebs, Bruce Landis, Cary W. Lattin, Leo La Croix, Raymond M. Lissow, Kathleen R. Ludwick, Curtis L Lyman, Evelyn L. Lyman, Erling W. Maine, F. Leland Maine, Bonnie B. Malakie, John B Merrill, Rho B. Mitchell, Sharon  Narburgh, James R. Neilans, Charles H. Nesbitt, Fred W. Nesbitt, Jerome Pawlak, Margaret A. Pearson, Cindy Perry, Michael R. Pilon, Richard Pilon, Charles Pulley, Albert C. Raymond, Francis Richard Remley, Thomas Rivers, Gary A. Saunders, Patricia M Shelp, Bradley J. Shelp, Walter A Shelp, Gary Simboli, David G. Spierdowis, Susan A. Starkweather, Ashley R. Ward, William Morrell Washington, Jr., Patricia J Wood, Tammy Yaskulski.
Editor's Note: Since this article was initially posted, more Paul Harris award winners were identified, including Cary W. (Bill) Lattin, Karen Sawicz, Jim Parke, Paul Miles, Don Nesbitt, Ron Sodoma, Gordy Gardner, Nathan Lyman, Gail Lyman and Bill Tillman.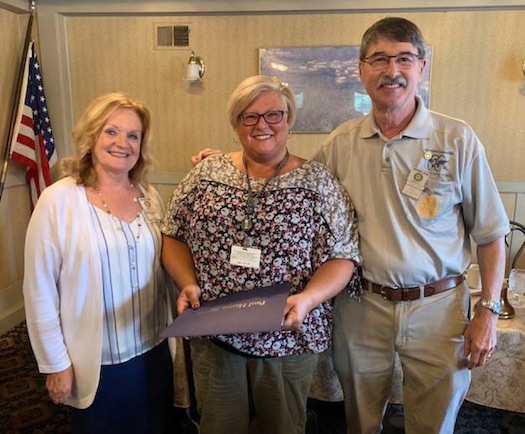 In 2019, the Albion Rotary Club named Becky Karls, center, as a Paul Harris Fellow. Karls is congratulated at a club meeting at the Village Inn by Rotarians Cindy Perry, left, and Don Bishop, Rotary Foundation Chairperson; right. Bishop called Karls "the secret ingredient of the Albion Rotary Club." She is instrumental each year in many of the club's fundraisers, including the St. Patrick's Ham Dinner, the Turtle Race at the Strawberry Festival, the golf tournament and the fishing derby. Karls also is active with many other community efforts, including organizing the car show at Bullard Park as a fundraiser for Hospice of Orleans County (now known as Supportive Care of Orleans County).

The Albion Rotary Club has been a sponsor of the Albion Strawberry Festival since 1986. The success of this annual event depends on the many Rotary members, as well as community members, who oversee the event each year.  Thousands of visitors flock to the two-day event that plays out across downtown Albion.
The poster above shows the logo for the 2020 festival which had to be cancelled due to Covid-19 health restrictions.  The Rotary Club is hopeful that the event will return in full swing for 2022.  The Club maintains several other community events each year such as the Rotary Fishing Derby, St. Patrick's Day Ham Dinner, and the Rotary Golf Tournament.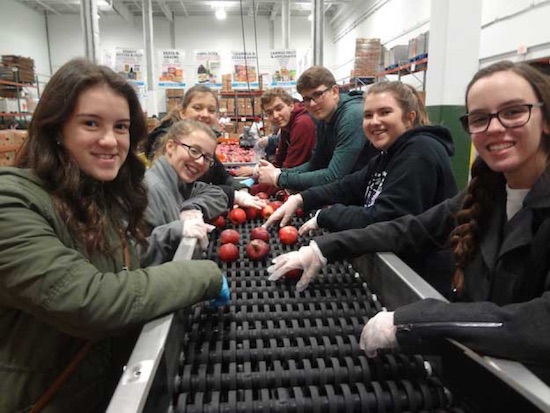 The Club also sponsors Interact, a group of Albion High School students led by advisor Tim Archer. In 2017, Albion Rotary Interact members spent the day at Foodlink in Rochester. Pictured from left: McKenna Boyer, Alanna Holman, Emily Mergler, Noah Wadhams, Cody Wilson, Aubrey Boyer and Annalise Steier. Over the years, the Albion Rotary Club has also been very active in sending and receiving students and adults for overseas foreign exchange opportunities.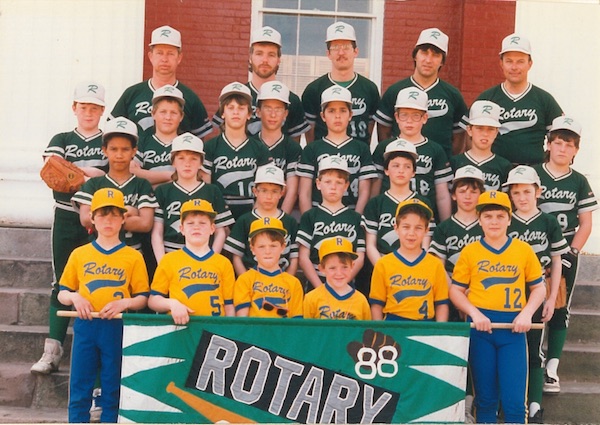 Over the years, Albion Rotary has been a sponsor for many youth sports teams, providing uniforms, leadership and much more. Perhaps you can lay claim to one of these "sluggers" from 1988.
Albion Rotary's two newest members, Robert Batt, Executive Director of Orleans County Cooperative Extension and Laura Olinger, President of Bentley Brothers, are welcomed to the Club on June 10, 2021.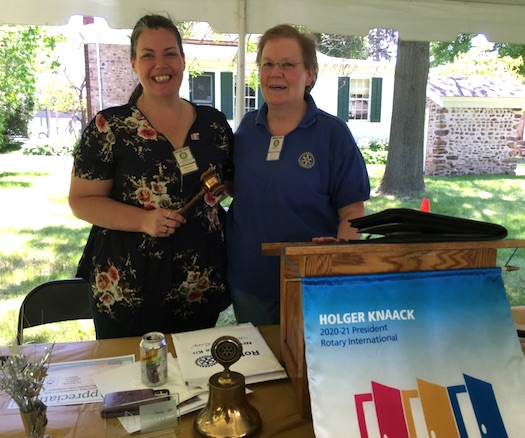 Incoming Albion Rotary Club President for 2021, Jessica Capurso, accepts the gavel from outgoing President Alexandra Krebs.  The Club held their Installation Service outdoors at the Cobblestone Museum in Childs at a potluck luncheon meeting on Thursday, June 24.  Many thanks to Kendall Lions Club who provided the tent.