Historian's night-time tour of downtown Albion draws a big crowd
Matt Ballard shares stories of 'Murder & Mayhem' from Albion's past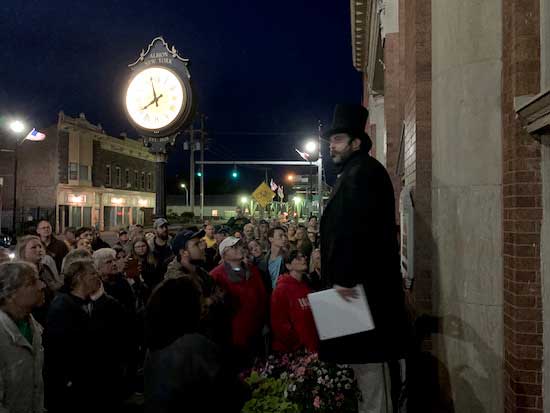 Photos by Tom Rivers
ALBION – Friday night's tour of downtown Albion, with Orleans County Historian Matthew Ballard, drew a crowd of about 200 people for the "Murder & Mayhem Tour." Ballard shared stories of high-profile crimes from the community's past, and some other curious happenings.
Ballard leads summer tours of Mount Albion Cemetery. This was his first time doing a night-time tour of the downtown. He was surprised to see such a big turnout.
Ballard will do another "Murder & Mayhem Tour" today at 8 p.m., starting at Tinsel, just north of the Erie Canal.
He is shown standing on a flower planter in front of the Citizens National Bank (now the Albion Visitor's Center) at 121 North Main St.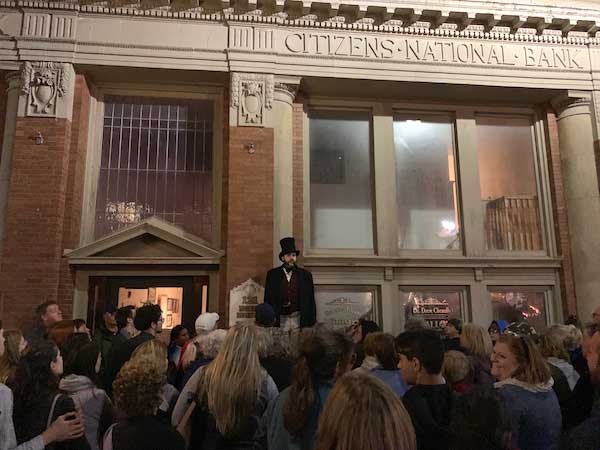 The Citizens National Bank used to be the First National Bank of Albion. Ballard told how Albert Warner stole about $40,000 from the bank and then fled to Canada.
He was rumored to have returned to Albion briefly, when he dressed as a woman to attend his father's funeral at Mount Albion.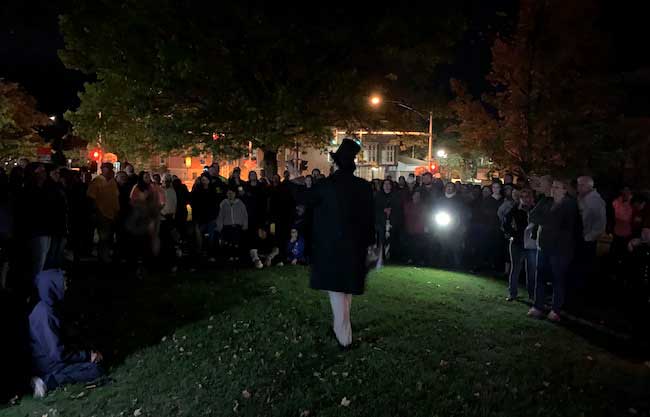 Ballard is shown speaking on the Courthouse lawn. He told about Albion leaders ploy in deceiving state officials to naming Albion the county seat, over Gaines, which was more developed in the 1820s due to the well-travelled Ridge Road.
Philetus Bumpus and Nehemiah Ingersoll led the push for Albion to become the county seat. They concocted a plan to have Sandy Creek dammed just before the state commissioners were in town. The water was then released to make it appear Sandy Creek was a much stronger stream.
What appeared to be a powerful stream was influential in swaying the commissioners to pick Albion over Gaines. Ingersoll would later donate land for the courthouse to be built.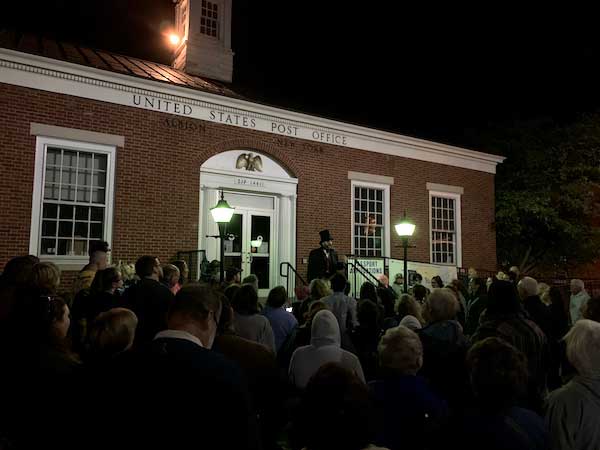 The group stopped in front of the Post Office on Main Street, where Ballard told of the murder of Pierpont Dyer.
He also highlighted the murder of Alice Wilson by her husband George. He was executed in 1888 in a stockade near where the current county jail is located. That execution was the last one in Orleans County.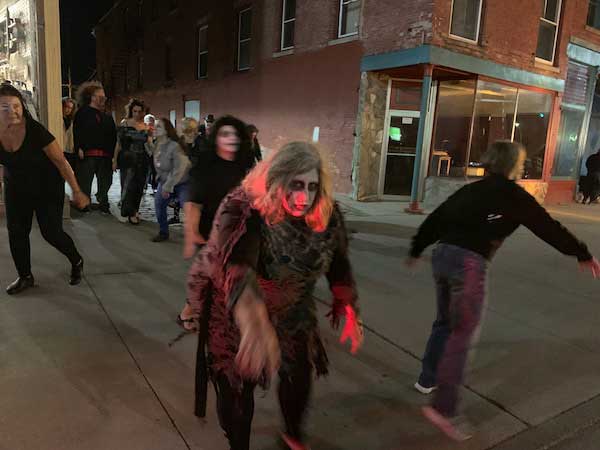 Michelle Diaz, a member of Body by Summer Torrance in Brockport, was among a group of dancers who dressed as zombies and danced to "Thriller" by Michael Jackson on Main Street near Beaver Alley. It was a surprise on the tour.
The "Murder & Mayhem Tour" is part of the Orleans County Heritage Festival, which continues with events through Sunday.
Other activities this weekend include:
Saturday, Sept. 14
• 11 a.m. to 5 p.m. – Old Timer's Fair at the Cobblestone Museum: The Cobblestone Museum will come alive with artisans and re-enactors as we recreate the feel of Orleans County life in the 19th century. A chicken BBQ is available for dining or take-out.
Sunday, Sept. 15
• 1 p.m. – Medina Sandstone Society's Hall of Fame, City Hall, 590 Main St., Medina: Established in 2013, the Hall of Fame is a display of informational plaques of sandstone structures in NY & PA that have been deemed worthy of inclusion in the Sandstone Hall of Fame. Free admission.
• 4:30 p.m. – Concert at St. John's Episcopal Church, Medina: A concert featuring soloist, Patricia L. Worrad, Soprano with songs of years past at the church built in the middle of the street as stated in "Ripley's Believe it or Not". St. John's church is built of Medina Sandstone and home of the oldest church congregation in the county.