Historian shares Christmas postcards from a century ago
"Illuminating Orleans" – Vol. 1, No. 31
By Catherine Cooper, Orleans County Historian
A collection of Christmas cards sent to Mr. & Mrs. Smith Sanborn of East Center Street in Medina between 1923 and 1927 is one the quiet treasures housed in the Medina Historical Society Museum. These simple but elegant cards reflect the artistic style of the era and contrast with the larger, louder cards we have become accustomed to.
Sources credit Sir Henry Cole for creating the idea of the Christmas card in England in 1843 and the custom of exchanging greetings soon became part of the Christmas tradition.
Many of the Christmas cards in this small collection are postcards, with the image and verse on the front, the address and space for a brief message on the reverse. Postcards could be mailed with a one-cent stamp – though this example shows a two-cent stamp.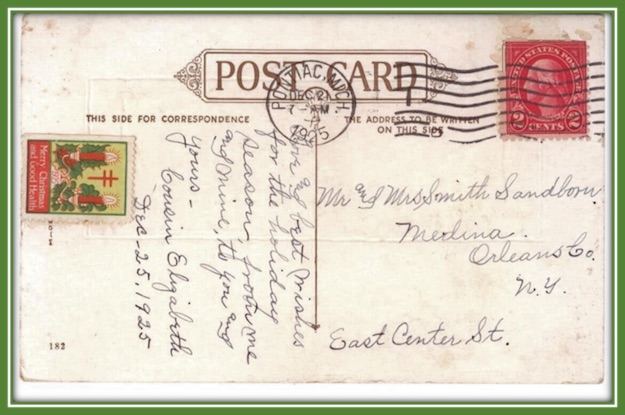 Another interesting feature of this greeting is the Christmas seal stamp. Most of the postcards and envelopes in this collection sport this seal, and several of the envelopes have two or three seals affixed.
The double barred red cross was the logo of the National Tuberculosis Association. The 1925 design with two bright candles signifies how far a little candle can throw light, and by inference how powerful the purchase of a penny Christmas Seal stamp could be.
By 1925, sales of the penny seal stamps had garnered $25,000,000 to help build hospitals and promote prevention thorough education. During the nineteenth and early twentieth centuries, tuberculosis, commonly referred to as TB, was the leading cause of death in the United States.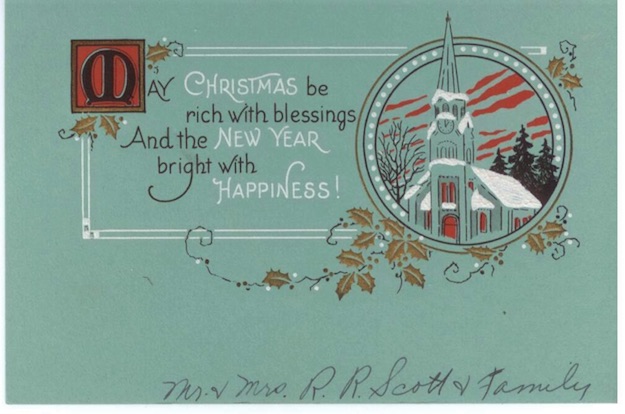 The cards in this collection are all single sided, with the image and verse on one side. The reverse is blank, there is no indication of the printer or publisher. Some of the cards are printed on pastel hues that we would not associate with Christmas today. Many have matching envelopes.
Greetings are short and spare – generally just the senders name, with brief good wishes. Only one of the envelopes includes a house number (407 East Center), the others simply list the street and village.
Since the collection spans a few years, we can see that the Smith Sanborns regularly received Christmas greetings from the same cousins in Barker, NY, Titusville, Fl, and Los Angeles, Ca.
Local businesses recognized the benefits of acknowledging their customers at Christmas time. The Boyd Coal Company and Rowley and Reynolds, also a coal company sent warm greetings, as did the Union Bank.
No doubt there are other Christmas cards from previous decades languishing in attics and closets throughout the county, just waiting to be enjoyed again. Their greetings and artwork reflect their moment in time.