Historian has new column of historical tidbits
"Out of the Past" debuts looking at January news from years ago
This year I am attempting to resurrect a column started by Cary H. Lattin in the 1950s/1960s entitled "Out of the Past." These short little blurbs always started with, "Did you know…?" and provided factoids about past events and people from Orleans County. Taking a different approach, I will put out a monthly listing of interesting events happenings from various milestone years (50 years ago, 75, 100, 125, 150, 175, and 200).
75 Years Ago – 1942
January 1st – Medina Tribune
Judge William Munson takes office as State Supreme Court Justice from the 8th Judicial District, having defeated Democrat David Diamond of Buffalo.
January 1st – Medina Tribune
Frank Ritz is found dead in the Kendall Methodist Church. He was installing wiring for a new oil burner, which he largely helped finance, when he died.
January 15th – Medina Tribune
Ensign John Munson of Medina, stationed aboard the U.S.S. Kearney when it was struck by a German torpedo in October of 1941 (before the U.S. entered WWII), was cited for bravery during that attack and promoted to lieutenant junior grade.
January 29th – Medina Tribune
Police raid the Mayflower restaurant at Medina and confiscate a slot machine from the basement containing $26.50. Thomas Calafates, the co-owner of the business, was arrested in connection with the machine, stating that it was being "stored" in the basement and was never used.
100 Years Ago – 1917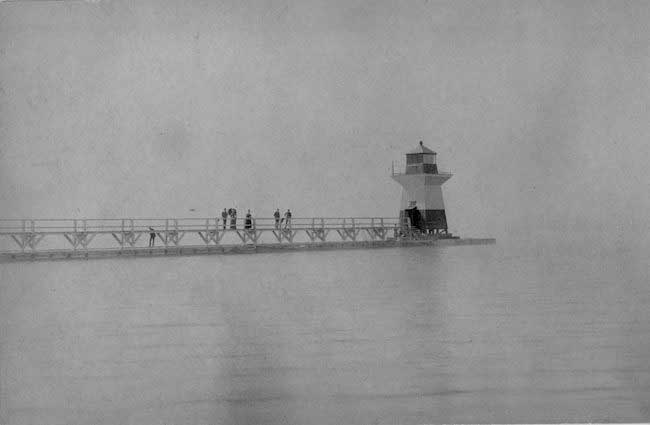 January 3rd – Orleans Republican
A violent storm sweeps the Point Breeze lighthouse into Lake Ontario, taking a large portion of the western pier with it.
January 10th – Orleans Republican
Francis Van Stone, native of Albion, was found dead in his New York City office. Van Stone held a lucrative position with a large steel office furniture business.
January 18th – Medina Tribune
Albert Grinnell is appointed as an instructor of drawing at Miami University and shows promise of being appointed to study under faculty of drawing at the same institution. He is eventually appointed to an assistant faculty position in the Industrial Education program under Professor Fred Whitcomb – Grinnell is responsible for teaching industrial arts classes.
January 24th – Orleans Republican
Charles Stielow arrives at Auburn Prison after his sentence is commuted to life in prison. Stielow was found guilty for the March 1915 murders of Charles Phelps and Margaret Wolcott in Shelby. The newspaper followed the report with this statement; "People who love justice in Orleans County at least are sick of the consideration and sentiment lavished on this brutal murderer."
January 25th – Medina Tribune
The Orleans County Farm Bureau, precursor to Cornell Cooperative Extension, is established with Lawrence Steele as the manager.
125 Years Ago – 1892
January 7th – Medina Tribune
Medina receives word that Matthew Phelan, once a resident of Medina now residing in Buffalo, was murdered during a street brawl on New Year's Eve. When confronting a man named McGraw, whom he thought was an acquaintance, McGraw became enraged and began pummeling Phelan. A blow to the temple knocked Phelan back, causing him to hit his head on the concrete and fracturing his skull. The 35-year-old man left five children, his wife predeceased him three years earlier.
January 14th – Medina Tribune
The Creole Burlesque Company initiated a lawsuit against George Gallagher who was an agent for the company. The business was seeking $2,000 in damages.
January 14th – Medina Tribune
The newspaper published a notice that snowball throwing boys should be punished for their actions – a woman was struck in the head and nearly knocked unconscious by a hard snowball thrown by a local boy.
January 21st – Medina Tribune
Reports that Medina residents are complaining about broken windows in their homes as a result of dynamite blasting for installation of the new village sewer system.
January 28th – Medina Tribune
A team of horses owned by Henry Fletcher was parked on Main Street when a mischievous young lad threw a snowball, hitting one of the horses. The team took off down the street causing an accident and nearly killing Prosper Odirkirk.
150 Years Ago – 1867
The Holley Cemetery Association purchases approximately seven and three-fourths acres of land lying south of Holley at a cost of $1,100. The land was to be used as a burying ground as part of Hillside Cemetery. The cemetery would be dedicated in the summer of that year.
175 Years Ago – 1842
Dr. John Henry Beech of Gaines, son of pioneer physician Dr. Jesse Beech, married Mary Jane Perry of Clarkson.
200 Years Ago – 1817
Samuel Salisbury of Newport, Herkimer County, NY arrives in Ridgeway with his brother Stephen and settles upon land purchased from the Holland Land Company. Provisions were scarce and before harvest few families had bread for meals. Instead they boiled green wheat in milk, or with cream and maple sugar to make a dessert. Meat options consisted of venison, squirrel, or raccoon.
Abram Bidelman of Manheim, Montgomery County, NY arrives with his father's family at Ridgeway. The family was poor, his father boasting a self-worth of no more than fifty dollars. The family would finally complete a log cabin in March of that year.
Laura Baker Bostwick of Fairfield, Vermont travels to Shelby, NY with her husband Samuel on a wagon drawn by three old steers. During the journey the couple was robbed of their worldly goods and was forced to sell a portion of their clothing to pay for the remainder of the trip.
Jonathan Clark arrives in Gaines from Londonderry, New Hampshire on January 1st after a 21 day trip. Upon their arrival they began keeping house with no table, chairs, or bedstead. Clark was forced to craft all of these items himself in true "pioneer style."
The Free and Accepted Masons Lodge formed at Ridgeway, called Alluvion Lodge No. 257 initiated its 3rd new member on January 30th, Mr. Cornelius Ashton.