Higher power helped motorcyclist break free from addiction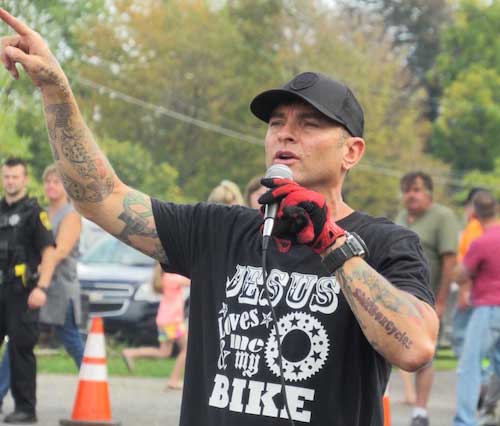 KNOWLESVILLE – Scott Caraboolad, who has wowed audiences around Orleans County this week with his inspirational stunt cycle shows, performed three shows with his Ride 4 Life crew Saturday afternoon at the Orleans County 4-Fairgrounds as part of Hopefest.
The free event included food, informational booths and music in addition to the shows.
Caraboolad traveled from Akron, Ohio to Orleans County to share his story of drug and alcohol addiction and how he came back from nearly attempting suicide thanks to a new found faith in Christ. Caraboolad said he was trying to find happiness in material possessions and money, but overcame his addictions after turning to God.
"I had to get on my knees with humility and admit I needed help for my addictions and emptiness," Caraboolad said.
He encourages others who are experiencing misery, pain and suffering to seek help.  "No one deserves that life," he said of those suffering from addiction.  "I always wanted out."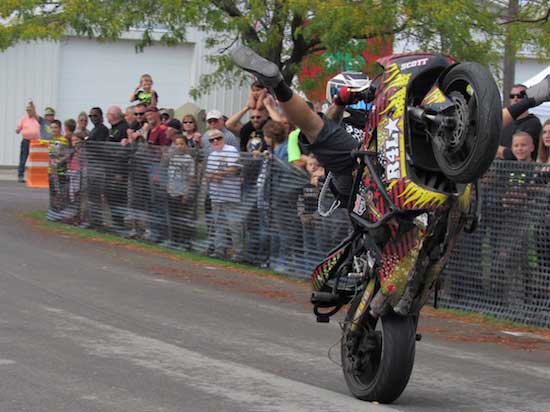 Scott Caraboolad performs at Hopefest on the 4-H Fairgrounds in Knowlesville. The Ride 4 Life team also performed this week at Holley, Kendall and Lyndonville school districts, and at community events in Albion and Medina.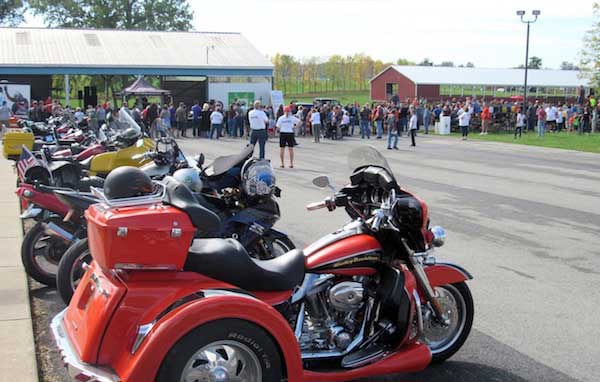 The Hopefest stunt cycle performance by Ride 4 Life attracted many motorcyclists.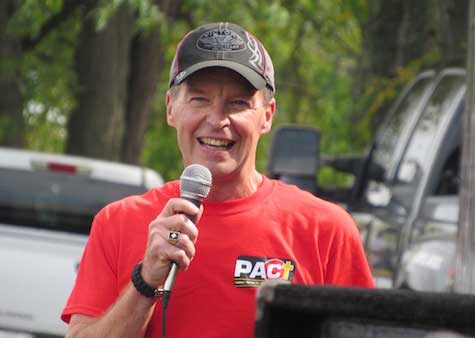 Tim Lindsay, pastor of Harvest Christian Fellowship in Albion, is a member of P.A.C.T. – Pastors Aligned for Community Transformation. He welcomed the audience to the Hopefest event.  He praised the community partners, including local churches, the Orleans County Sheriff's Department, county and area organizations and local businesses for bringing Ride 4 Life to Orleans County.
"It's really exciting to see everybody come together," Lindsay said.  He told Orleans Hub the visit by Ride 4 Life, "has been
tremendous. It exceeded by expectations. The school kids were so receptive and the community events were amazing. This
is the first time we have done this and hopefully not the last."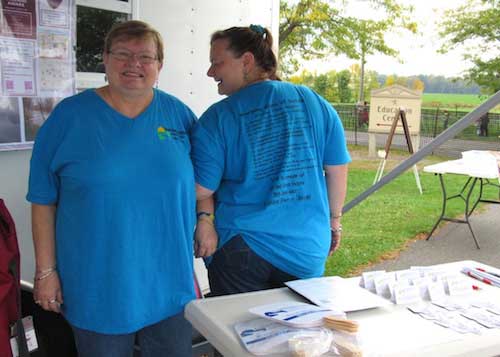 Meredith Minier, who lost her husband to suicide, and Nola Goodrich-Kresse, Orleans County Public Health Educator and head of the Orleans County Suicide Prevention Coalition, manned a booth along with Albert Cheverie, Orleans County Emergency Preparedness Coordinator.
Goodrich-Kresse said Hopefest provided the Suicide Prevention Coalition an opportunity to reach out to its target group of men and women 25 years of age and older.
"Suicide is preventable," Goodrich-Kresse said.  "We want to make sure people know there is a place where they can go and talk with somebody."
Both Minier and Goodrich-Kresse noted the pain of depression is real, but treatable.  "There are people in the audience who have gone through depression, we want to give them resources," Goodrich-Kresse said.
Albert Cheverie said Orleans County VALOR – Volunteer Alliance Linking Orleans Resources – may soon expand to include Genesee County.  A vote from the Genesee County Legislature is expected soon.  The counties working together would be able to provide even more resources to residents including a mobile animal shelter for pets during evacuations.
Cheverie said the Opioid Task Force may also become a part of VALOR.
The Orleans County Health Department booth at Hopefest offered attendees informational booklets including information on the Emergency Preparedness App.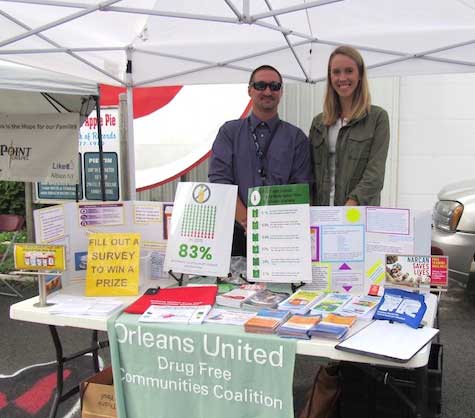 Calvin Hargrave, an intern, and program assistant Sarah Stendts of the Orleans United Drug Free Communities Coalition, provided information regarding overcoming drug addition, heroin and opioid use, in particular. Stendts said Hopefest provided her organization an opportunity, "to share the message that there is hope for recovery."