High-speed chase ends in crash on 98 in Barre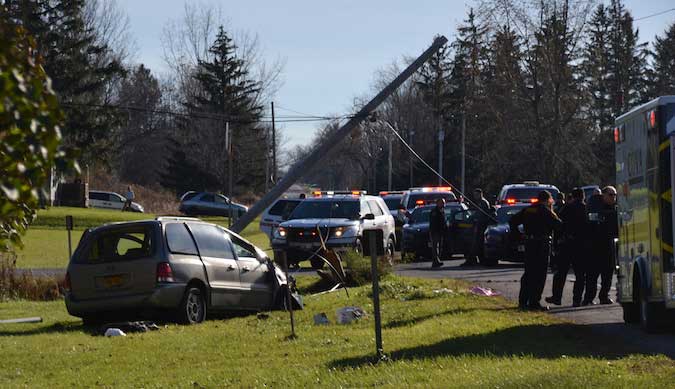 Photos by Tom Rivers
BARRE – A high-speed chase that started in Batavia ended at about 1:45 p.m. when a van hit a utility pole at the corner of Route 98 and Lime Kiln Road in Barre.
There were three people in the van who are accused of being shoplifters from Kohl's in Batavia. The driver of the vehicle was being transported to a hospital by Central Orleans Volunteer Ambulance. She didn't have life-threatening injuries. The two passengers were also being checked out by paramedics on scene.
Undersheriff Chris Bourke said the accused shoplifters threw many of the clothes and stolen merchandise out of the vehicle during a high-speed chase that went about 15 miles along Route 98.
The vehicle exceeded 120 miles per hour.
Albion Police and the Orleans County Sheriff's Office responded to the scene. The Albion Police were getting ready to place spike strips on Route 98 when the vehicle crashed, Police Chief Roland Nenni said.
National Grid arrived just before 2:30 p.m. in response to the snapped utility pole. Albion and Barre firefighters are providing traffic control while a section of Route 98 is shut down.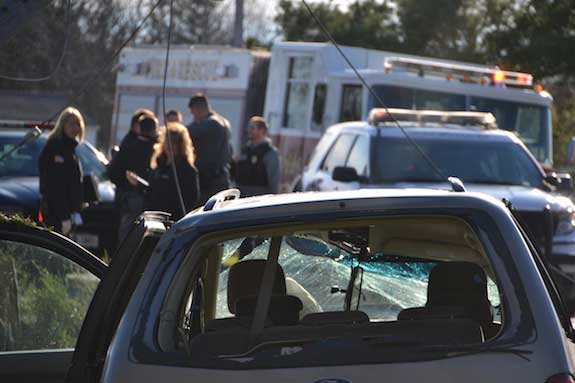 The front windshield of the van is smashed, as well as the front end of the vehicle after hitting the utility pole.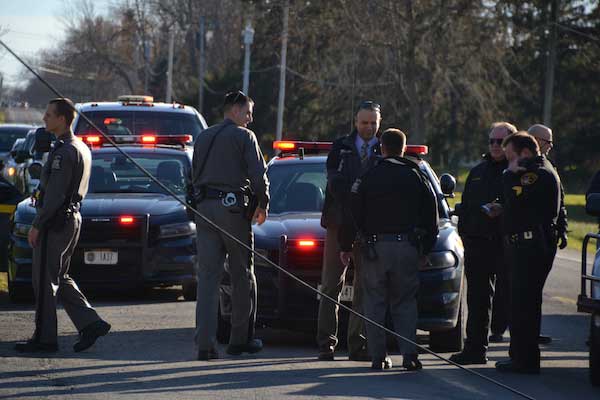 Multiple law enforcement agencies responded to the chase and crash, including the State Police, Genesee County Sheriff's Department, Orleans County Sheriff's Office, Albion Police Department, and a state conservation officer.