'Herstory' – Life on the farm in 1852; The Ballou Diaries, part 3
"Illuminating Orleans" – Vol. 2, No. 5
By Catherine Cooper, Orleans County Historian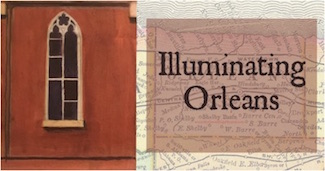 CARLTON – We have had the privilege of becoming acquainted with the daily lives of Hosea and Sarah Ballou on their farm on the Oak Orchard River Road in Carlton from Hosea's diary entries, beginning in January 1851.
He continued the diary through the year, but his entries became more perfunctory, brief descriptions of the major tasks of the day:
August 29: Plowed in forenoon. Prepared for threshing.
He harvested wheat in July, sowed wheat in September (14 acres, 22 bushels seed), then threshed in October. As the year went on, he logged, butchered hogs, husked corn, buried turnips, dug carrots, On November 1, he went to Eagle Harbor with wheat which he sold for 87 ½ cents. That price must have been acceptable, because he went again the next day with two loads, 156 bushels. He then paid bills:
November 7: Paid up Kuck and Co. 28 dollars and 88 cents due. Paid up Mr. Thompson for land.
George Kuck, for whom Kuckville is named, operated a grist mill, a sawmill, a warehouse, an ashery and a general store there. On December 30, Hosea paid $3.03 for taxes at The Bridges. He did not elaborate, but money must have been a concern, for on December 6 he wrote:
Went to Kendall to see Mr. Reed about money. Got none, hard times.
1852 – Another Point of View
Tiring of the chore of daily record-keeping, Hosea turned the task over to his wife, Sarah, in 1852. In his diary entries, Hosea would refer to Sarah's visitors and where she went visiting, but he rarely referred to what she did. Her entries were more detailed and give a better insight into the daily life of a woman at that time. In addition to the regular housekeeping chores of the day, she made clothes for many family members:
January 1: Snowed a little in the morning. Hosea went to Mr. Stillwells in the afternoon to get his boots mended. I began Ashbel's shirts.
January 2: I finished one shirt. I began my dress. Hosea to work for VanRiper.
January 3: Finished my dress. Hosea went to The Bridges with butter, got 14c per pound. Got 14 lbs. of tallow of D.V. Simpson.
January 5: More pleasant, washed and put candle wicks in the rods.
Tuesday 6: Dipped 12 doz. Candles, snows all day. Hosea went to the P.O. I finished a shirt.
Sarah was a busy seamstress throughout the year, sewing pants, shirts, skirts and dresses for relatives and neighbors. She noted whom each garment was made for: "a skirt for Belinda, a shirt for Andrew," and may have used the diary entries as a ledger. She does not refer to cash payment for her work.
She got some flax to spin in March and went to a quilting. She went to the store in May – a rare occurrence – and bought a lawn dress and some gingham for a sunbonnet. In October, she "brought home cloth to make six shirts for Frank Jones, 4 fine ones & 2 coarse."
In December, she and Hosea went to Albion – also a rare occurrence. She bought a shawl, $4.75, a delane dress, a calico dress and a sieve. (A "delaine" dress was made of high-grade wool, while a calico dress was a work dress.)
Sarah's entries also included some brief references to health. She had two teeth pulled in May though she had not referred to toothache issues prior to that and did not indicate where she went for the extractions. She complained of "a sick headache" in November. A very matter of fact entry for May 14 read: "Pleasant. Hosea helped Ralph plant corn. I went down home. I was weighed. Weighed 123 and three quarters."
Hosea froze one ear coming home from Mr. Stillwell's one cold January day. He had his finger caught in the threshing machine in August, "he had to have it cut off at the first joint." It was very painful for some time, he had to go to the doctor's to get it dressed and later to have stiches removed but was able to go berrying in September.
In October, Sarah wrote that she "sat up with George Miller's child," inferring that she took her turn helping a neighbor who had a sick child, as was the custom. Several days later, she wrote: "Geo. Miller's child buried today."
She did not mention the child's name or age, or the mother's name. Other entries also point to women's secondary status at that time: Hosea went to town meetings and to funerals, he attended debates at The Bridges. In October, he went to hear Governor Church lecture at Waterport and several days later, he heard him lecture at The Bridges. On November 2, Hosea "went to Election" (presumably to vote) while Sarah stayed at home and "made a pair of drawers."
("Governor Church" was Sanford Elias Church (1815-1880) of Albion, a Democrat, who had served as Lieutenant Governor for Washington Hunt and was re-elected to that position in 1852, with Horatio Seymour as Governor)
Sarah noted her birthday on November 30: "I am 26 today," their anniversary on December 16: "It is five years ago today that we were married."
She noted Christmas in passing: "December 25 Christmas. Moderate. Hosea and I went to his mother's."
On December 30, they went to a wedding (Edwin and Elizabeth's) and "it was two o' clock this morning before we got home from the wedding." A good way to end the year.