Heritage Festival kicks off at Forrestel Farm with more events around the county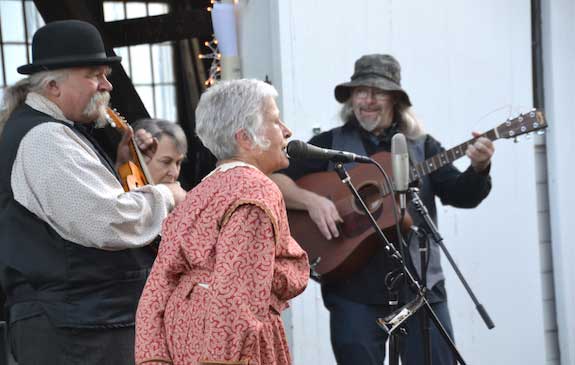 Photos by Tom Rivers
SHELBY – The Orleans County Heritage Festival held a kick off celebration on Friday at Forrestel Farm with music by City Fiddle in Buffalo. Many of the attendees square dancing.
City Fiddle includes, from left: Phil Banasczak on mandolin, his wife Gretchen in back playing fiddle and singing, Margaret Matthews in front as the caller, and Tim Pitcher playing the guitar.
The Heritage Festival includes many events this weekend and on Sept. 16-17. Organizers are trying to highlight the many historic sites in the county, while providing experiential learning.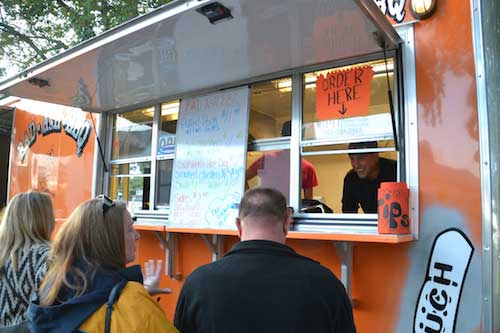 JJ Heideman of BAD-AsH-BBQ served up pulled pork and other food that was popular with the crowd.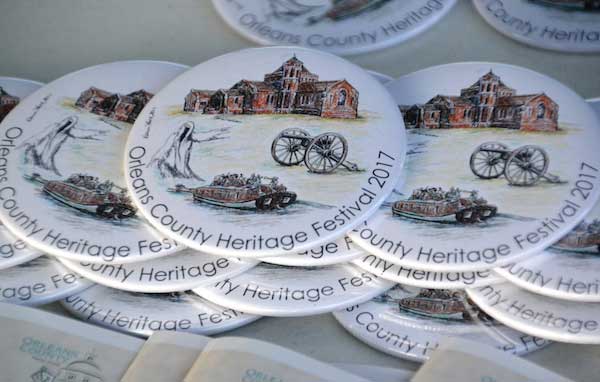 Attendees of the festival receive a commemorative button.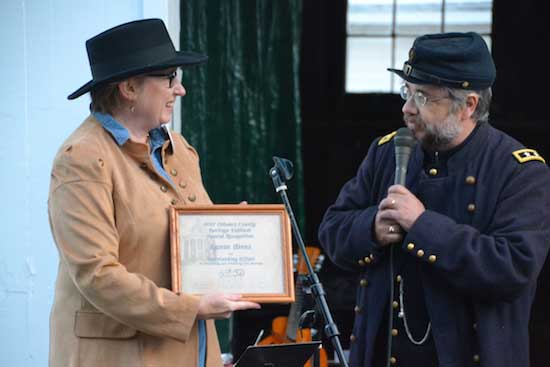 Derek Maxfield, one of the festival coordinators, presents Lynne Menz, the county's tourism coordinator, with a special recognition award for her "outstanding effort" in preserving and promoting Orleans County heritage.
"She has been an indispensable person in our group of coordinators," said Maxfield, a GCC history professor.
Maxfield is dressed as a major general from the Civil War named John Henry Martindale of Batavia.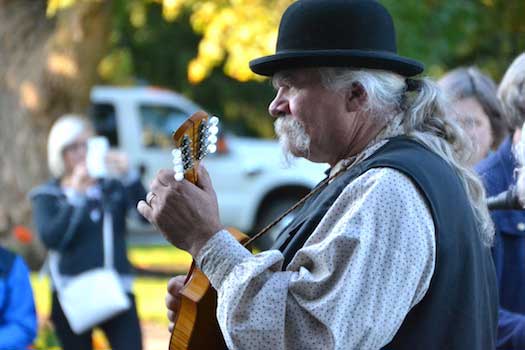 Phil Banasczak plays the mandolin while some of the attendees squared danced at Forrestel.
The farm is a historic site, with the main house built in 1825. Mary Herbert, a fifth-generation owner of the site, gave tours of the farm.
Some of the attendees give square dancing a try at Forrestel.
This weekend's events include:
• "Ancestors, Legends & Lore" today at GCC in Albion, 456 West Ave., from 9 a.m. to 2 p.m. There will be a focus on Victorian Spiritualism with a lecture, display, and a parlor séance, as well as a genealogy workshop.
• There will be a guided WWII Victory Garden from 9 a.m. to 3 p.m. today at the Cornell Cooperative Ext./4-H Fairgrounds in Knowlesville. Master Gardeners have created a WWII Victory Garden similar to those utilized by US civilians during WWII. They have grown varieties common during that era and will hand out copies of authentic Cornell Cooperative Extension 1942 informational Victory Garden leaflets.
• On Sunday from 7 p.m to 8:30 p.m. at the Hoag Library in Albion, County Historian Matt Ballard will discuss the service of WWI veterans of Orleans County. At 8 p.m., Company F Memorial Creative Director Lynne Menz and Sculptor Brian Porter will provide an update on the progress on the Company F bronze statue in Medina.
To see the full schedule of events, including participating museums and historic sites, click here.