Heritage Festival kicks off with 10-day focus on local historic, cultural assets
3rd annual event begins and will include many impressionists, lectures, Civil War Encampment and timeline festival
CLARENDON – The third annual Orleans County Heritage Festival started on Friday with a kick-off celebration at the Clarendon Historical Society. The 10-day festival has events around the county and this year includes a focus on women's history.
Organizers chose to focus on four themes this year: the Erie Canal, historic women, barns/barn quilts, and nature/wildlife.
"I think this is our best programming year," said Derek Maxfield, a GCC history professor and one of the organizers of the festival. "We have stellar women's programming."
The festival will include impressionists of Abigail Adams and Elizabeth Cady Stanton. Dr. Melinda Grube, who portrays Stanton, has three appearances during the festival, including a presentation at 7 p.m. on Monday, Sept. 10, at the Hoag Library. She will lead a women's history program entitled "Justifying Suffrage: From Mothers of the Republic to Angels of the Home." Even before the patriots of 1776 first proclaimed that "all men are created equal," Americans struggled to define women's proper role. Are women included among the equal "men" of this nation? Are women citizens? Are they persons? Dr. Grube will examine the issues.
Several leaders of local historical associations have worked with Maxfield, GCC and the Orleans County Tourism Department for the event. The first year the kick off was in Albion. Last year it was at Forrestel Farms in Medina. This year the Clarendon Historical Society hosted the kick off.
"We want to have it at all corners of the county," Maxfield said about the festival.
Maxfield said the county is very fortunate to have many historic sites and resources. The festival highlights some of those assets.
"This year is a tipping point," Maxfield said about the event's future. "We need more community support. The key to sustaining this is to see more bodies. We need more people to attend the events."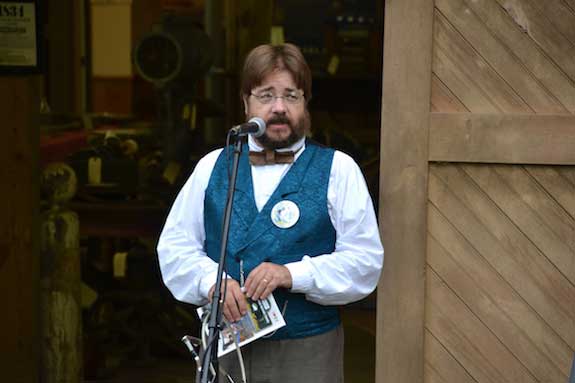 Derek Maxfield gives welcome address on Friday evening. A GCC history professor, Maxfield said the festival and the many events during the 10-day celebration offer a chance to educate outside of a traditional classroom.
"I love this," he said about the Heritage Festival. "You got to keep looking for new ways to teach history."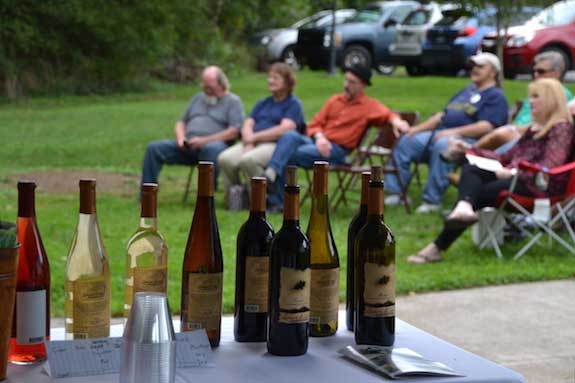 The kick off included a wine tasting by the Clarendon Historical Society.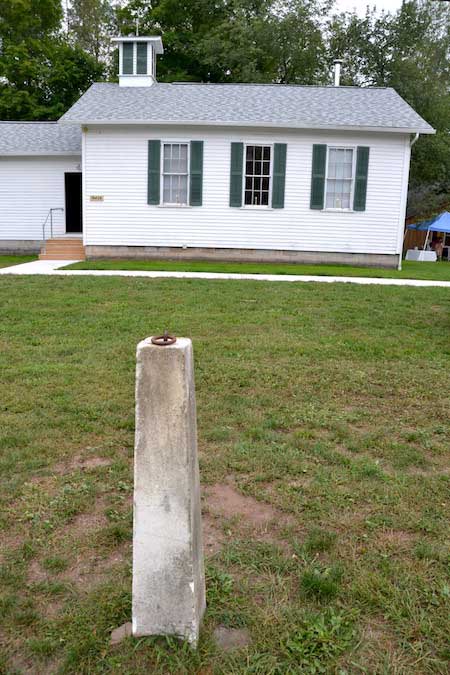 The former schoolhouse at Manning Corners in Clarendon was relocated to Route 31A by the Town Hall. A limestone hitching post is in front of the schoolhouse.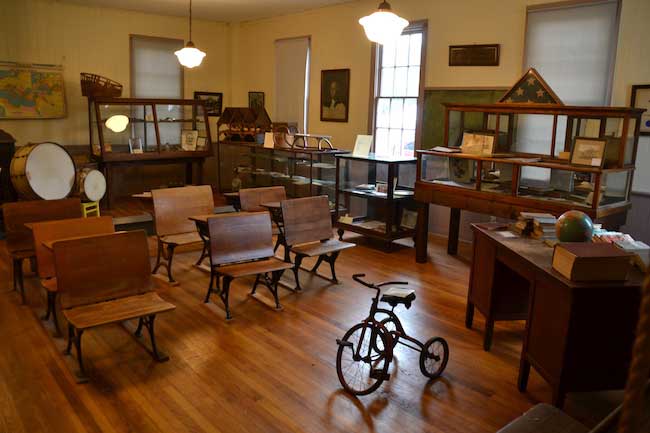 The inside of the school includes many artifacts from the community.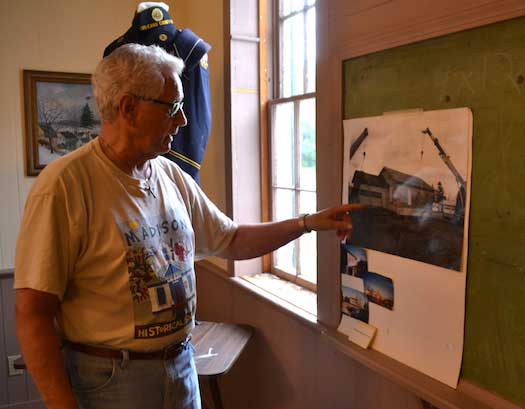 Roy Bubb of Holley gave tours of the schoolhouse that he attended as a kid in the Clarendon hamlet of Manning Corners on Route 31A. Bubb attended the school from first grade through sixth grade. The 1949 Holley graduate has written a book, "Memories of Manninng Corners,"  about growing up on a farm in the community. Bubb has published nearly a half dozen books. When he was 18, he attended an auction at the school after it was closed. He bought many of the contents for $1. Some of those, the teacher's desk and chairs, were donated to the Cobblestone Museum. Bubb saved other registers and documents that are on display at the schoolhouse.
"I'm glad they saved it," he said about the school building.
Some highlights for today's schedule include:
• 9 a.m. to 4 p.m. – Clarendon Historical Society will host Civil War Encampment featuring Union and Confederate soldiers.
•  2 to 3 p.m. – World premiere of Rudely Stamp'd presentation "Now We Stand Together Always: A conversation between Lt. Gen. Ulysses S. Grant and Maj. Gen. William Tecumseh Sherman." The outdoor performance will be at the Clarendon Historical Society. The play features a conversation between Civil War commanders Lt. Gen. Ulysses S. Grant and Major Gen. William Tecumseh Sherman. Based on a March 1865 discussion between the men at City Point, Virginia, where Grant made his headquarters, the play will be performed by GCC professors Tracy Ford (as Sherman) and Derek Maxfield (as Grant).  This free event is outdoors, weather-permitting; lawn chairs are suggested.
• 8:30 a.m. to 2 p.m. – Orleans Cornell Cooperative Extension Master Gardeners' "Orleans Pollinators" display/presentation and plant sale at the 4-H Fairgrounds.
• 10 a.m. to 4 p.m. – Medina Historical Society will feature the marriage of former Medina resident Frances Folsom to President Grover Cleveland.
• 11 a.m. to 1 p.m. – Cobblestone Museum Art Show Opening: Cobblestone Sunday Painters presents, "An Eye for History," an exhibit of paintings of historic artifacts from the Cobblestone Collection painted by Pat Greene and her students.
• 11a.m. to 5 p.m. – Cobblestone Museum will be open for tours and programming including the famous "Akeley Fox"
• 1:30 to 3:30 p.m. – Iroquois National Wildlife Refuge presents Native American Walks-Uses of Wild Plants led by Marvin Jacobs at Kanyoo Trail (Route 77). Bring bug spray.
To see the entire schedule for the Heritage Festival, click here.