Heritage Fest this weekend will showcase historic assets, as well as agriculture
ALBION – A festival this weekend will give people a chance to discover and learn more about local cemeteries, "historic gems," agriculture and transportation.
The county-wide celebration includes 29 locations of historical and cultural significance to deepen the appreciation of Orleans County today and in the past.
"This event truly illustrates how much this area has to offer," said Derek Maxfield, GCC associate professor of history and a festival organizer. "Each location ties into one of the four themes giving community residents of all ages a chance to appreciate our history while enjoying a fun, family-friendly, end of summer outing."
The Genesee Community College campus centers in Albion and Medina will be a showcase for local history.
Today there will be a timeline festival at the Medina center on Route 31A. There will be re-enactors, impressionists and artisans at Medina from 9 a.m. to 4 p.m. President James Madison and his wife Dolley, President Abraham Lincoln, Elizabeth Cady Stanton and other historic personalities are expected. There will also be artisan demonstrations, antique autos, Civil War firing demos, and exhibits from the Military History Society of Rochester.
The Albion campus center will be recreated into a Victorian wake, with a beautiful glass casket. Volunteers from the Orleans County Genealogical Society will be available to help research ancestors. The campus center will also host an 11 a.m. lecture by District Attorney Joe Cardone on famous crimes and murders in Orleans County. Retired Orleans County historian Bill Lattin will give a noon lecture on "Victorian Memorials Using Human Hair."
The Heritage Festival highlights 29 sites around the county with historic interest. There will be volunteers on hand at many of the sites for tours and to answer questions. (Click here to see brochure detailing when volunteers will be at the sites.)
• Historic Gems – These sites include the Albion Historic District, Clarendon Historical Society, Cobblestone Society & Museum (the only National Historic Landmark in Orleans County), Company F Memorial at the Medina Armory (currently Orleans County YMCA), Medina Historic District, Medina Historical Society and Robin Hill Nature Preserve in Lyndonville.
• Historical Cemeteries – Orleans County has several cemeteries on the National Register of Historic Places, and other sites that are burial grounds for pioneer residents. The festival includes Beechwood Cemetery in Kendall, Boxwood Cemetery in Medina, Greenwood Cemetery in Kendall, Hillside Cemetery in Holley, Mt. Albion Cemetery and Union Cemetery at Watt Farms in Gaines.
• Transportation – The Erie Canal cuts through Orleans County, so the festival will feature canal-related infrastructure, including the East Avenue Lift Bridge in Holley, and Canal Culvert in Ridgeway (only spot on canal where motorists can drive under the canal). There also will be railroad infrastructure included with the Medina Railroad Museum, and Murray-Holley Historical Society Depot Museum. Other stops include the Pine Hill Airport in Barre for the Vintage Aircraft Group's breakfast on Sunday, Tillman's Village Inn (a historic stage coach stop on Ridge Road), and the Oak Orchard Lighthouse Museum at Point Breeze.
• Agriculture – Some local farms will be open for tours, including Hurd Orchard on Ridge Road in Holley, Leonard Oakes Estate Winery & LynOaken Farms on Ridge Road in medina, Orleans Poverty Hill Farms on West County House Road in Albion, Partyka Farms on County Line Road in Kendall, Roberts Farm Market on Maple Ridge Road in Medina, and Watt Farms Country Market on Route 98 in Albion.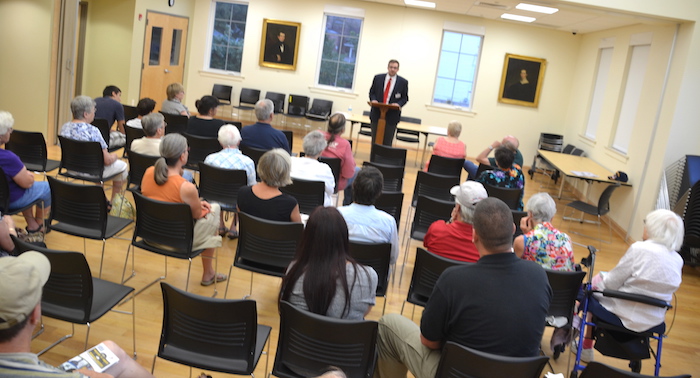 Matt Ballard, the Orleans County Historian, gives the keynote address to kick off the Heritage Festival on Friday evening at Hoag Library. Ballard discussed some pioneer residents and others from the 1800s and early 1900s whose contributions are overlooked, including a wave of Norwegian immigrants who settled in Kendall in 1825, and many residents who excelled in politics, industry and the medical profession. Ballard will be leading tours of Albion's Courthouse Square historic district today from 11 a.m. to 3 p.m., with tours leaving every half hour from the courthouse steps.