Here comes the sundog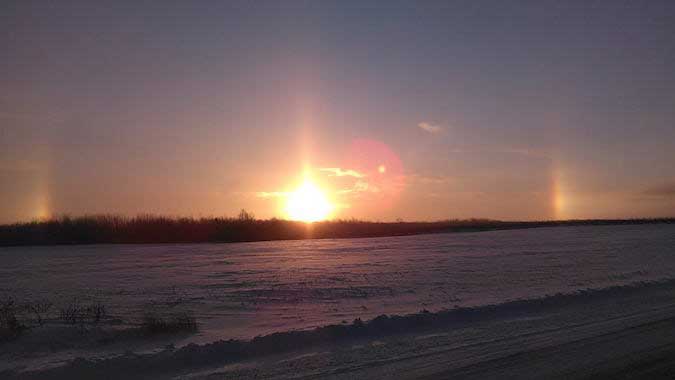 SHELBY – Kevin A. Smith Sr. took this photo of a sundog on his way to Albion Central School early this morning. The Root Brothers Farm field is on Townline Road in Shelby near the fairgrounds.
The sundogs resemble rainbows. They appear sometimes in the winter when low-lying sun creates ice halos.
It's going to be a cold stretch for a while. The high for Friday in Orleans County is forecast for 16 with a low of 10. The wind chill could fall as low as minus 5 degrees, according to the National Weather Service in Buffalo.
Saturday will hit 17 and drop to 3. Sunday will only reach 5 degrees and fall to 0, according to the Weather Service.
New Year's Day on Monday will reach 11 degrees with a low of 4. Tuesday will reach 17 with a low of 9, followed by a high of 17 on Wednesday with a low of 7 degrees.