Heartland Tour celebrates canal during bicentennial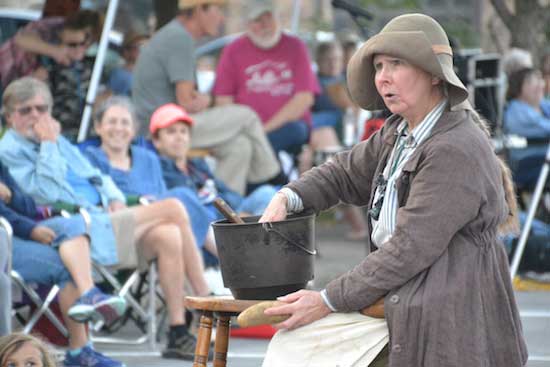 Photos by Tom Rivers
MEDINA – The Heartland Passage Tour made its way to Medina on Thursday with singers and storytellers, including Gretchen Sepik of Albion portraying Surly Sal, a cook on a canal packet boat in 1840.
The Heartland Passage Tour is  making stops at canal towns from Sept. 2-23 to celebrate the bicentennial of the digging of the canal. The tour highlights the cultural and historic impact of the canal through songs, stories and the documentary film "Boom and Bust."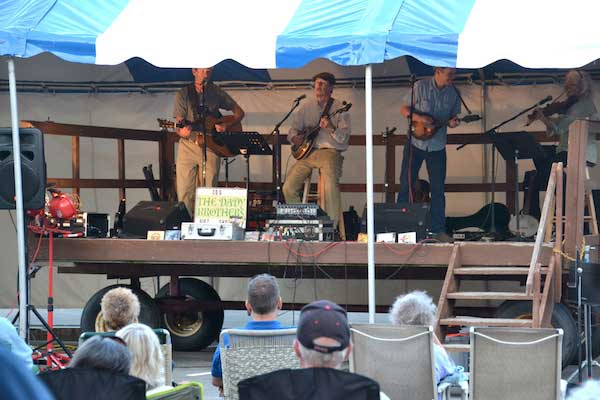 The Dady Brothers were joined by Kit Fallon and Dave Ruch in playing many canal songs at the Canal Basin in Medina.
The film, Boom and Bust: America's Journey on the Erie Canal, was made by Academy Award winning independent filmmaker Paul Wagner. The film is a meditation on the economic cycles along the canal that speak to the fate of the American dream.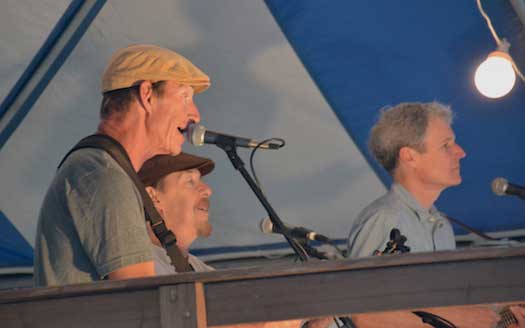 The Dady Brothers have been performing for 40 years a repertoire of Irish folk ballads, bluegrass, acoustic blues, and original contemporary folk music. They are joined by Dave Ruch, right, who specializes in historical and traditional music from New York State, including Erie Canal songs.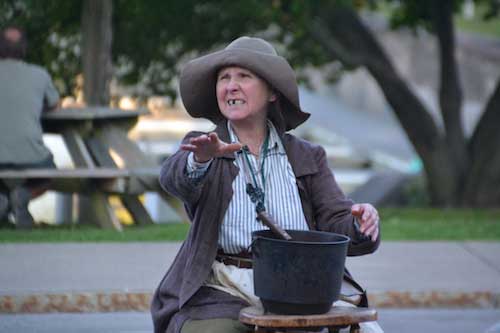 Gretchen Sepik portrays Surly Sal, a cook on the Erie Canal.
The tour will stop in Brockport today at 7 p.m. (Click here to see the full schedule.)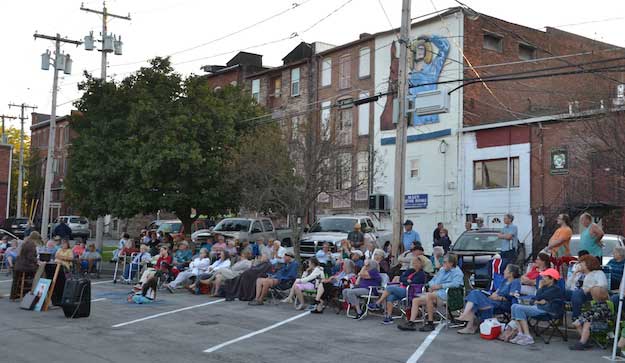 A crowd brought lawn chairs to listen to Gretchen Sepik, and later the concert and showing of the film.
The event happened during the Orleans County Heritage Festival, which continues with events today through Sunday. All events are free.
Some of the Heritage Festival events include:
• WWI Era Music Concert, today, from 1 to 2:30 p.m. at Stroyan Auditorium, Lyndonville High School, 25 Housel Ave, Lyndonville.
The Elementary Summer Honors Band (Albion, Medina & Lyndonville) and choral groups will present a concert with music from the World War I era. Exhibits will be available for review featuring clothing from the era and presentations will be shown between musical selections.  Courtesy of the Lyndonville Area Foundation.
• Mount Albion Walking Tour, today at 6 and 7 p.m. at Mount Albion Cemetery,  14925 Telegraph Rd. (Route 31), Albion
Join Orleans County Historian Matt Ballard at the historic Mt. Albion Cemetery for two 50-minute walking tours. Each tour will feature different individuals, so folks from the first tour might choose to stay on for the second.  Tours begin from the cemetery chapel.
•  Epochs in Orleans, on Saturday from 9 a.m. to 4 p.m. GCC Medina Campus Center, 11470 Maple Ridge Rd., Medina
The event includes informative lectures, special exhibits, and historical personas like Abraham Lincoln and Elizabeth Cady Stanton. There is also a concert featuring teaching artist Dave Ruch who will perform "The War of 1812: Songs and Stories from NY and Beyond" at 1 p.m.
• Genealogy Workshops, on Saturday from 9 a.m. to 4 PM at GCC Medina Campus Center
Members of the Orleans County Genealogical Society will be on hand to help individuals with their genealogical research. Researchers at all levels are welcome. Handouts will be available for those researching the WWI service of their ancestor. Researchers need not be residents of Orleans County.
• Sandstone Society Hall of Fame on Saturday from 9 a.m. to noon, at City Hall, 600 Main St., Medina
Guided tours of the Medina Sandstone Hall of Fame and visit inductees in Orleans County (self guided). View an exhibit of original masonry tools used to build several sandstone structures in our region at 529 Main Street.
• Carl Akeley Fox "Welcome Home" Reception on Saturday at 5 p.m., Cobblestone Museum, 14389 Ridge Rd., Albion (Childs)
The Clarendon Historical Society will host a reception featuring the newly restored Carl Akeley fox at the 1834 Cobblestone Church at the Cobblestone Museum Complex.