Heartland Passage Tour stops in Medina on Thursday
Erie Canal Bicentennial celebration includes music, performers and film
MEDINA – The Village of Medina and the Orleans County Heritage Festival on Thursday will host a free evening of The Heartland Passage Tour, a unique performance event bringing troubadours, performers and storytellers. There will also be the local premiere of a documentary by an Academy Award winning independent filmmaker.
The event is a celebration of the Erie Canal bicentennial. The Heartland Passage Tour includes the following performers:
• The Dady Brothers, a musical duo who has been performing a wide repertoire of Irish folk ballads, bluegrass, acoustic blues, and original contemporary folk music for over 40 years performing with Kit Fallon, musician, performer, and teacher, who has been a performing fiddler for over 40 years.
• Dave Ruch, full-time musician and performer who specializes in historical and traditional music from New York State, including Erie Canal songs.
• Dave Gower, tug boat engineer and storyteller.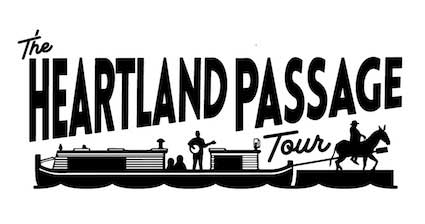 • Gretchen Sepik as Surly Sal, cook on the Erie Canal
• The Medina Premiere of the new short documentary, Boom and Bust: America's Journey on the Erie Canal, by Academy Award winning independent filmmaker Paul Wagner, a meditation on the economic cycles along the canal that speak to the fate of the American dream.
• Host Dan Ward, former curator for the Erie Canal Museum and the film's co-producer. Audiences at this "Prairie-Home-Canal" celebration will have the opportunity to STUMP the DAN with trivia questions relating to the canal.
The event is free and will be at Medina's Canal Basin with a rain location at the Medina Theater.
Here's a summary of the evening's events:
• 6 pm: Gretchen Sepik as Surly Sal, Erie Canal Cook.
• 6:45-7:45 pm: Music by The Dady Brothers & Kit Fallon, and Dave Ruch, with stories by Dave Gower
• 8 to 8:30 pm: Screening of "Boom and Bust.
The Medina Lions Club Food Stand will be open from 5 to 8 p.m.
The Heartland Passage Tour has been making stops at canal towns since Sept. 2, and the tour continues until Sept. 23. (The tour stops in Brockport on Sept. 15. Click here to see the full schedule.)