Health Department taking vaccine clinics on the road
Hoag Library hosts 'pop-up' clinic today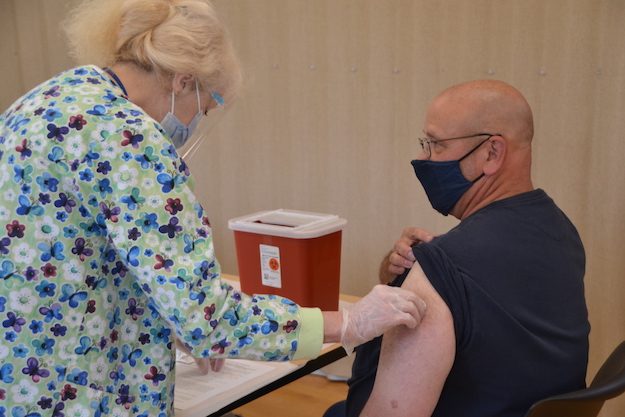 Photos by Tom Rivers
ALBION – Chris Rice of Albion receives the Covid-19 vaccine today from Doris Delano, a registered nurse with the Orleans County Health Department.
He was one of 30 who received a vaccine shot in the first hour of a clinic held at Hoag Library in Albion.
Rice preferred the one-shot Johnson & Johnson dose, over the Moderna and Pfizer vaccines, which are two shots.
"This is about as convenient as it can get," Rice said inside the library. "Now that it's local it will be easier for more people to do it. It will be nice to be done with it and get back to normal. Hopefully this helps."
The Health Department has been holding mass vaccination clinics at the Ridgeway fire hall sometimes for several hundred people. Next Tuesday will be the last one at Ridgeway fire hall as the Health Department looks to do smaller "pop-up" clinics around the county.
Hoag hosted one of the pop-up clinics today for the first time. The Health Department on Friday morning will be at the Orleans County 4-H Fairgrounds on Route 31 in Knowlesville from 8:30 to 11 a.m. That is timed to coincide with the start of a food distribution at the fairgrounds.
"The whole idea is making close and accessible and using familiar locations," said Dr. David Bell, emergency preparedness coordinator for the Genesee and Orleans County Health Departments.
The pop-up clinics don't require nearly as much manpower from the Health Department as the bigger clinics at the Ridgeway fire hall and GCC in Batavia. It takes 40 to 50 staff and volunteers for the Ridgeway clinic while the Health Department had a team of 8 at Hoag Library today.
The Department next week on May 27 is planning pop-up clinics in Holley with a mobile unit at the American Legion and in Kendall at the fire department. More information will be available about those clinics in the next few days.
"It's where we can get the partnerships to host the clinics," Bell said.
The department plans to continue the vaccination clinics for "as long as there is demand," Bell said.
When there is little need for the clinics, Bell said people will be directed to local pharmacies, health care offices and the Health Department to get a vaccine.