Health Department reports 3 more Covid-19 cases at The Villages

Nursing home in Albion now has had 57 residents test positive
ALBION – The Villages of Orleans Health and Rehabilitation Center in Albion has three more confirmed cases of Covid-19, bringing the total 57 residents at the nursing home who have tested positive.
The Genesee and Orleans County Health Departments reported the three latest confirmed cases this afternoon. The people who tested positive include one person in the 70s, one in the 80s and one in the 90s.
Orleans County, as a whole, has now had 105 people test positive for Covid-19, with more than half at The Villages.
The Orleans County Legislature and State Assemblyman Steve Hawley are asking the State Department of Health for an investigation into the outbreak at The Villages, where 14 people have died from Covid-19. The Legislature also is asking the Attorney General Letitia James to investigate the nursing home's handling of the virus.
The Health Department reports today that six people from Orleans County who currently have Covid-19 are hospitalized. Of the 105 who have tested positive, 38 have recovered.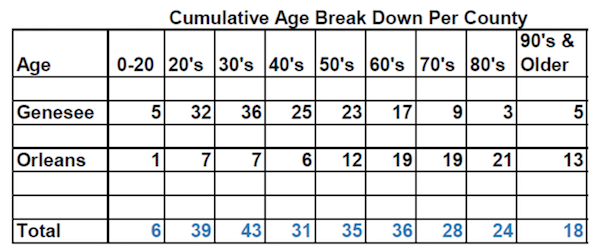 In Genesee County there is one new confirmed case of Covid-19. That person is from Darien and is in the 80s. The newly positive individual was not on quarantine prior to becoming symptomatic.
Genesee County has had 155 people test positive for Covid-19. Three more people have recovered from the virus, bringing the total recoveries to 86.
Five of the active cases include people who are hospitalized.
Click here to see an online map of confirmed cases in Orleans, Genesee and Wyoming counties.

The facility breakdown is only showing those facilities from where the Health Departments have received a positive swab for Covid-19. Facilities will be added if there is a positive case of Covid-19.
If a regulated facility from either of the counties is not listed, there are no positive cases of Covid-19. The local health departments do not have oversight with many regulated facilities, which may include nursing homes, correctional facilities and hospitals.