Health Department reports 1 more death from Covid-19, 2 more cases in Orleans

There has been another death from Covid-19 in Orleans County, bringing the total to 34 residents form the county who have passed away after contracting the coronavirus.
The latest death was a person who was a resident of the Orchard Rehabilitation and Nursing Center in Medina. That nursing home has now had 7 deaths from Covid-19.
The county has two new cases of Covid-19, with one at Orchard, where 32 of its residents have now tested positive for Covid-19.
The other confirmed case reported today is an Albion resident, the Genesee and Orleans County Health Departments reported. The county has now had 211 positive cases of the coronavirus.
Of the two new cases reported today, one of the new positive cases is in the 40s and the other is in the 80s. None of the new positive cases were on mandatory quarantine prior to testing positive.
The Health Department is reporting two new recoveries, bringing that total to 72 in Orleans County.
There are 18 people from Orleans currently hospitalized with Covid-19.

Genesee County has two new positives, bring the total confirmed cases to 185. The two new cases are Batavia residents, with one less than age 20 and the other in the 50s.
One of the positive cases was not on mandatory quarantine prior to becoming symptomatic, the Health Departments reported.
Two people from Genesee are currently hospitalized with Covid-19.
Click here to view an online map of confirmed cases in Genesee, Orleans and Wyoming counties.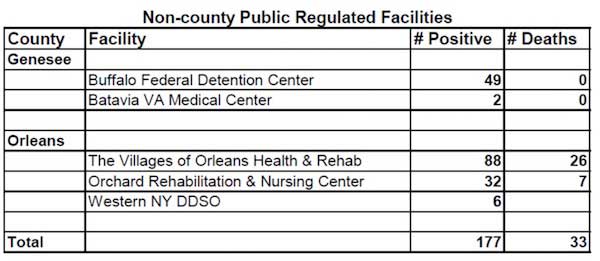 The facility breakdown is only showing the total positive cases from those facilities from where there was a positive swab for Covid-19.
More information from the Genesee and Orleans County Health Departments:
Governor Cuomo announced that gatherings of 10 or less are now permitted with social distancing and sanitization protocols in place. The executive order is only good for 30 days or unless it is extended. https://www.governor.ny.gov/news/no-20233-continuing-temporary-suspension-and-modification- laws-relating-disaster-emergency
• For questions go to NY Forward website and the Regional Control Room (for guidance and to answer your questions: mailto:flnyf@esd.ny.gov).
• To file a complaint about a business, location or incident in your community you can call 1-833-789- 0470 or click here.
• Guidance for Cleaning and Disinfecting for Re-opening America: click here.
Although the State has issued a statement about campgrounds, they have not provided updated guidance for camping. The local health departments are in the process of communicating with local campgrounds with updated information.
A reminder that outdoor seating for restaurants is still prohibited according to the Governor's Executive Order and Phase 1 and Phase 2 guidelines. Restaurants are to provide take-out or delivery only until Phase 3 or until the Governor states otherwise – https://forward.ny.gov/industries-reopening-phase.
As we get closer to the potential to advance to Phase 2 those businesses in that phase should be working on their plans to have them ready. Check daily for potential guidance. Click here for guidance and the business safety plan template.
Re-Opening Guidance: Links to assist businesses
Link to the NY Forward Reopening guide: https://www.governor.ny.gov/sites/governor.ny.gov/files/atoms/files/NYForwardReopeningGuide.pd f
Regional Control Room: flnyf@esd.ny.gov
Link to NY Forward website: https://forward.ny.gov/
Link to NY Forward "Can I re-open" Business Look-up Tool https://www.businessexpress.ny.gov/app/nyforward
Public/Private Beaches: https://forward.ny.gov/statewide-guidelines
COVID-19 Test Finder: https://coronavirus.health.ny.gov/find-test-site-near-you
Masks/Face Coverings – Both counties are still low in supplies of masks. They are being distributed to high-risk agencies/businesses as prioritized and if there is a supply left over they will be distributed in an appropriate manner. County plans for releasing supplies to the public will be forthcoming as supplies become available. Additional information will be released by the respective County Emergency Management offices as appropriate.