Health Department has a 'spokesdog' named Hahn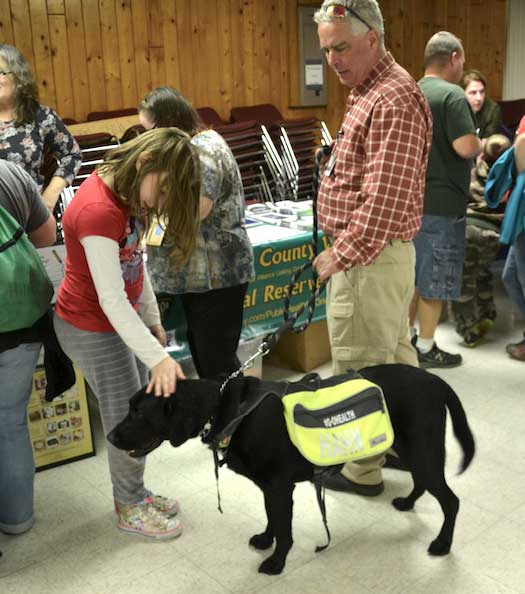 Photos by Tom Rivers
KNOWLESVILLE – Hahn, a black lab, meets Mia Slick, 10, of Albion during Family Game Night on Thursday at the Orleans County 4-H Fairgrounds.
Al Cheverie, the emergency preparedness coordinator for the health departments in Orleans and Genesee counties, brought Hahn to the Game Night. Hahn is Cheverie's dog. He is bringing Hahn to public events to help teach children about emergency preparedness.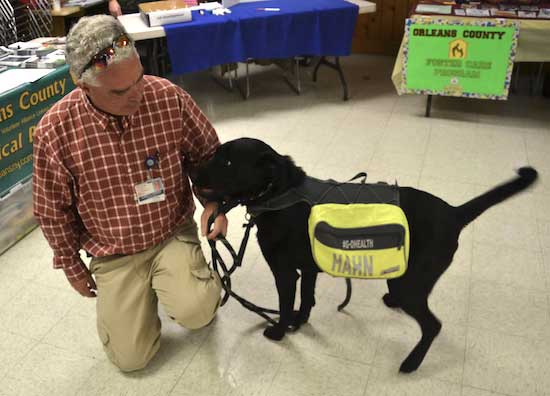 Hahn is wearing a reflective backpack. Inside there are bottles of water, treats, cleanup bags and a collapsible water bowl for Hahn.
The dog made his public debut as Health Department spokesdog on Sept. 30 at the Kendall Scarecrow Festival.
Cheverie pushed for Hahn to be the spokesdog after hearing about Fred the Preparedness Dog in Kansas. Fred has his own website (click here) that teaches about emergency preparedness.
Hahn is named after the fire truck manufacturing company. Cheverie is a long-time member of the Albion Fire Department, which has a fire truck, Engine 30, made by Hahn.