Harrison Brown awarded $5K Rotary district scholarship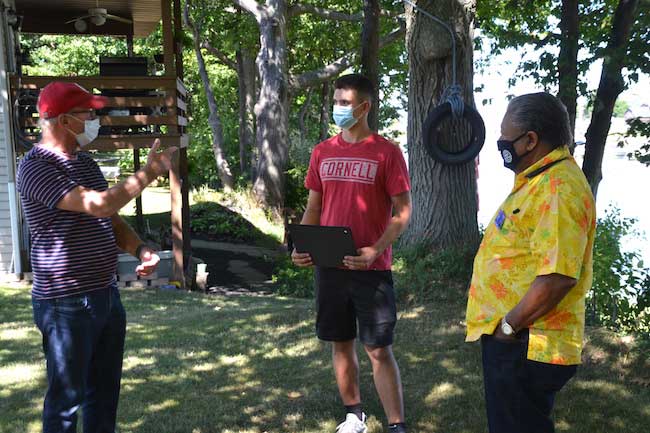 Photos by Tom Rivers
WATERPORT – Harrison Brown on Wednesday was presented with a $5,000 Rotary 7090 District Scholarship. Harrison is entering his sophomore year at Cornell University. He also is in the Army ROTC program.
He is presented the scholarship by Dick Remley, left, who was the Albion Rotary Club president in 2019-20, and Bob Artis, the 7090 District Governor in 2019-20.
Harrison, a member of Albion's Class of 2019, was picked out of about 25 applicants for the scholarship. The Rotary district includes about 70 Rotary clubs in Western New York and Southern Ontario.
Harrison is the first person from the Albion community to receive the district scholarship. It is based on academic merit, demonstration of "Service Above Self" and an essay about the ideals of Rotary. The scholarship is for the second year of college.
Harrison is majoring in agricultural science at Cornell University. His family owns Orchard Dale Fruit Company, which was founded in 1804. After he graduates from Cornell, Harrison has an eight-year commitment to the Army.
Harrison, an Eagle Scout, in one of his essays for the scholarship cited the example of his grandfather, Edward Krause. He left his senior year at Auburn during November to join the military to help the country during World War II. He would later earn his GED diploma.
That example of "Service Above Self" has long inspired Harrison. Krause is the father of Margy Brown, Harrison's mother.