Harlem Wizards bring basketball magic and lots of laughs to Albion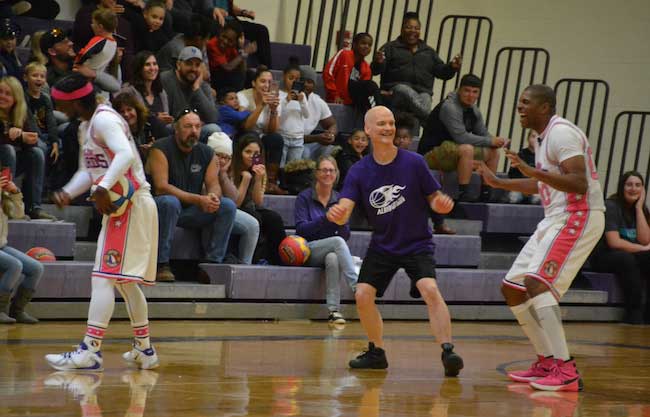 Photos by Tom Rivers
ALBION – Albion teacher Dana Martin boogies on the basketball court with Road Runner, left, and Swoop, two members of the Harlem Wizards. Martin and about 20 Albion school staff members formed the Albion Hotshots and played the Harlem Wizards in a fun basketball game on Saturday. The game ended in a tie, 64-64, with some creative scoring and frequent antics on the court.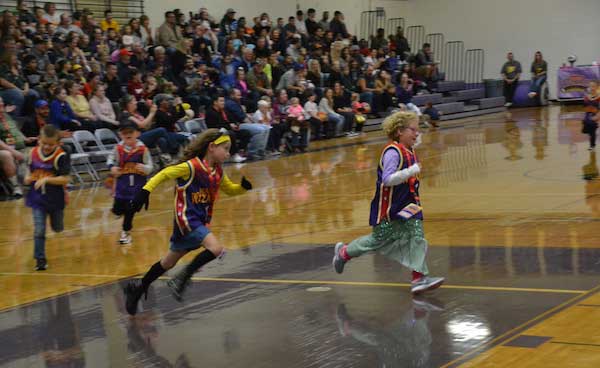 Wiz Kids – Keira Lemcke, right, and Rianne Hand – take a warmup lap around the gym just before the start of the game.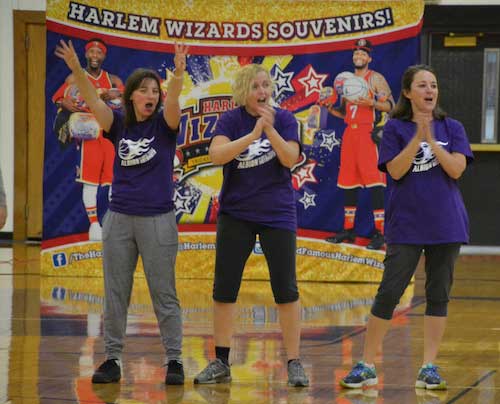 These members of the Albion Hotshots – Rachel Curtin (school principal) and teachers Shani Faraci and Joyce Monacelli – cheer on their teammates while they were introduced.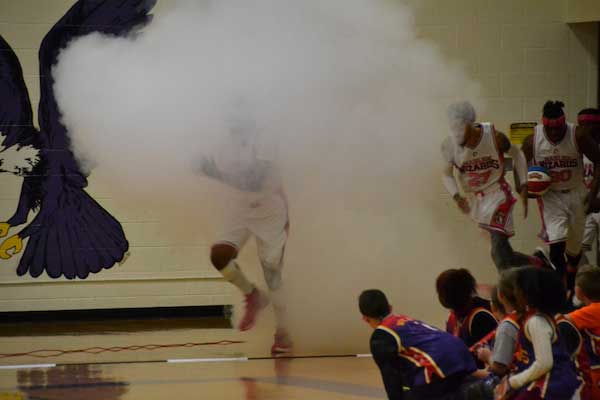 Swoop runs through a fog machine during player introductions. He is the leader of the Swoop Unit of the Harlem Wizards.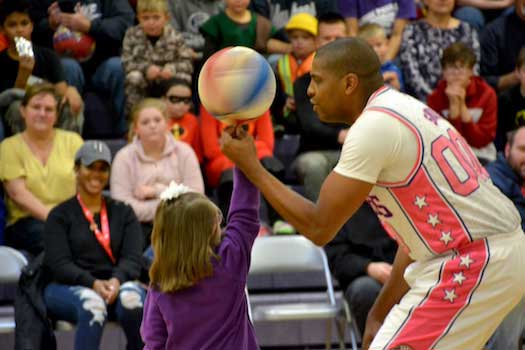 Swoop gets the ball spinning for a young fan. Saturday's game against the Albion Hotshots was attended by nearly 400 people. It was a fundraiser for the Albion Elementary School PTA.
Swoop has been a Wizard since 2007. Prior to that, he was a showman with the Harlem Globetrotters.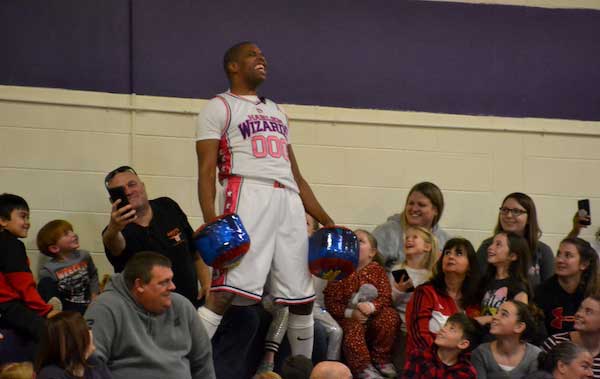 Swoop and the Wizards frequently went into the crowd with zany antics. Here Swoop has inflatables that he pretended were boxing gloves. He gave some of the fans a few friendly jabs while the Rocky theme song played.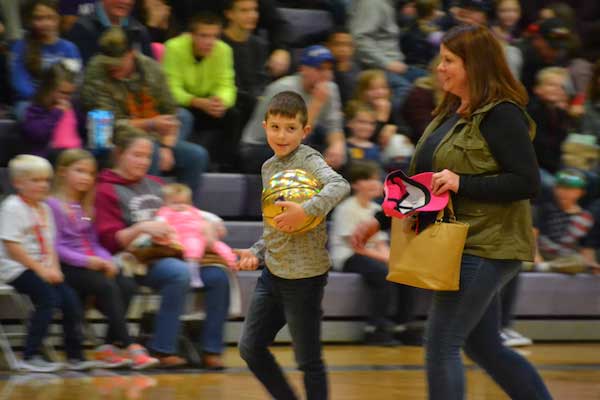 Brayden LaMartina and his mother Danielle walk off the court after Brayden won a gold basketball. His mother guessed many of the theme songs for different television shows. Each correct answer moved her son closer to the hoop for a basketball shot.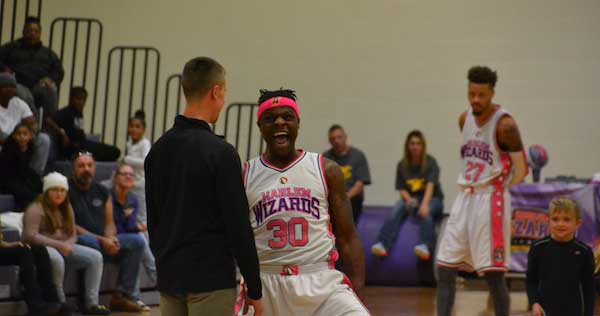 Sarge tries to distract one of the audience members who was pulled from the crowd for a game on court.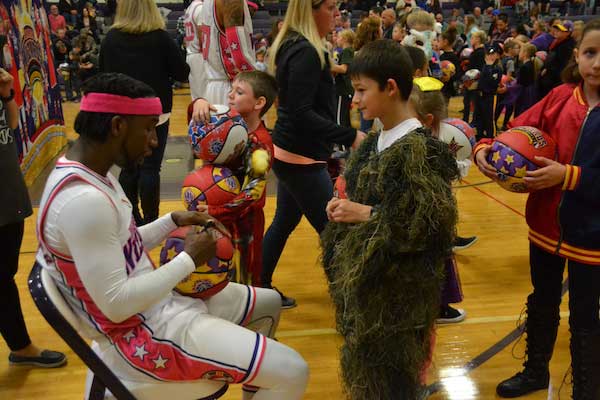 Road Runner and the other Wizards accommodated the autograph seekers during halftime. Kids who attended the game in a costume received a free basketball.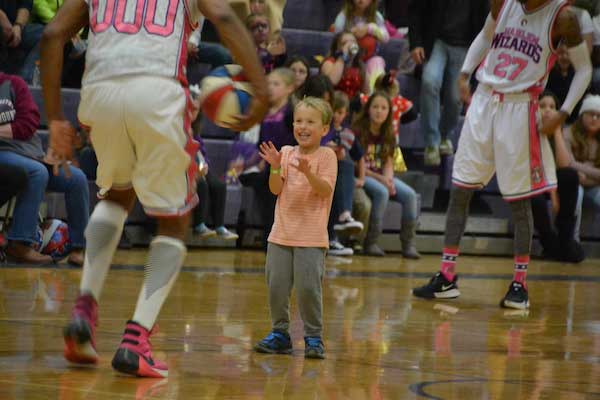 Swoop keeps this boy entertained with some fancy ball handling.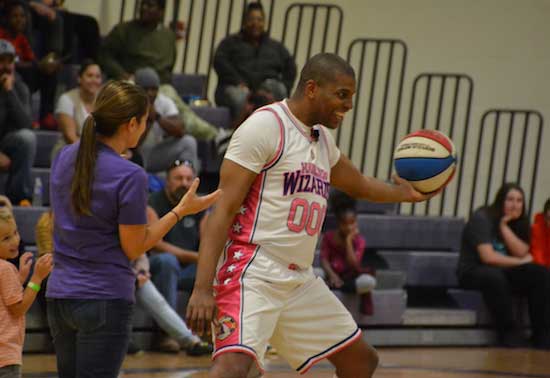 Mattea Woolston was one of the last contestants in game where Swoop made people miss on some of his passes. Here he is doing a slow-motion pass to Woolston.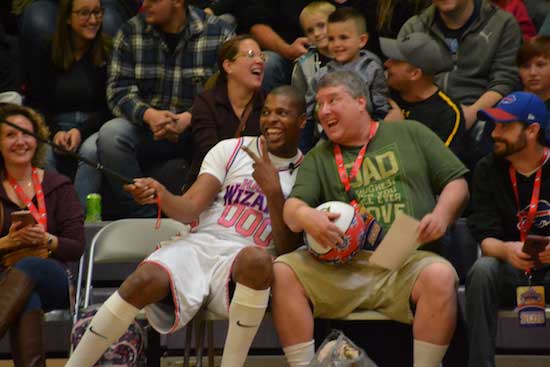 Swoop takes a selfie with Todd Graham, who had courtside seats. His daughter Julia was one of the Wiz Kids.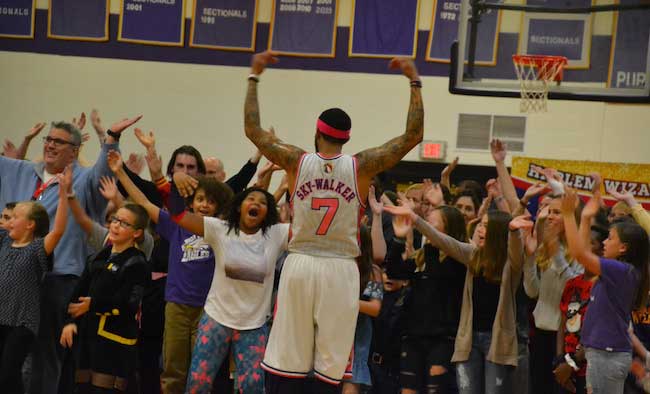 Sky-Walker leads an energetic crowd in dancing to the "YMCA."