Happy faces shine at All-County Music Fest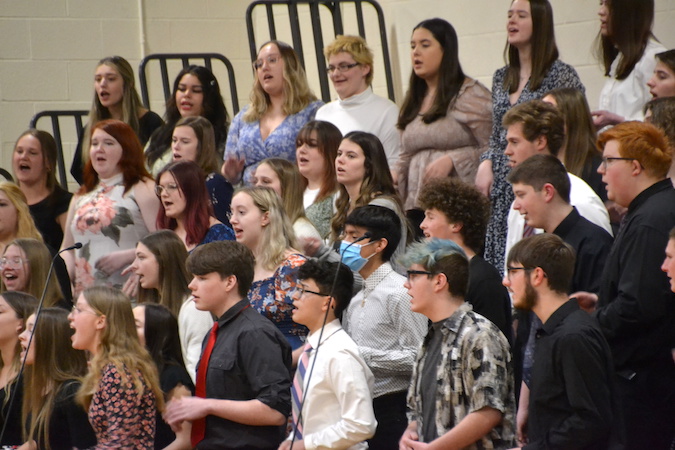 Photos by Tom Rivers
ALBION – The Senior High Chorus performs during today's All-County Concert in the Albion High School Gym.
Masks weren't required for the singers after the indoor mask mandate was lifted for schools on Wednesday by Gov. Kathy Hochul and affirmed by the local Health Department.
There were 57 students in the chorus singing "Seasons of Love" in a song directed by Jennifer Trupo, a Lyndonville music teacher.
They also sang "I Sing Because I'm Happy" while being directed by Kelly Marzano of Holley and "Let the River Run" while directed by Connor Doran of Albion.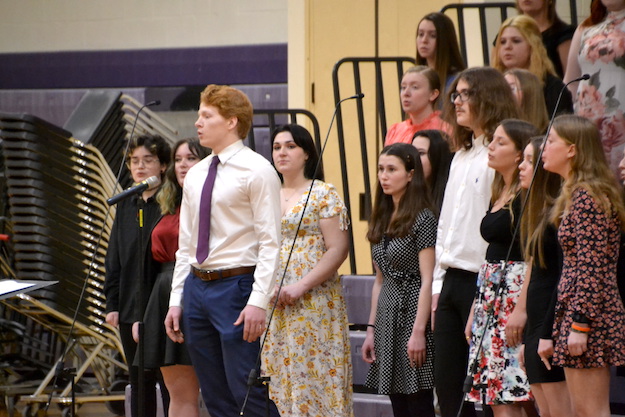 David Berry of Medina was one of soloists in "Seasons of Love."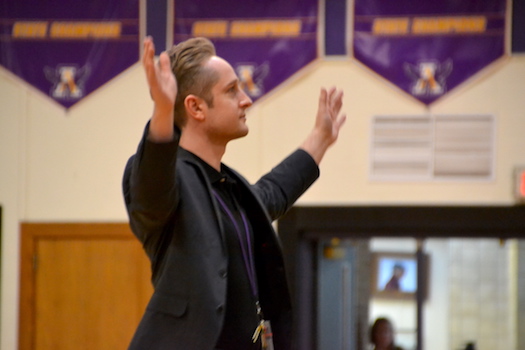 Connor Doran conducts the choir in performing "Let the River Run."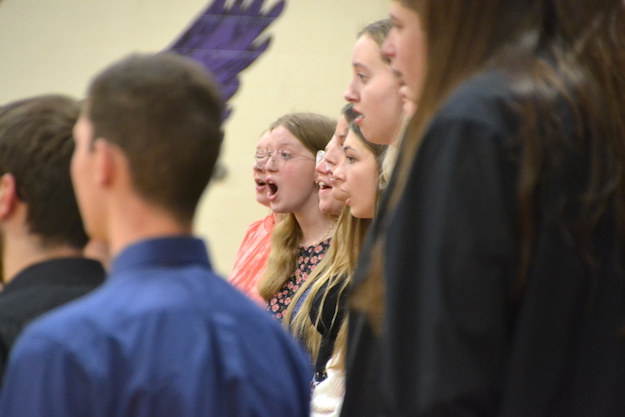 Elizabeth Whipple of Lyndonville, center with glasses, and the Senior High Chorus gave a high-energy performance today.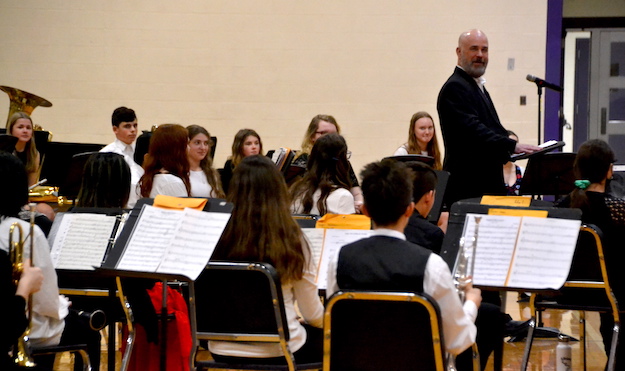 Mickey Edwards, Albion Central School superintendent, gives a welcome message and said the district was honored to host today's music festival. He said music helps students think creatively and work collaboratively with others. Students with music backgrounds also tend to have higher incomes as adults.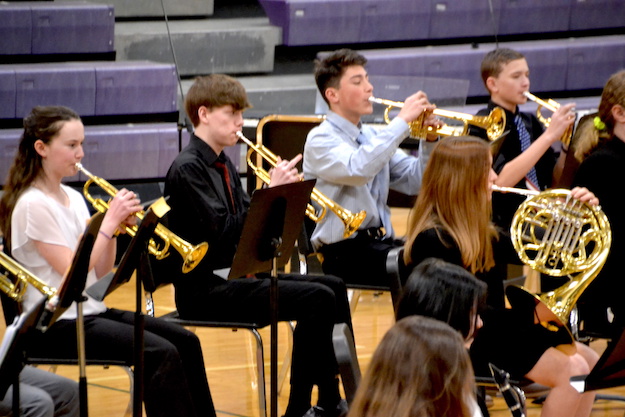 The Junior High Band included 59 students from Albion, Holley, Kendall, Lyndonville and Medina.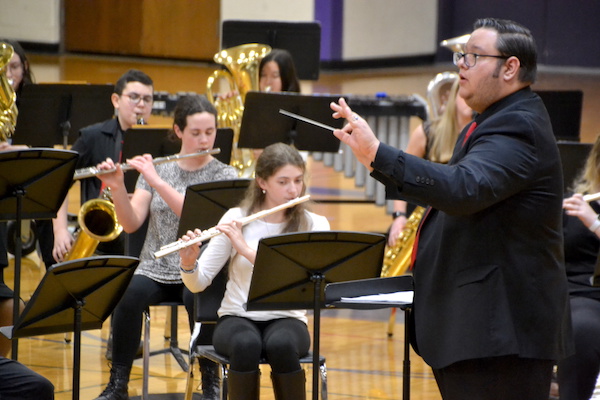 The students performed "March Britannia" under the direction of Zach Busch of Holley. Other songs included "The Water Is Wide" under the direction of Kyla Leno of Kendall and "Arabian Dances" with Greg Martillotta of Albion the conductor.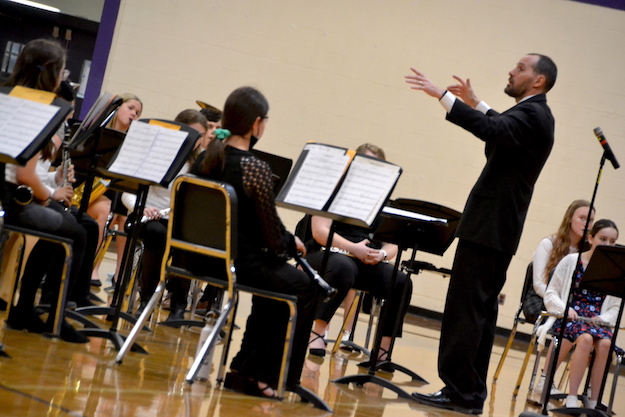 Greg Martillotta, Albion middle school band director, leads the Junior High Band in "Arabian Dances."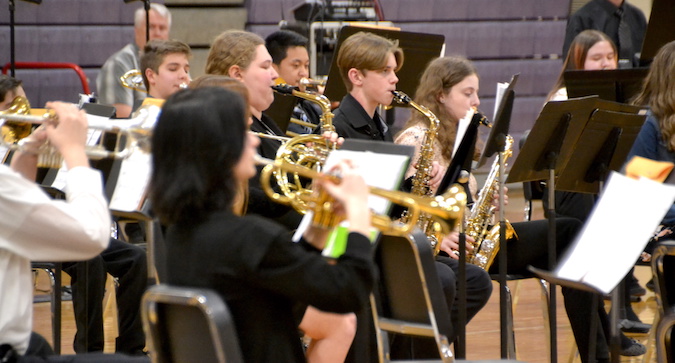 The All-County Festival returned this year after being cancelled in 2021. The first all-county was last month in Holley and featured the elementary band, junior chorus and high school band.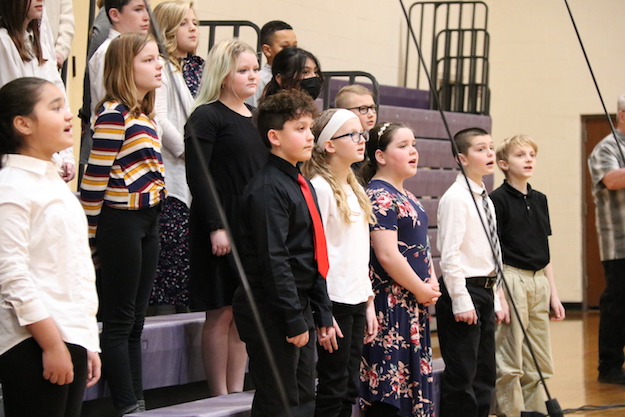 Photos courtesy of Mollie Radzinski
The elementary chorus featured 59 students in two different groups. The chorus performed a Hebrew folk song, "Hine Ma Tov," and was conducted by Carrie Kozody of Albion, "I Am But A Small Voice" and was directed by Cayla Hutteman of Albion, and "Fifty States in Rhyme" under the direction of Carrie Kozody of Albion.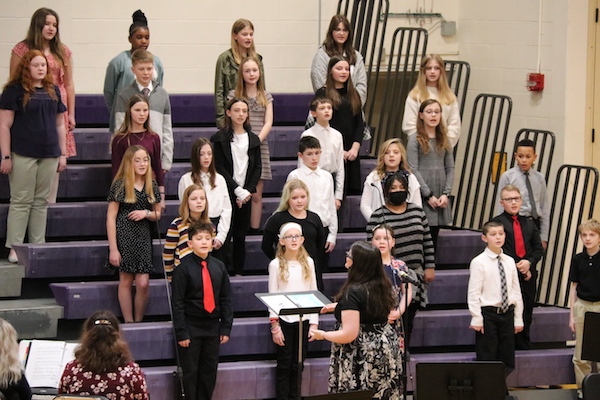 Cayla Hutteman of Albion leads the chorus in "Fifty States in Rhyme."