Hanlon takes the oath as county clerk, names deputies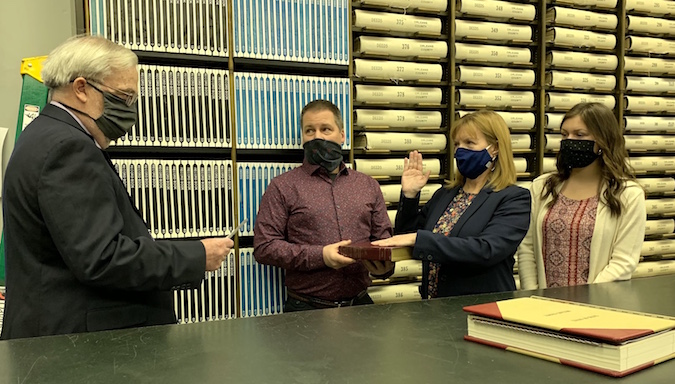 Provided photos
ALBION – Nadine Hanlon takes the oath of office on Thursday afternoon as the Orleans County Clerk. She is joined by her husband Mike and daughter Michela. Hanlon's other daughter Marisa just started a job at Unity in Rochester as a surgical physician assistant. Orleans County Court Judge Sanford Church administers the oath.
Hanlon, a former Kendall town clerk, was elected county clerk in November. She worked the previous 15 years as the clerk to the Orleans County Legislature. She also was on the Kendall Board of Education for 10 years, including seven years as the board president.
Tracy Cliff takes the oath as one of the deputy county clerks. She is joined by her husband Mike while Church administers the oath.
Pam Boyer is the other deputy clerk and works at the DMV office. Boyer has been the deputy at the DMV the past three years. Cliff will work out of the Clerk's Office where she has been an index clerk the past five years.
"Both ladies are good at what they do and I am looking forward to continue to work with the great staff that operates the Orleans County Clerk's Office," Hanlon said.
She looks forward to getting past the Covid-19 pandemic when the offices can return to normal. The DMV transactions are currently being handled by mail or by appointment.
"The restrictions are very stressful to staff along with those we need to serve," she said. "We just continue to ask for patience during these trying times."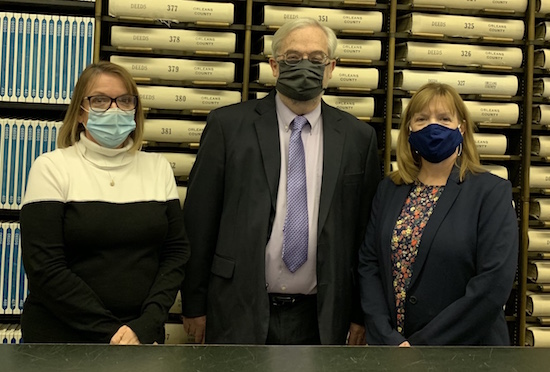 Nadine Hanlon had a small swearing-in ceremony with Judge Church and Tracy Cliff.