Hank Aaron, just before breaking home run record, visited Albion in 1974
Baseball legend passed away on Friday at age 86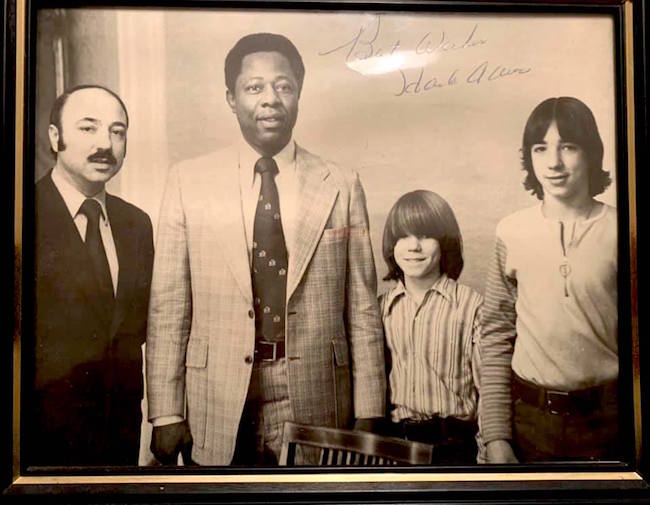 Photos courtesy of Monacelli family
ALBION – Hank Aaron, who passed away at age 86 on Friday, was a guest in 1974 at the annual Albion Sports Night at the Knights of Columbus Hall. Richard Monacelli, left, served as chairman of the event. He and his sons, Dan (second from right) and Rich, are pictured with the baseball legend for the Atlanta Braves.
Aaron was in Albion during the offseason when he was at 713 career home runs, one away from tying Babe Ruth's record.
On April 8, 1974, he broke the record when he hit his 715th home run. Aaron would add 40 more to his career total before retiring in 1976. His 755 career home runs stood as the record for 31 years until Barry Bonds passed it in 2007 and ended his career with 762. (Aaron also hit 5 home runs in the Negro Leagues. Major League Baseball recently announced it will be adding Negro League achievements to MLB statistics. That would give Aaron 760 career homers.)
Aaron still holds baseball's record for most career RBIs with 2,297, most total bases with 6,856 and most extra bases hits with 1,477. Each season Major League Baseball presents the Hank Aaron Award to the best hitter in both the American and National leagues.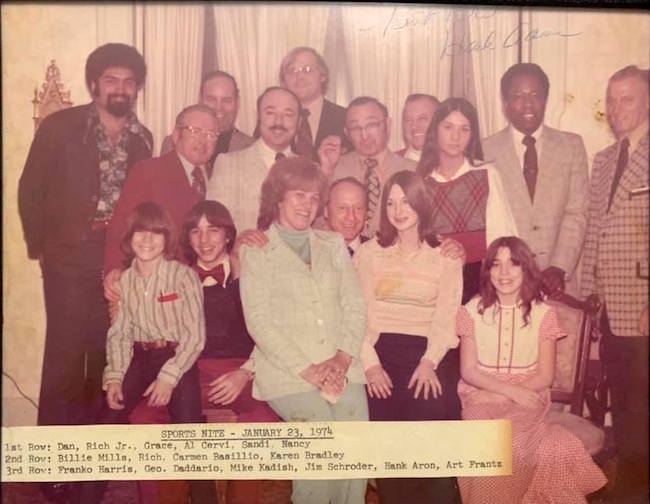 Albion hosted many top professional for the Sports Night in the 1960s, '70s and late '80s. Franco Harris, the Pittsburgh Steelers star running back, is in back row at left in this photo from 1974. "Hammerin' Hank" Aaron is in back, second from right.
During its quarter century, Albion Sports Night welcomed other baseball Hall of Famers including Bob Feller in 1963, Brooks Robinson in 1966, Whitey Ford in 1968, Mickey Mantle in 1972, Willie Stargell in 1980, Cal Ripken Jr. in 1983 and Dave Winfield in 1986.
Yankee greats also appeared including Elston Howard and Jim Boutin in 1964, Catfish Hunter in 1976, Billy Martin in 1977, Lou Piniella in 1979 and Tommy John in 1982.
Some of the Buffalo Bills greats to attend the event included Cookie Gilchrist in 1963, Daryl Lamonica in 1965, Jack Kemp in 1966, Ron McDole in 1970 and Joe DeLamielleure in 1977.
Besides Franco Harris in 1974, other famed football players at Albion Sports Night included Lou Groza in 1964, Ron Jaworski in 1977 and Jim Crowley of the legendary Notre Dame Four Horseman backfield in 1974.
Many of the visiting star athletes stayed with the Monacelli family while they were in town for the event.
"I'm not old enough to have watched Hank Aaron play, but I do remember Poppy's stories of him from the time he came to Albion for Sports Nights," Jake Monacelli, Richard's grandson, posted on Facebook on Friday. "Poppy brought a lot of joy to the Town by bringing some of Sport's Greats and Hank was one of the Greatest. I don't have the personal memories of Hank, but I do have the memories of the family's stories and these pictures always helped bring them to life."