Hands 4 Hope to share spaghetti dinners from Albion band fundraiser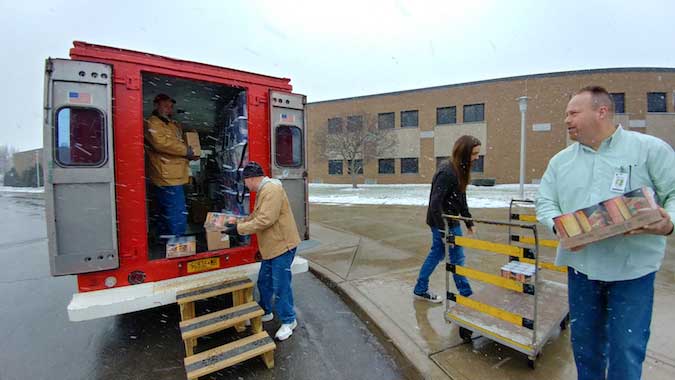 Photo courtesy of Wayne Litchfield
ALBION – The Albion Marching Band gave more than 50 spaghetti dinners to the Hands 4 Hope ministry this morning. Band director Mike Thaine, right, and student Brennan Moody, hand off the food to Hands 4 Hope volunteers Jack Burris, left, and Kevin Lemcke.
The band had a fundraiser this week, selling uncooked spaghetti dinners for $12. The meals include pasta, sauce, bread, salad and dressing.
The band has been giving the community the option to buy a meal and have it donated to an organization that serves local residents. Thaine said the community purchased 58 units that were donated to Hands 4 Hope.
Hands 4 Hope will be in Medina on Saturday from 10:30 a.m. to noon at the corner of Starr and Orient streets. The spaghetti meals are on top of the usual food Hands 4 Hope distributes.
Jack Burris, the leader of Hands 4 Hope, said he appreciates the support from the community for the ministry, including several recent donations from new supporters.