Groups show appreciation for staff at The Villages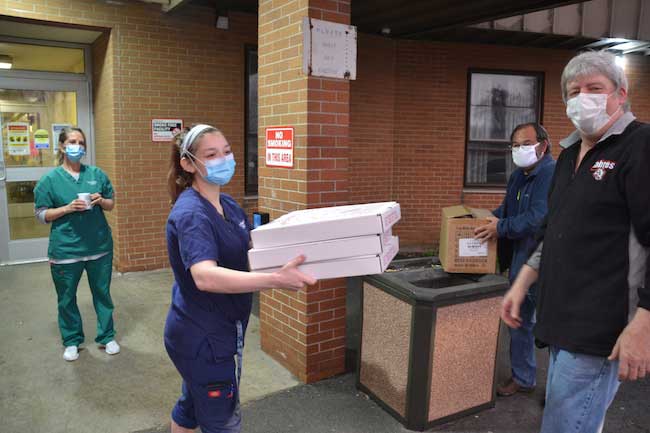 Photos by Tom Rivers
ALBION – The staff at The Villages of Orleans Health and Rehabilitation Facility in Albion were presented with pizzas, flowers and coffee mugs with a photo of the nursing home in Albion.
The Albion Lions Club organized the effort, with Oak Orchard Bowl preparing the eight pizzas.
Alanna Gordan, an aide at The Villages, accepts some of the pizzas on Thursday evening from Randy Hanks, owner of Oak Orchard Bowl. Amy Jaczynski, a housekeeper, is in back. Mark Johnson of the Lions Club, back right, holds a box of the coffee mugs.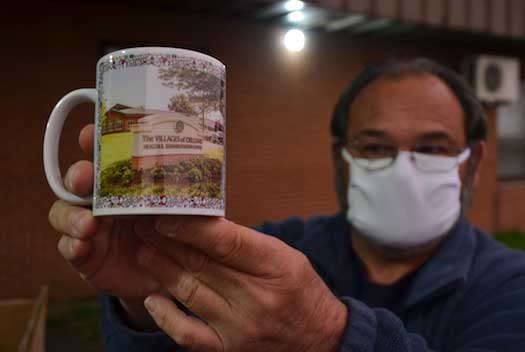 Mark Johnson holds one of the mugs which were made and donated by Jeff and Delores Mosher, owners of Dee'z Cups in Kent.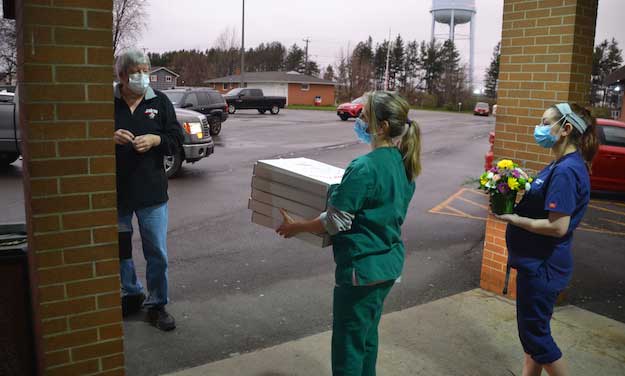 Amy Jaczynski and Alanna Gordon accept the pizzas and gifts last evening at The Villages. The flowers were donated by Bloom's Flower Shop in Albion.
Johnson and Hanks said the groups all wanted to show support for the dedicated employees at The Villages, who are caring for residents in the 120-bed facility during a big outbreak of Covid-19. Nearly 50 residents at the site have tested positive for Covid-19, with 11 of the residents dying after contracting the virus.
"We know they are going through a lot here and we want to let them know we care about them," Hanks said.
Jaczynski said the gesture was appreciated by the entire staff.