Group spreads joy and kindness with painted rocks
Albion NY Rocks has participated in many community events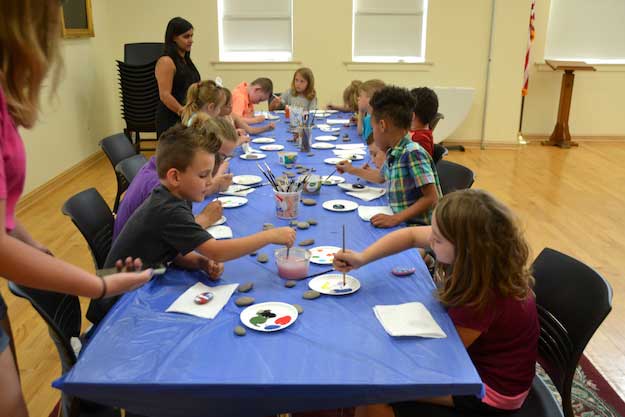 Photos by Tom Rivers
ALBION – Children in the Little Leapers daycare in Albion paint rocks on Tuesday at Hoag Library in a program run by the Albion NY Rocks group. There were 54 people, from young kids to senior citizens, for the library program.
Albion NY Rocks formed two years ago and has been going strong, with a core group getting together most weeks to paint rocks. They leave the rocks with painted messages throughout the community. People who find them are urged to post a photo of the rock on the Albion NY Rocks Facebook page, and then rehide the rock. The group has more than 3,000 Facebook friends.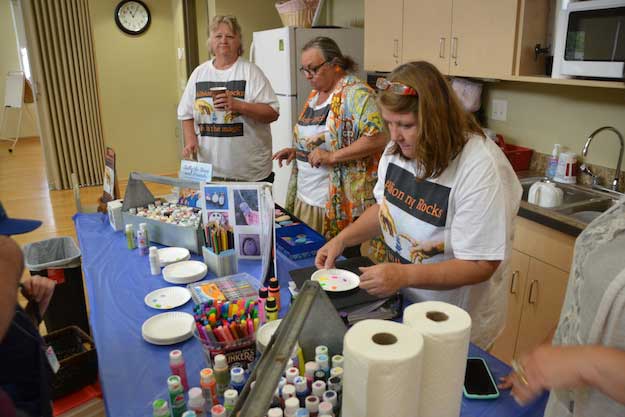 Some of the Albion NY Rocks members are shown handing out painting supplies during the Hoag program on Tuesday. From left include Debi Donahue, Lori Laine and Maureen Bennett.
Laine has been an energetic leader for the group, which has participated in many community events, including the Albion Strawberry Festival Parade.
"It's about kindness and community," Laine said. "It really brings the community together."
Albion NY Rocks will be at the upcoming National Night Out on Aug. 6 at Bullard Park with lots of rocks and paint for children and families.
The group also will be featured in its first art show, "Rock On," from July 26 to Aug. 19 at Salih Studio at 24 East Bank St., which is a satellite gallery for GO Art! There will be an opening reception from 6 to 8 p.m. on July 26.
Shirley Nigro, a local artist, has painted intricate faces of animals on many of the rocks. She likes to paint on unusually shaped rocks that give a 3D feel to the paintings.
She is pleased to see so many community members have tried painting through the rock group, often surprising themselves with their creations.
Many of the children on Tuesday painted about a dozen rocks each. Some were joined by a parent or grandparent.
"Look at these kids," Nigro said. "They are creating and having fun."
Maureen Bennett is recently retired from Albion Central School. She has been active with the rock group, and said the rock painting remains very popular in the community.
"There is joy – everybody is smiling," Bennett said. "We have a blast doing it."
Laine said the local group is fortunate to have Lake Ontario close by, producing an endless supply of smooth, round rocks. She knows some rock groups away from the lake have to buy rocks at stores.
She goes to a few spots by the lake to get the rocks, which she happily shares with others. She also enjoys painting the rocks, including one with a "Happy Camper" theme featuring an RV.
"We know when we put these out there that people are smiling," Laine said.