Group in Holley spreads message that Black Lives Matter
7 demonstrators hold signs in Public Square, amidst jeers and cheers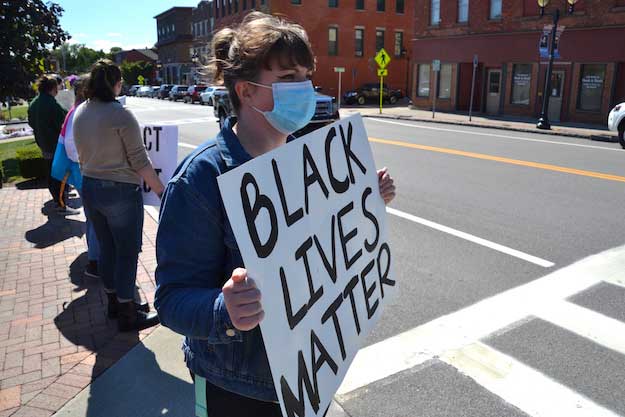 Photos by Tom Rivers
HOLLEY – Heather Rowley of Holley organized a Black Lives Matter demonstration today in Holley from noon to about 2:30 p.m. She is holding the Black Lives Matter sign.
Rowley was joined by her sister and brother, and four of their friends from Holley and Brockport.
Rowley, 30, wanted to publicly support the cause, especially after a big processional a week ago in support of law enforcement. About 300 motorcyclists and 200 other vehicles were in the "Back the Blue" ride and rally that covered 52 miles in Orleans County.
"This is in direct response to the Back the Blue rally," Rowley said. "We want to show people of color in our community that we support them and we hear them."
Rowley was bothered by the timing of the Back the Blue ride a week ago, with the protests in Rochester over the death of Daniel Prude, 41. He died on March 30, seven days after being taken into custody by police. Seven police officers involved in his arrest have been suspended and the police chief has been fired.
Prude was suffering from acute mental health problems when police were called. Officers found him running naked in the street on a cold night on March 23. He was restrained with a "spit hood," designed to protect police from saliva.
Body camera video was released in early September, more than five months after his death. Protestors have been out every day in Rochester since the videos became public.
"That someone died in such a demeaning way and to still have that rally (a week ago) really rubbed me the wrong way," Rowley said.
Rowley, a graduate student for social work at Brockport State College, wanted her hometown to see that some residents support Black Lives Matter and the push for more police accountability.
She said she feels haunted by the image of Prude and his interaction with the RPD.
Her sister, Madeline Rowley, said most of the passing motorists seemed supportive of their presence. A few people stopped to chat and one wanted a group photo. Some people yelled, "All Lives Matter." Some told them to "Go home" and "Get the f— out of town."
Ben Rowley, the brother of Heather and Madeline, had never been to a public demonstration until today. He saw many familiar faces driving by. He felt it would be more effective to support Black Lives Matter in Holley, rather than joining a crowd in Rochester.
"We're trying to change the town I grew up in for the better," said Rowley, 24.