Great-grandkids make $511 donation to PAWS in honor of their 'Mema'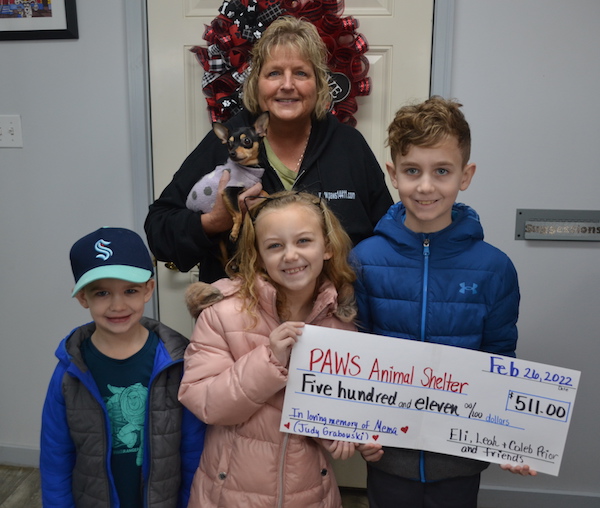 Photo by Tom Rivers
ALBION – Caleb, Leah and Eli Prior of Hilton present a check for $511 to Patty Coffee, director of the PAWS Animal Shelter on Gaines Basin Road in Albion. Coffee is holding a Chihuahua named Sky.
The three children are the great-grandkids of the late Judy Grabowski who passed away about a year ago. Grabowski was known as "Mema" to the great-grandchildren. She was a Holley resident who donated often to PAWS in memory of friends who passed away, and as memorials for pets in the family that also passed.
"The kids chose PAWS because it was her favorite charity," said her daughter, Elizabeth Pera of Hamlin. "She loved animals."
Grabowski's family did a Super Bowl Square fundraiser and gave the proceeds to PAWS in her memory.
Besides the three great-grandchildren this morning the donation was presented by Grabowski's daughters, Pat Fredendall of Holley and Elizabeth Pera of Hamlin, and Grabowski's granddaughter, Karen Prior of Hilton.
Coffee, the PAWS director, said the shelter currently has seven cats and eight dogs available for adoption.