Grease pole returns, and remains fun conclusion to busy day at fair
Photos by Tom Rivers
KNOWLESVILLE – The Grease Pole climbing competition returned to the Orleans County 4-H Fair on Wednesday night with two teams attempting to climb the grease-slathered pole.
Justin Robinson, 18, of Albion is at the top in this photo of the Roadkill Chickens. Robinson and several other members of the dairy club wanted to try the challenge. They had just finished showing dairy animals.
It proved too difficult to get to the top for the Roadkill Chickens.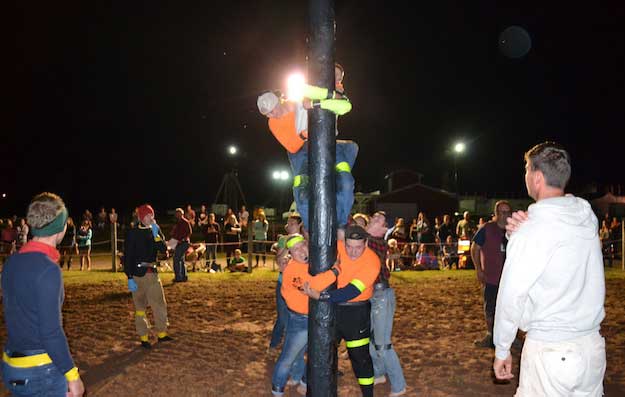 Janie Schutz, 22, of Waterport has put together a grease pole team the last three years. She is at the base of the pole for the Roadkill Chickens along with John Igoe, 19. Schutz is a student at Northwest Missouri State University. She shows her friends videos from the grease pole.
"At first they think it's kind of weird but then they say they should do it at their fairs," Schutz said.
One of her teams made it to the top of the pole previously.
"It's a lot of fun."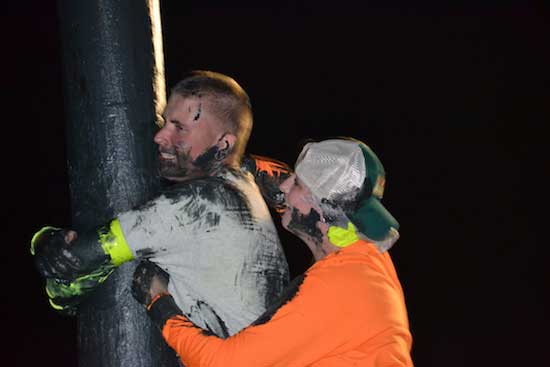 Rylie Lear tries to climb over Justin Robinson. Rylie, who is Janie Schitz's sister, made her debut in the competition. "It's slippery," she said.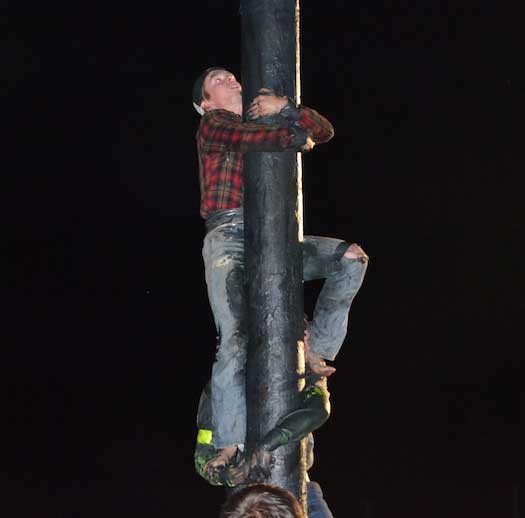 Matt Flanagan makes a push for the top for the Roadkill Chickens. They came up short in their quest. The teams have to grab a cannister at the top of the pole. They aren't allowed to wear belts or have loose pockets – anything that they can grab hold of.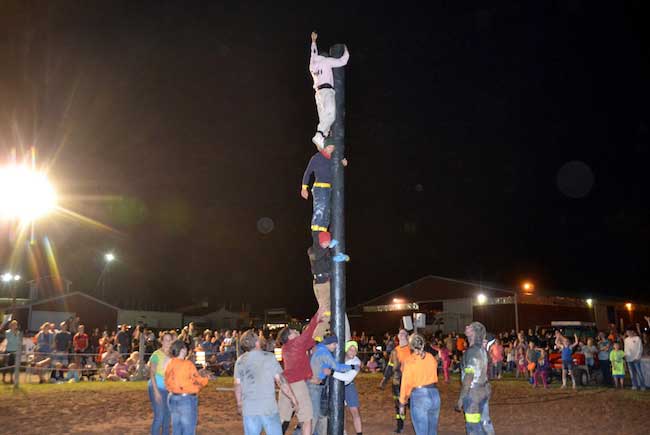 The Troll Diggers, the defending champs, qualified for the finals on Saturday night after winning on Wednesday. They made it to the top in 37 seconds. They have been competing in the grease pole for five years. The first year they failed the first three tries.
"It's our tradition now," said Andrew Jones, who is the top man for the Troll Diggers, followed by Isaiah Jenks and Jeff Ebel. Most of the team members are from the Hamlin area.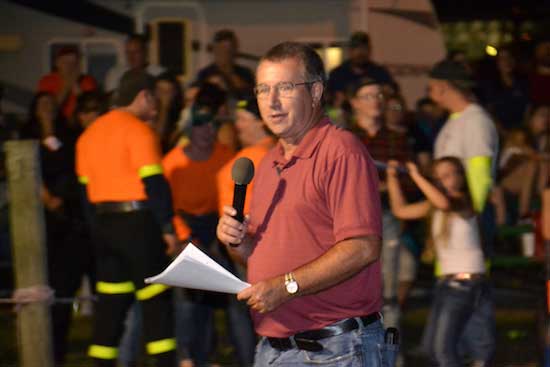 Barry Flansburg is the emcee for the competition.
There are qualifying rounds each night until the championship on Saturday. The grease pole has been a popular event at the fair since the 1970s.