Gratitude display in Medina shows multitude of blessings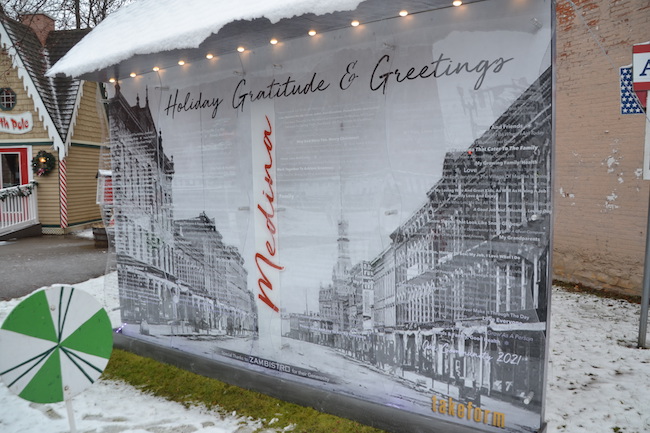 Photos by Tom Rivers
MEDINA – A new display of gratitude sends messages of thankfulness during a time when many people are feeling anxiety, loss and disruption due to the Covid-19 pandemic.
Takeform in Medina installed the display featuring a vintage photo of downtown Medina on Friday in Rotary Park at one of Medina's main intersections.
The company had a booth during the Olde Tyme Christmas celebration on Nov. 27 and asked people what they are thankful for in their lives. Those quotes are part of a display that will be up until mid-January.
Many said family, and others included organ donors, deer season and even chocolate.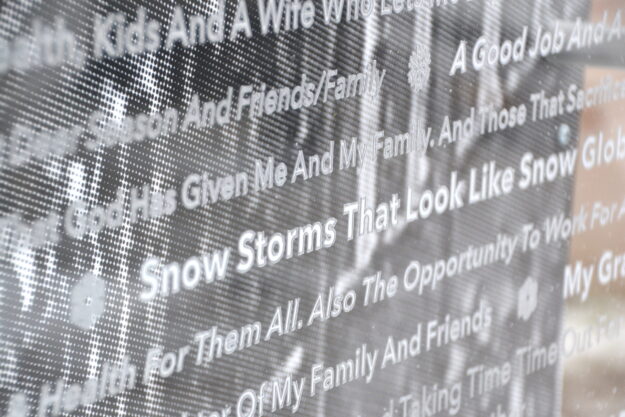 A sampling of some of the messages include:
"This Wonderful, Friendly Town of Medina"
"Things in Life Do Not Come In A Box"
"Thankful For My Mommy, Daddy And Two Babies"
"For A Healthy Family And The Wonderful Life"
"Snow Storms That Look Like Snow Globes"
"Mustang Pride"
"Open Your Heart To The Goodness Of The Holiday"
"My Family, Sheep & Goats"
"Medina, A Hallmark Hometown – We're So Lucky"
"Stay Safe, Love Each Other"