Golf Tourney at Hickory Ridge raised $25K for NY Warrior Alliance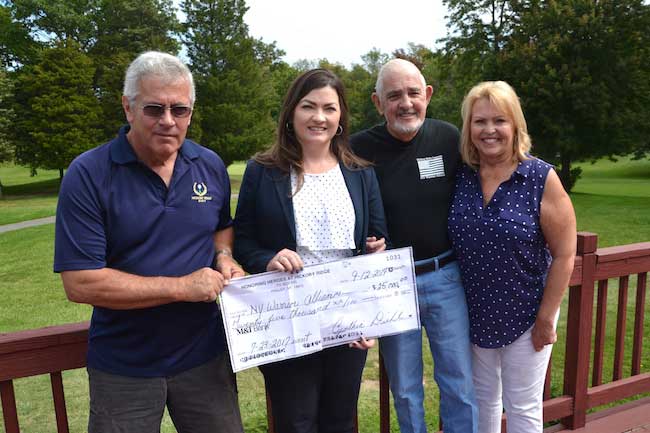 Photo by Tom Rivers
HOLLEY – A July 23 golf tournament at Hickory Ridge Country Club raised $25,000 for the New York Warrior Alliance, an all-volunteer organization that provides financial support and basic essentials for wounded warriors and their caregivers.
Pictured today with a ceremonial $25,000 check includes, from left: Kevin Diehl, Hickory Ridge co-owner; Amy Tausch, president of the NY Warrior Alliance; Mac McNeil, one of the key fundraisers for the event; and Cindy Diehl, co-owner of Hickory Ridge.
The country club has now hosted six golf tournaments to benefit veterans, raising over $100,000.
McNeil accounted for about $10,000 of the funds in the last tournament, collecting money from customers at Sam's Club, Tops and Walmart stores in Albion, Brockport and Greece.
"It's a privilege to do it," McNeil said about the fundraising efforts. "For me it's one of the best causes that I know."
McNeil served in the Army from 1956 to 1959. He has worked in golf course's pro shop and has been a dedicated tournament volunteer, securing numerous donations from businesses in Orleans and Monroe counties.
"He's the energy bunny," Cindy Diehl said. "He doesn't quit."
Hickory Ridge staff willingly volunteer on the day of the tournament and even turn in tips for the cause.
The NY Warrior Alliance started as a ministry at Northfield Church in Pittsford. Tausch said the group supports veterans and their family members. She urged veterans and their family to reach out to the organization.
For more information on the NY Warrior Alliance, click here.