Golf tournament for wounded vets raised $23K last month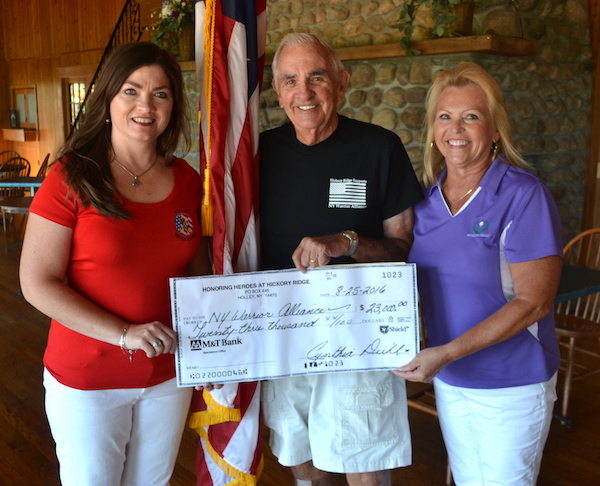 Photo by Tom Rivers
HOLLEY – Last month's golf tournament to benefit wounded veterans and their families raised $23,000, the most in the five years since Hickory Ridge Country Club started the event.
The proceeds go to the NY Warrior Alliance, an all-volunteer organization that provides financial support and basic essentials for wounded warriors and their caregivers.
Amy Tausch (left), president of the NY Warrior Alliance, accepts the check for $23,000 from Mac McNeil and Cindy Diehl of Hickory Ridge this morning.
McNeil served in the Army from 1956 to 1959. He works in the golf course's pro shop and has been a dedicated tournament volunteer, securing numerous donations from businesses in Orleans and Monroe counties. He and other volunteers also set up outside Wal-Mart stores in Albion, Brockport and Greece, and collect donations from the public that go to the golf tournament total.
"I absolutely believe we should help vets who are wounded," said McNeil of Hamlin.
Hickory Ridge has now hosted five golf tournaments for wounded warriors, and they have collectively raised $80,000. Diehl, co-owner of the golf course, said her staff willingly volunteer that day and even turn in tips for the cause.
The NY Warrior Alliance started as a ministry at Northfield Church in Pittsford. Tausch said the group supports veterans and their family members. She urged veterans and their family to reach out to the organization.
"Our goal is to continue to serve in New York," she said.
For more information on the NY Warrior Alliance, click here.