GO Art! presents awards to 2 from Orleans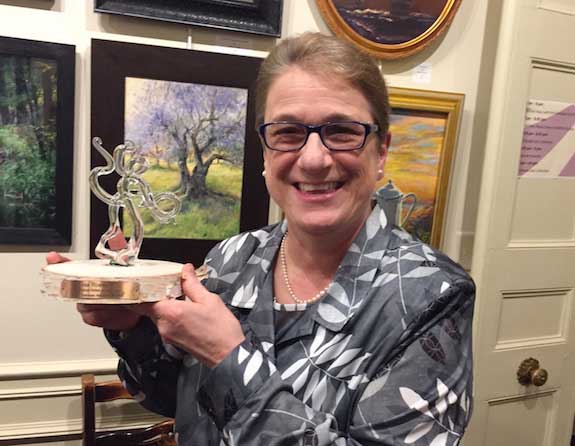 Photos courtesy of Chris Busch
BATAVIA – Two people from Orleans County received inaugural Genean Awards on Saturday during a celebration by the Genesee-Orleans Regional Arts Council.
Lisa Roeseler (pictured above), a music teacher and director of Medina High School's A'Cappella Choir, was recognzied with the individual artist award.
Roeseler started at her career in Medina as a music teacher Towne Primary School in September 1986 and moved to the High School in September 1987. She has been a popular teacher at Medina, with her vocal ensembles performing in the community, especially the annual holiday concert by the A'Capella Choir at St. Mary's Catholic Church.
When she started, she had 17 students in Mixed Chorus and 43 in A'Cappella. The Mixed Chorus now averages 85 to 90 students and A'Cappella now averages 92 to 100.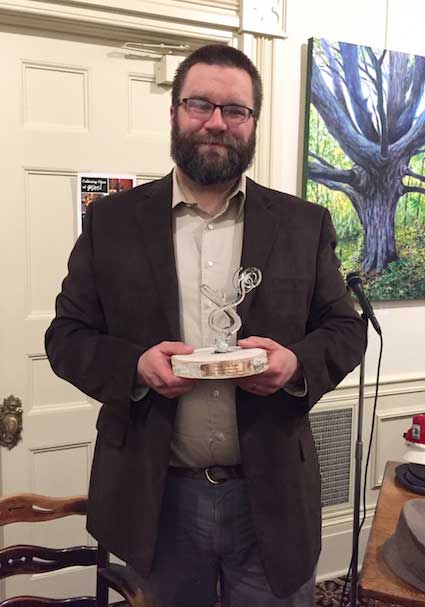 Bryan DeGraw received the Supporter of the Year for his efforts to boost the local cultural scene. DeGraw is co-owner of 810 Meadworks with his wife LaRissa. The DeGraws opened 810 Meadworks in downtown Medina on Nov. 30, 2014. They make mead products and have a tasting room. The DeGraws also have run a concert series at the "beegarten" in the back of the building at 113 West Center St.
GO Art! created its own unique awards "like the Oscars or Tony awards for GENesee and OrlEANs Counties, to recognize a few of the amazing people and organizations we have within our counties," said Gregory Hallock, executive director.
The Genesee Chorale also was honored as the "Organization of the Year."