Girl Scouts trying to give animals at shelter a nice Christmas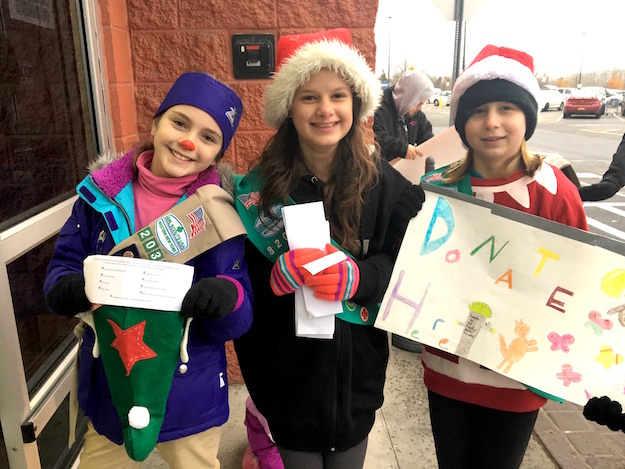 Photos by Tom Rivers
ALBION – Girl Scouts in Troop 82036 were collecting donations today outside the Wal-Mart in Albion for dogs and cats at the Orleans County Animal Shelter. These Scouts include, from left: Bayleigh Jones, Maia Pate and Katelyn Kowalski.
The Scouts accepted cash donations and toys, food and other supplies for the animals at the county shelter. The Scouts are seeking the following donations: cat wand and feather toy, cat nip, cat toys, cat beds, kitty litter, dog rope toys, soft dog treats, tennis balls for dogs, Busy bones and Nylabones for dogs.
They would also accept gift cards from Wal-Mart, Tractor Supply and other pet stores to purchase flea control.
The donated items can be dropped by the front porch or back door at 416 West State St., Albion, the home of the Troop's co-leader Crystal Hand. The Scouts are accepting the donations until Dec. 15 and will present them to the Animal Shelter on Dec. 18.
"We want to reach out to our furry friends at the Animal Shelter," said Hand. "We were looking to do something unique and help a group without a voice."
For more information, contact Hand at clhand4@gmail.com.