Girl Scouts in Lyndonville get thanks from soldiers who received 56 boxes of cookies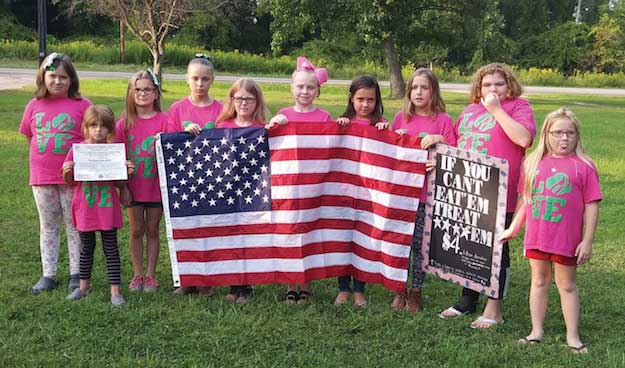 Provided photo and article from Girl Scouts of WNY
LYNDONVILLE – Girl Scout Troop 82040 is selling cookies with a special goal once again. Last year, the girls in the troop decided to send their donated cookie purchases directly to American military troops stationed in Camp Arifjan in Kuwait.
The girls were able to send 56 boxes of cookies. The girls in the troop range from Kindergarten Daisy Scouts through Cadette Girl Scouts in middle school.
Troop co-leader Amanda Nowicki's husband, Army Sergeant First Class Greg Nowicki, previously served with Chief Warrant Officer 2 Timothy Slaght, who at the time was deployed to Kuwait.
Nowicki encouraged the girls to support local deployed soldiers. The girls decided to send the cookies for the camp to enjoy. When the package arrived, the boxes were put in the mess hall for everyone to share. CW2 Slaght requested a flag be flown over the post in honor of the girls and was later sent to the Girl Scouts with a certificate as a thank you.
The girls used the money they earned from cookie sales for flowers in a memorial garden in honor of Elaina Webb, an Albion girl who passed away from leukemia a age 2 ½ on Feb. 7, 2017.
Navarra's Greenhouse matched the number of flowers the Girl Scout troop purchased to ensure the garden would be lush and beautiful. The girls are planning another visit to Navarra's to replenish the garden again this year.
The troop also used their cookie sale funds to attend Darien Lake for a day of play and a Kid's Bop concert. They also used it for a Painting with a Twist class, a candy dish painting class at Brushstrokes in Medina, a Disney on Ice event in Buffalo, and are considering also using the money for membership dues in the upcoming scouting year. Girls that sold enough cookies were also able to attend a week of Girl Scout summer camp free of charge.
Throughout the year, the troop tries to work on a Girl Scout badge every meeting. The girls contribute a Christmas tree for the annual Lyndonville Christmas Tree Festival and march in the annual Lyndonville Fourth of July parade. They also try to do community service on a regular basis, including working on the community garden at a Lyndonville church and will be participating for their first time this summer in the annual FLED Foundation Kickball Tournament that supports children with leukemia and their families.
Troop 82040's goal for this year is to get 100 cookie box donations for the Army, as well as an overall troop goal of 5,000 cookie boxes. They typically set up a cookie booth outside of Miller's Amish Store in Lyndonville on Rt. 104.