Girl Scouts from Kendall bring cookies, holiday cheer to Hospice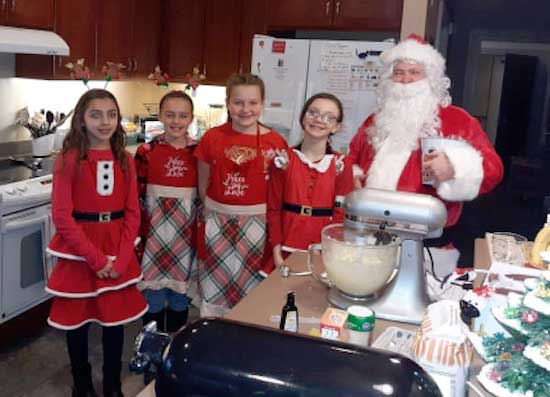 Provided photos
ALBION – Girl Scouts of Western New York Troop 82257 from Kendall visited the residents of the Martin-Linsin Residence of Hospice of Orleans to share some Christmas cheer this past Saturday.
Pictured, from left, include Abigail Robb, Julianna Newbould, Kendall Newbould, Jemma Nash and Santa Claus.
For their Girl Scout Bronze Award project, the Girl Scouts planned and had a day of cookie baking, ornament making and music with the residents.
They also made new friends while they learned about each other's holiday traditions and families. A wonderful day was had by all and the girls are planning to visit again soon.
The Bronze Award is the highest award earned by a Junior Girl Scout. To earn the award, the girls each completed a prerequisite Girl Scout Journey to prepare them for leading a project and then dedicated over 20 hours toward the Bronze Award project.
Girls typically work on Bronze Awards as a large group or a whole Girl Scout troop.