Girl Scouts bear gifts for County Animal Shelter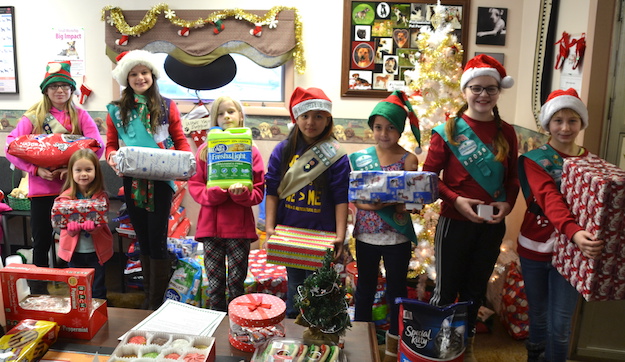 Photos by Tom Rivers
ALBION – Girl Scouts in Troop 82036 delivered lots of gifts for cats and dogs at the Orleans County Animal Shelter today. The Scouts are pictured with some of the presents. The community donated some of the items and also chipped in with $250 in cash, and $276 worth of gift cards.
The Scouts pictured from left include: Samantha Hand, Rianne Hand, Maia Pate, Alexis Hand, Sesilia Cruz-Kelley, Anayeli Cruz, Lucy Rivers and Katelyn Kowalski.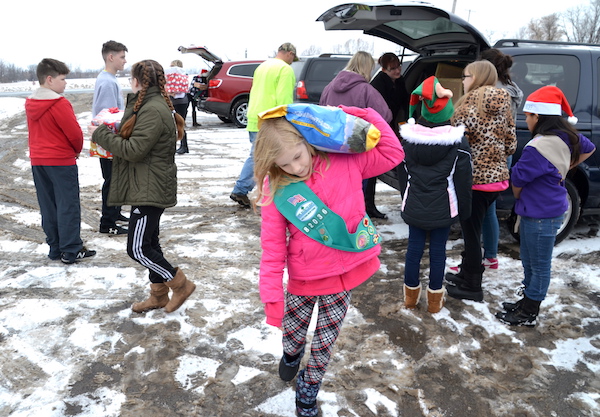 Alexis Hand carries in a bag of cat litter. There were 300 pounds of cat litter delivered by Girl Scouts today, as well as cat and dog food, treats and toys.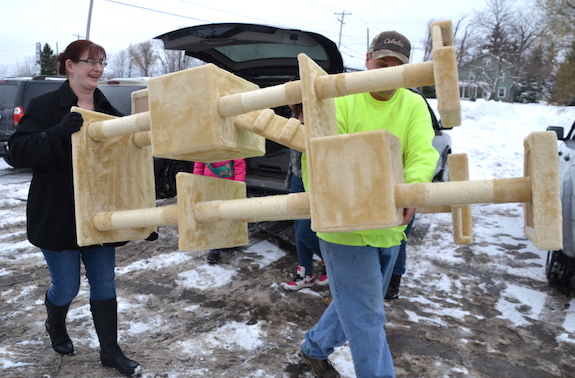 Crystal Hand, co-leader of the Girl Scout troop, carries a 6-foot-high cat tree. She is assisted by Justin Weese, a volunteer at the shelter at the corner of routes 98 and 31A in Barre.
Hand said the community was generous in supporting the effort.
"I was floored by the people and their donations," she said. "It started out as a little project and it snow-balled."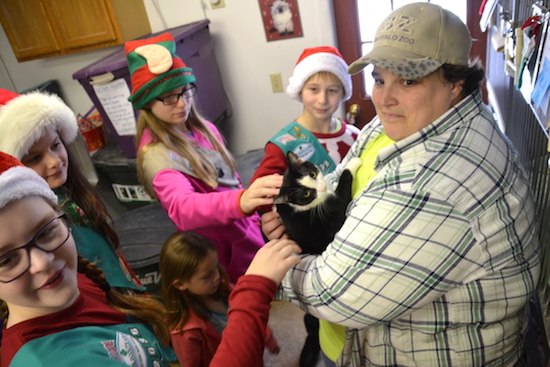 The Scouts were given a tour of the shelter today and met one of the cats held by volunteer Amy Weese. The shelter currently only has six cats up for adoption. There were six dogs a week ago but they've all been adopted out.
"They all have homes for Christmas," said Joette McHugh, president of the Friends of the Orleans County Animal Shelter.
The deliveries today by the Scouts have the shelter stocked with lots of treats, food and supplies as more animals arrive in the coming weeks and months, McHugh said.