Genesee, Orleans report 204 more Covid cases since Monday
2 counties among highest positivity rates in state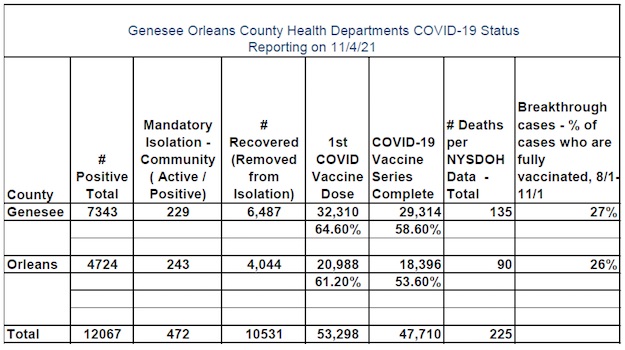 Orleans and Genesee counties together have 204 more Covid cases since Monday, and the two counties have a positivity rate more than three times the state average.
Orleans has had 118 more cases of Covid since Monday, and Genesee has 86 more. There are now 472 active cases in the two counties, with Orleans up from 200 to 243 active cases in the past three days. Genesee has a decline in active cases, from 271 to 229 since Monday.
Genesee has had more recoveries in the three days, with 123 more previously positive individuals completing their 10-day isolation and being removed from mandatory isolation.
Orleans had 73 more recoveries since Monday, but added 118 new cases.
Genesee currently has 15 people hospitalized due to Covid and Orleans has seven residents in the hospital from Covid.
Orleans also is reporting a resident over age 65 has passed away from Covid. This is the 90th death from Covid of an Orleans resident during the pandemic since March 2020. Genesee has had 135 people pass away due to Covid during the pandemic.
In New York, the state-wide percentage of Covid tests that have been positive in the past seven days is 2.30 percent.
That positivity rate is much higher locally. Orleans is at 8.5 percent, and Genesee is at 7.8 percent.
Only three counties have a higher rate than Orleans: Hamilton, 9.6 percent; Allegany, 9.2 percent; and Cattaraugus, 8.9 percent.