Genesee, Orleans pass 600 active Covid cases for first time
Hospitalizations are on the rise from Covid locally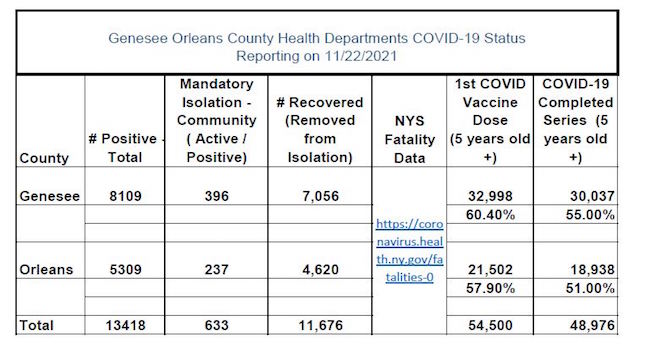 The number of active Covid cases in Genesee and Orleans counties is more than 600 for the first time during the Covid-19 pandemic.
There are currently 396 active cases in Genesee and 237 in Orleans for 633 total in the two counties.
That is up from 581 a week ago, the previous high for the two counties when there were 326 cases in Genesee and 255 in Orleans.
The Genesee and Orleans County Health Departments reported 237 new Covid cases in Genesee since Thursday, and 134 more recoveries or previously positive individuals who completed their 10-day isolation and have been removed from mandatory isolation.
Genesee also has 19 residents hospitalized due to Covid, which is up from nine who were hospitalized on Thursday.
Orleans has 104 more new Covid cases since Thursday and 137 more recoveries. The county currently has 12 residents hospitalized due to Covid, which is up from four on Thursday.
The county also is reporting a death from Covid, an individual over age 65. This is the 95th death in Orleans County from Covid since March 2020, according to the NYS Department of Health (click here).
The seven-day positive test rate in Orleans is at 10.9 percent and in Genesee it is at 9.9 percent, which is about three times the positivity rate in the state at 3.8 percent.