Genesee launches $1 million recovery fund to help businesses hurt by pandemic
Businesses eligible for maximum grant awards of $75K
Press Release, Genesee County Legislature and Genesee County Economic Development Center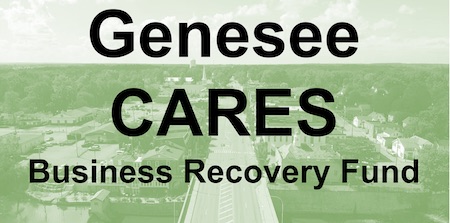 BATAVIA – Genesee County Legislature Chair Rochelle Stein announced today that Genesee County is launching a $1 million Community Development Block Grant to help businesses impacted by the pandemic.
Through the Genesee CARES Business Recovery Fund, businesses that were negatively impacted by Covid-19 will be eligible to receive a grant of up to $75,000 to aid the recovery of their businesses. Eligible applicants are for-profit businesses within Genesee County with 25 or fewer employees.
"Despite so many of our businesses being dramatically impacted by the pandemic they have demonstrated perseverance and determination to keep their doors open and we are proud of them," Stein said.  "That is why we are so excited that our application for CDBG funding was approved as it will be a big shot in the arm to our business community as we continue our economic turnaround."
There are four general categories of eligibility, including:
Employment restoration/job hiring incentive: Businesses will be eligible to receive a grant totaling $20,000 toward expected annual wages for up to 3 new hires to a maximum of $60,000.
Outdoor dining development grants of up to $50,000 to enhance outdoor dining (e.g. furniture, fixtures, equipment, and working capital expenses related to expanding, installing, or improving outdoor dining and gathering spaces.) Construction or renovation costs are not eligible.
A maximum of $50,000 of grant funds to be used to assist with working capital expenses for businesses that can demonstrate the impact of Covid has put a strain on their cash flow.
Business resiliency grants of up to $25,000 to support small business efforts to respond to the pandemic for projects such as developing safety and resiliency plans, purchasing PPE, installing touchless point-of-sale systems, and other improvements.
Businesses can apply across multiple grant categories for up to $75,000 per business. Job creation, retention and restoration goals are tied to all categories.
"Throughout the pandemic, Genesee County and local economic development partners, such as the Genesee County Economic Development Center, formed an Economic Recovery Task Force, which met monthly to discuss the impacts of the pandemic and strategize efforts to assist with reopening and business recovery," said Genesee County Manager Matt Landers. "Based on the extensive feedback from businesses across the county, we determined that pursuing this funding opportunity would provide the type of financial assistance they are seeking."
"Small businesses are the backbone of our regional economy and the process for reviewing applications is similar to our micro-enterprise small business loan program so it will be a seamless process," said GCEDC President and CEO Steve Hyde.
Businesses are encouraged to visit www.GeneseeCARES.com to review eligibility and requirements for the grant. A fillable application is available for download at the website.