GCC prof has new book coming out on Civil War – with some help from his colleagues
Derek Maxfield has book release party on March 17 for 'Man of Fire: William Tecumseh Sherman in the Civil War'
Press Release, Genesee Community College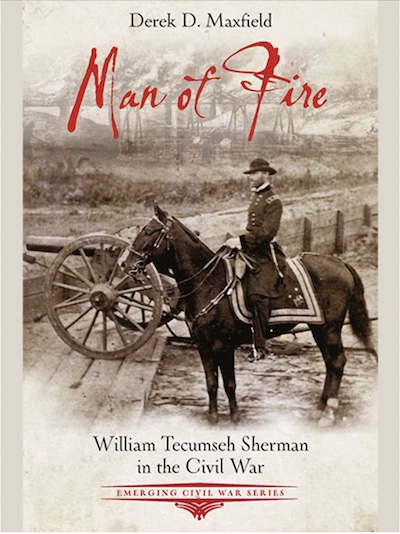 BATAVIA – Genesee Community College is thrilled to announce the release of Associate Professor of History Derek Maxfield's latest work, Man of Fire: William Tecumseh Sherman in the Civil War.
Part of the Emerging Civil War Series, published by Savas Beatie, the book is a biography of one of the Civil War's more controversial generals.
According to Maxfield, his second book is special for its collaboration with his GCC colleagues. "You know, while I am proud of the biography," Maxfield said, "I am especially proud of the contributions from my friends at GCC who wrote great essays for the appendix. Their work added to the quality of the book immeasurably."
Man of Fire features appendices penned by GCC Associate Professor of English Tracy Ford, Associate Professor of English Michael Gosselin and Student Success Coach Jess Maxfield. Books that are part of the Emerging Civil War Series feature appendices following the main text that cover topics from the book in more depth.
"Each of these appendices explores a facet of Sherman's career that sheds extra light on the main story Derek tells," said series editor Dr. Chris Mackowski. "The books in the series are all story-driven, so there's a real emphasis on narrative. Rather than disrupt Derek's narrative flow, we parsed out some of these topics as appendices so we could really explore them. That makes the appendices added value for the reader."
Mackowski said the appendices are also important as a way for Emerging Civil War to cultivate "emerging voices" in the field. "The appendices give those new writers the chance to earn publication experience," he explained. "Being coupled with other 'emerging voices,' along with the more-established author of the book, allows each writer to benefit from success of the entire group. The rising tide lifts all boats."
Man of Fire: William Tecumseh Sherman in the Civil War tells the story of a man who found himself in war – and that, in turn, secured him a place in history. Condemned for his barbarousness or hailed for his heroics, the life of this peculiar general is nonetheless compelling-and thoroughly American.
Forging an identity in the fire of war, the unconventional general kindled a friendship with Ulysses S. Grant and proved to everyone at Shiloh, Vicksburg, Chattanooga, Georgia, and in the Carolinas that while he was unorthodox, he was also brilliant and creative. More than that, he was eminently successful and played an important role in the Union's victory.
Since joining GCC in 2009, Derek Maxfield has built a reputation as an exceptional storyteller, author, playwright, director and award-winning teacher. Twice awarded SUNY's highest system-level honor, Maxfield was recognized in 2013 with the SUNY Chancellor's Award for Scholarship and Creative Activities and in 2019 the SUNY Chancellor's Award for Excellence in Teaching.
He has written, directed and performed in a number of plays which have toured the country – including "Now We Stand by Each Other Always" in which he portrayed Gen. Ulysses S. Grant. More recently, Maxfield was commissioned by the Landmark Society of Genesee County to produce a play highlighting the Brisbane family of Batavia.
Maxfield in 2020 had his first book published, "HELLMIRA: The Union's Most Infamous Civil War Prison Camp – Elmira, NY" which explores this notorious time period in the history of Elmira.
In celebration of the release of his new book, Maxfield is hosting a book launch party on Friday, March 17, from 6 to 9 p.m. at GO Art!, located at 201 East Main St. in Downtown Batavia. The event is free and open to all. Copies of Man of Fire will be available for sale and signing.
Man of Fire: William Tecumseh Sherman in the Civil War is available for purchase from Savas Beatie or Amazon.