Garth Fagan Dance gives Hoag Library jump start on summer reading challenge
Garth Fagan Dance did two dance performances this morning at the Albion Middle School, first for middle schoolers and then for elementary students.
A donation from Xerox covered the costs to bring the dance troupe in from Rochester.
Hoag Library used the event to promote its upcoming summer reading challenge called "Libraries Rock!" Last year there were 1,550 participants in the program. Betty Sue Miller, the library director, challenged the students to top last year's number.
The library will have numerous events during the six-week program with the kickoff at 11 a.m. on June 16. The challenge continues until Aug. 4 with a 3 p.m. ice cream social at the library.
There are almost daily events at the library during the program, including many with music and dance.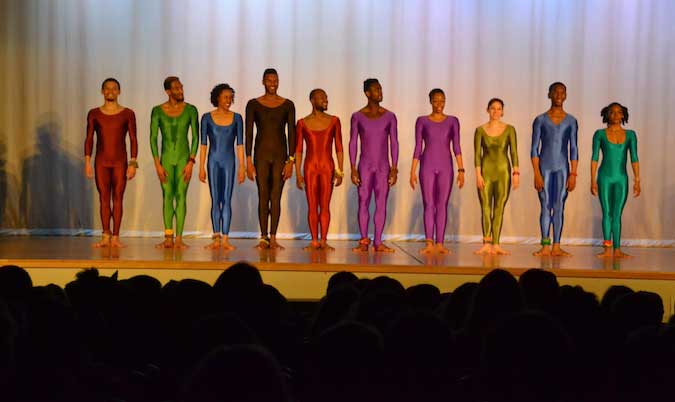 The Garth Fagan dancers stand and are applauded after their performance in front of elementary school students. Garth Fagan Dance is now in its 47th season. Fagan's ever-evolving dance language draws on many sources: sense of weight in modern dance, torso-centered movement and energy of Afro-Caribbean, speed and precision of ballet, and the rule breaking experimentation of the post-moderns, according to the Garth Fagan website.