Gaines celebrates Town Hall improvements
GAINES – Town officials were joined by State Sen. Robert Ortt this morning in celebrating a series of improvements to the Town Hall that will improve the security and energy efficiency of the building on Route 104.
Ortt secured a $75,000 state grant that covered most of the recent improvements – new insulation, siding, windows and doors, an enclosed front entrance, and a handicapped accessibility ramp and door on the front side of the building.
The funding came through the Dormitory Authority of the State of New York. (The grant was applied through the the State and Municipal Facilities Capital Funding Program or SAM.)
"We get a certain amount of money every year and we have to fight for it," Ortt said about the funds for municipal projects.
He supports the program because it allows municipalities to tackle needed projects without burdening the local taxpayer. Many of the projects, such as town hall improvements, would be difficult to do with the state funding due to the state-imposed tax cap, which limits local tax increases to about 2 percent.
"It's always tough on the local level to set aside tax dollars to fix up your town hall because there are so many other things we have to spend money on," said Ortt, a former mayor of North Tonawanda.
Klips Construction submitted the low bid of $83,445 for the town hall improvements.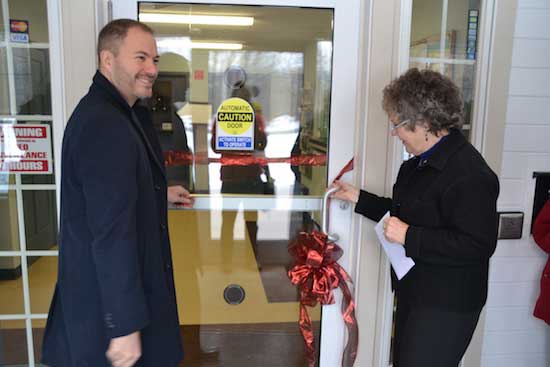 State Sen. Robert Ortt and Town Supervisor Carol Culhane cut the ribbon on the town hall upgrade.